Log in to use the pretty print function and embed function.
Aren't you signed up yet? signup!
La scorsa settimana  è stata pubblicata la seconda versione del portale www.exportpedia.it ., frutto della ricerca che un gruppo di società (StudiaBo, Aderit e Servabit) stanno sviluppando nelle tecniche di "data visualization". Questa versione presenta nuove funzionalità, un maggiore dettaglio settoriale, più periodi temporali analizzati e nuovi indicatori, in grado di evidenziare facilmente gli elementi caratterizzanti le esportazione del nostro paese. In questo ambito, un indicatore che può rivestire un ruolo importante è il "Contributo delle esportazioni di una provincia alla variazione delle esportazioni totali italiane". Grazie a questo indicatore è possibile avere una visione immediata di quali sono le aree territoriali che si candidano ad essere trainanti di una nuova fase di crescita dell'economia italiane e quali sono invece le aree frenanti .
[caption id="attachment_3605" align="aligncenter" width="1024" caption="Fig: 1 - Contributi delle esportazioni provinciali alla variazione delle esportazioni italiane: Anno 2013 e I° trimestre 2014"]

[/caption]
La figura 1 mette a confronto la mappa dell'Italia, colorata in modo diverso in funzione del contributo dovuto alle diverse province, relativa al 2013 e al primo trimestre del 2014. L'analisi di questa figura consente di evidenziare quali tra le province trainanti , o frenanti , nel 2013 stanno trovando conferma anche nel 2014, segnalando l'esistenza di determinanti "strutturali". Tra le province trainanti emerge con forte evidenza Torino . Un po' meno forte, ma altrettanto "persistente" è l'effetto trainante della provincia di Vicenza . I dati visualizzati in Exportpedia consentono di individuare nel forte aumento delle esportazioni del distretto conciario (classificate tra i prodotti di Pelletteria) il fattore di maggior sostegno. Nel 2013 su un totale di esportazioni vicentine di 15.6 miliardi di euro, le esportazioni di prodotti della Pelletteria sono risultate superiori a 2 miliardi, con un aumento di oltre il 10% rispetto ai valori del 2012. Questa dinamica trova conferma nel primo trimestre del 2014, con esportazioni di oltre mezzo miliardo e un incremento tendenziale del 20%.
[caption id="attachment_3606" align="aligncenter" width="1024" caption="Fig: 2 - Contributi nel 2013 delle esportazioni verso i singoli paesi, alla crescita delle esportazioni di Pelletteria della provincia di Vicenza."]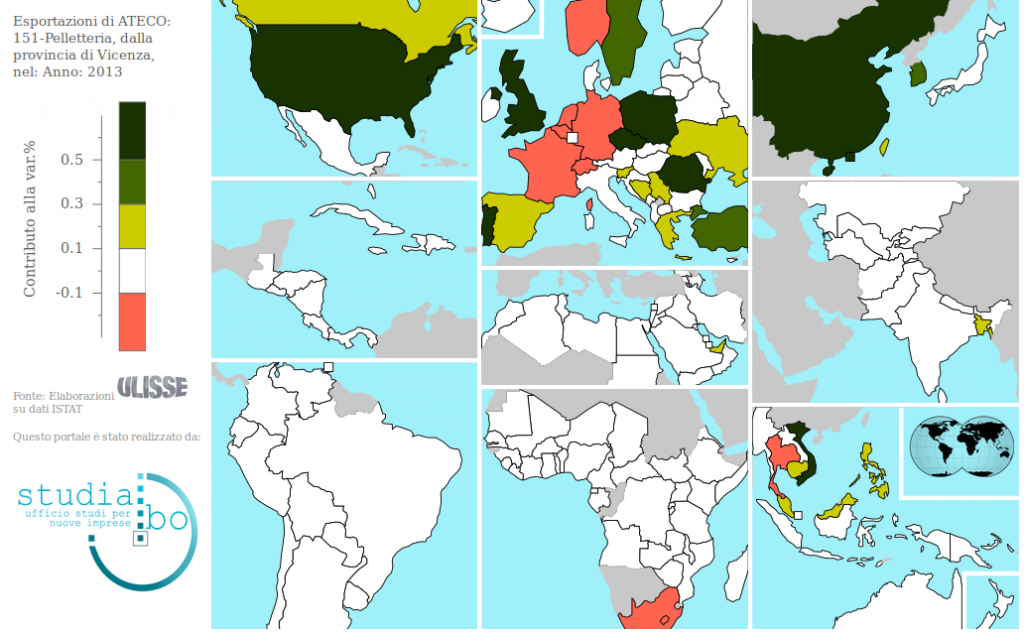 [/caption]
La figura 2 consente un approfondimento delle esportazioni vicentine di Pelletteria nel 2013, evidenziando come esse sono il risultato di tanti contributi positivi provenienti da molti paesi, Stati Uniti in primis, ma non solo. Particolarmente importante è il contributo positivo del Far East ( Cina, Hong Kong e Vietnam ) e dell'Europa dell'Est ( Polonia, Romania e Repubblica Ceca ) . Viceversa, importante, ma di segno opposto, è il contributo negativo dell'area europea "franco-tedesca" ( Germania, Francia, Svizzera, Olanda, Belgio ).
  Questa breve analisi vuole essere un esempio di come Exportpedia possa risultare uno strumento per approfondire la conoscenza sulle dinamiche delle esportazioni italiane. La speranza è che questa maggior conoscenza possa portare un piccolo contributo per rendere più veloce il superamento dell'attuale fase di profonda crisi dell'economia italiana.