Log in to use the pretty print function and embed function.
Aren't you signed up yet? signup!
Le informazioni rese disponibili dal Sistema Informativo Ulisse segnalano un netto recupero della domanda mondiale in euro nel 3° trimestre del 2014. I 70 paesi del campione congiunturale Ulisse 1 hanno infatti dichiarato nel terzo trimestre 2014 valori in euro delle importazioni pari a 2643 miliardi, con un aumento del 2.5% rispetto al trimestre precedente. Gli stessi paesi hanno inoltre dichiarato 2508 miliardi di esportazioni con un aumento del 1.4%.
I recenti aumenti negli scambi di commercio estero non hanno tuttavia consentito di recuperare il livello massimo degli scambi internazionali, registrato nelle dichiarazioni di esportazione e di importazione rispettivamente nel secondo e terzo trimestre del 2012. Al di là delle dinamiche strettamente congiunturali, è indubbio quindi come il commercio internazionale non sia ancora risultato un fattore di crescita significativo, tale da consentire ai paesi con difficoltà di domanda interna, quali l'Italia, di avviare una fase significativa di ripresa economica.
In questo contesto di generale debolezza della domanda mondiale, le imprese italiane hanno mostrato elevate capacità di reazione, riuscendo a trovare un sentiero di crescita molti trimestri prima rispetto alla dinamica complessiva del commercio mondiale. Il secondo grafico qui presentato mette a confronto il tasso di variazione tendenziale trimestrale (calcolato sul corrispondente trimestre dell'anno precedente) delle esportazioni italiane e delle esportazioni dei 70 paesi inclusi nel campione Ulisse. Le esportazioni italiane in euro correnti hanno subito una flessione solo nel primo semestre del 2013, risultando in crescita in tutti i successivi trimestri. Viceversa la fase di caduta del commercio mondiale si è protratta fino al secondo trimestre del 2014, risultando in crescita solo nel trimestre più recente.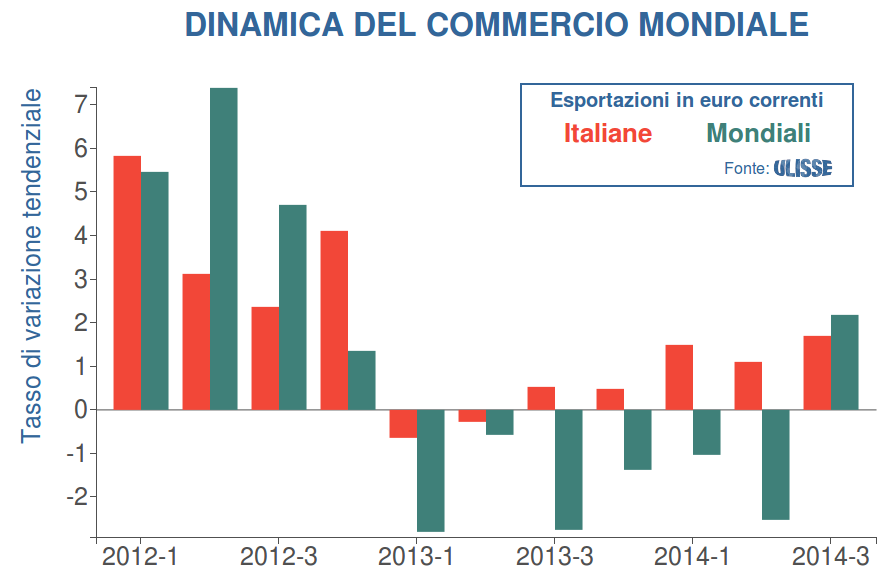 Da più trimestri, quindi, le imprese italiane stanno ottenendo sui mercati esteri risultati migliori di quelli delle imprese estere concorrenti. Tuttavia, la debolezza del commercio internazionale ha limitato gli impulsi alla crescita, rendendo, fino ad ora, insufficiente il canale estero alla ripresa dell'economia italiana.
1. Il campione congiunturale Ulisse è composto dalle principali economie mondiali. Le loro esportazioni e importazioni superano rispettivamente il 70 % e il 75% del flussi totali di commercio mondiale. Il campione può quindi essere considerato rappresentativo del totale degli scambi internazionali.