Log in to use the pretty print function and embed function.
Aren't you signed up yet? signup!
Il commercio mondiale di P rofumi e cosmesi sta evidenziando crescite molto sostenute: nel periodo 2009-2015 la variazione media annua dell'export mondiale è stata del +7.7% in euro correnti e si stima una continua crescita per il prossimo triennio (2016-2018) del +5.1% in euro . In particolare nell'ultimo decennio le vendite dei segmenti Premium sono più che triplicate .
Nel 2015 il valore del commercio mondiale di Profumi e cosmesi 1 ( creme protettive e preparati per il trucco, profumi ed acque da toletta, lozioni per capelli, prodotti per il trucco degli occhi, preparazioni per manicure o pedicure, prodotti per il trucco delle labbra, prodotti depilatori, ciprie per il viso, lacche per capelli ) è stato di 56.6 miliardi di euro con una crescita del +14% rispetto all'anno precedente.
Anche l'evoluzione del commercio internazionale del settore misurata a prezzi costanti appare in continuo aumento dal 1995 ad oggi. Il grafico mostra una crescita progressiva nel tempo, ad eccezione dell'anno 2009.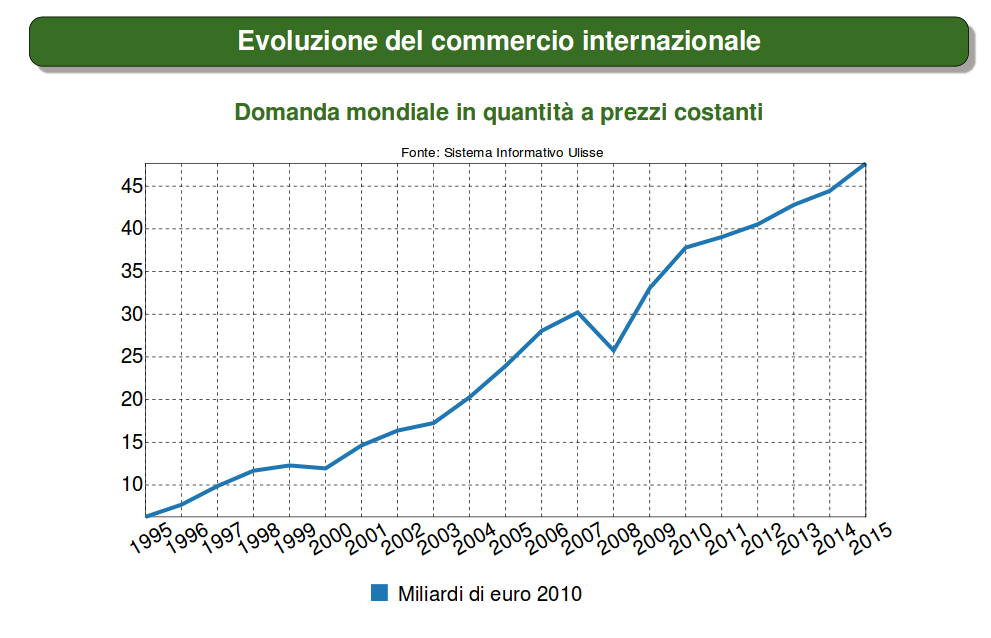 Le previsioni del Sistema Informativo Ulisse 2 segnalano una crescita del settore profumi e cosmesi nel 2016 del +4% in euro e di quasi il +6% medio annuo in euro per il 2017 e 2018.
Ad un'analisi più approfondita delle caratteristiche del commercio mondiale per fasce di prezzo , si nota che la distribuzione della domanda di profumi e cosmesi è notevolmente cambiata dal 2005 al 2015.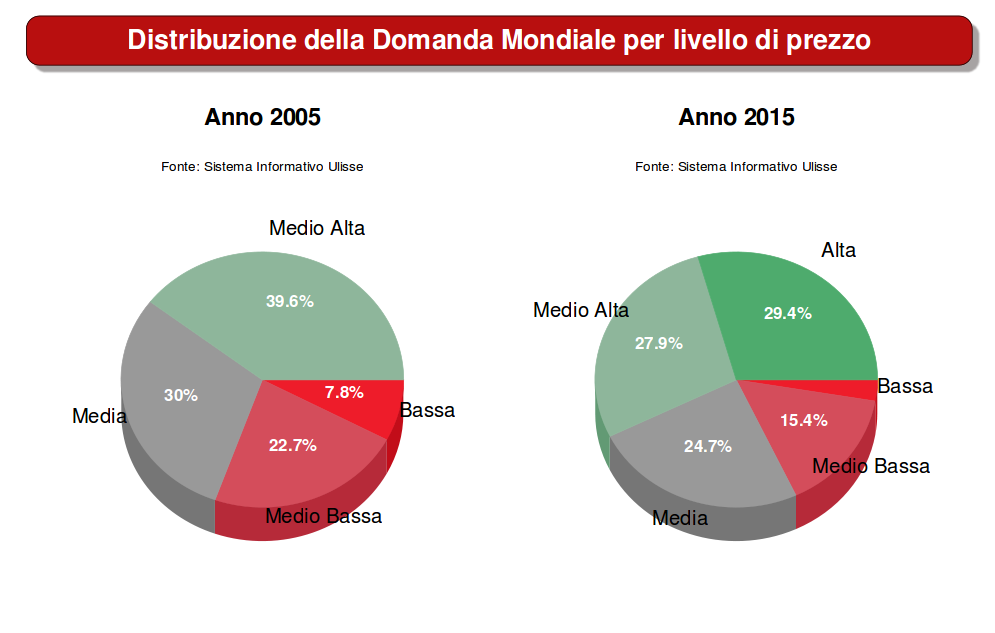 In modo particolare, negli ultimi dieci anni il trend dell'export di profumi e cosme si ha evidenziato una dinamica di significativo incremento dei segmenti "premium" . La fascia alta, non significativa nel 2005, dopo 10 anni (2015) rappresenta il 29.4% del totale in valore. Di trend inverso le esportazioni di fascia bassa e medio bassa, che insieme rappresentano il 18% del totale mondiale nel 2015, e le fasce media ( 24.7% ) e medio alta ( 27.9% ) .
In particolare, nel 2015 il valore complessivo del commercio mondiale delle fasce alta e medio alta di prezzo è risultato pari a 32.4 miliardi di euro, più che triplicato rispetto a dieci anni prima (pari a meno di 11 miliardi di euro nel 2005).
Per approfondire si consiglia: http://www.siulisse.it/flowtest/visualizzadossier/1017970/