Log in to use the pretty print function and embed function.
Aren't you signed up yet? Log in!
L'export italiano non sta crescendo: nel secondo trimestre le esportazioni italiane hanno registrato una variazione dello "zero virgola". L'effetto "deprezzamento" dell'euro avutosi nel 2015 e venuto meno nella prima parte dell'anno, unitamente alla "gelata" del commercio mondiale, ha frenato le vendite all'estero delle imprese italiane1.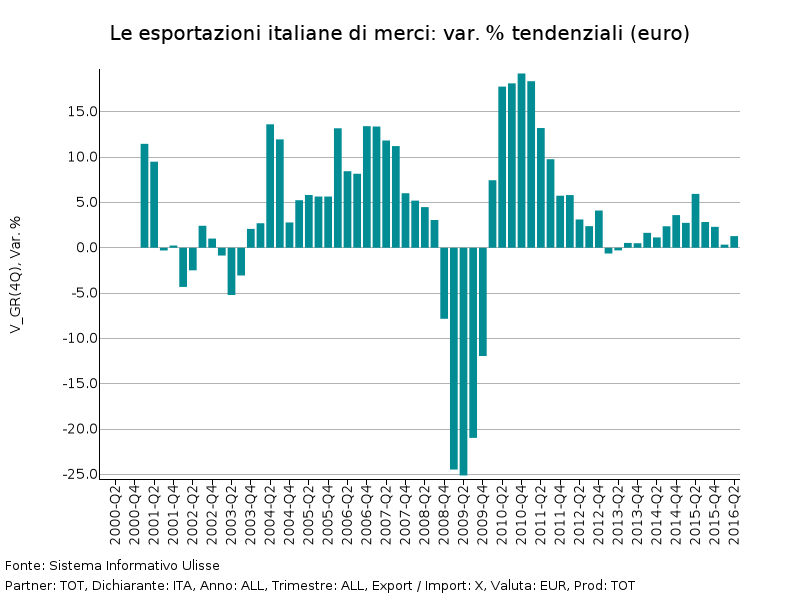 Il contesto di mercato per chi vende all'estero è, pertanto, diventato più selettivo. Per chi opera all'estero diventa particolarmente importante riuscire a valutare correttamente le proprie performance sui diversi mercati, in funzione dell'evoluzione del commercio estero, utilizzando sistemi di controllo dei propri risultati che siano tempestivi e "oggettivi". Il portale
SIULISSE
può facilitare la fase di controllo risultati di una impresa esportatrice, attraverso l'analisi dei dati di commercio estero a livello di oltre 3000 prodotti e per specifici mercati e paesi competitori di interesse dell'utente. In particolare, i Datamart della collana Barometro (Congiuntura Mondiale, Congiuntura UE, Congiuntura USA) possono consentire un monitoraggio "in tempo reale"2 del commercio estero. La nuova versione del portale
SIULISSE
mette a disposizione nuove funzionalità di "analytics" per la produzione di Grafici personalizzati e interattivi sui Datamart del Sistema Informativo Ulisse. L'utilizzo di questi grafici, come quello riportato in questo articolo, possono fornire dei "benchmark" con cui una impresa esportatrice può valutare in maniera "oggettiva" e tempestiva le dinamiche delle proprie vendite sui diversi mercati internazionali. 1.Si veda, in merito, il seguente datamart della collana Barometro, disponibile liberamente sul portale
www.siulisse.it
:
http://www.siulisse.it/analytics/query/360722/
. 2. I datamart della collana Barometro vengono continuamente aggiornati da StudiaBo, sulla base degli aggiornamenti mensili delle banche dati di commercio estero di fonte doganale.