Corona svedese in netto deprezzamento
Analisi dei cambi della IV settimana di ottobre
Published by Luigi Bidoia. .
Exchange rate
Exchange rates
Log in to use the pretty print function and embed function.
Aren't you signed up yet? signup!
L'economia svedese è oggetto di una crescente attenzione da parte di molti analisti. Quella che era considerata fino a poco tempo fa un'economia con una elevata capacità di crescita e di assorbimento degli shock negativi, è ora valutata con crescente prudenza. Molti si chiedono se l'economia svedese non sia anch'essa entrata in un periodo di crescita debole, nonostante politiche espansive sia dal lato monetario che dal lato fiscale. Evidentemente esistono cause più strutturali di indebolimento che non riescono ad essere compensate dalle politiche del governo.
Da più mesi questo peggioramento di "giudizio" si sta traducendo in un progressivo indebolimento della Corona Svedese
Nella riunione di giovedì, la Riksbanken (la banca centrale svedese ) ha mantenuto invariato al livello di -0.5 il tasso di interesse di riferimento, indicando che molto probabilmente esso rimarrà negativo per molti mesi ancora e potrebbe essere, anche, ulteriormente ridotto. In questa situazione il cambio della corona ha accusato un netto peggioramento, avvicinandosi a valori di 9.9 corone per euro.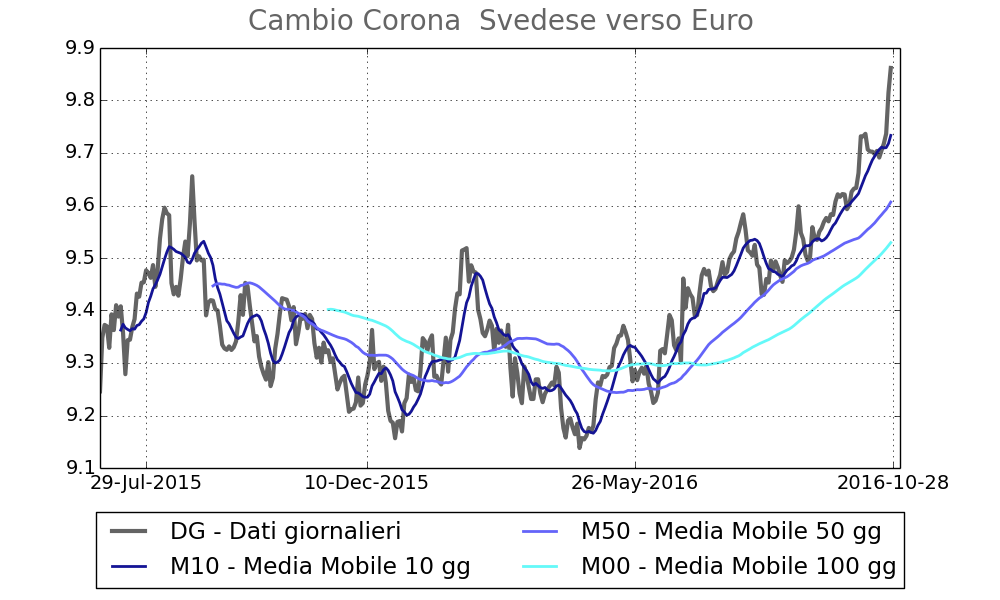 La settimana appena trascorsa si è caratterizzata per un ri-equilibrio delle quotazioni dell'Euro nei confronti delle principali valute, dopo il deprezzamento accusato la settimana precedente. Il dollaro è ritornato sopra a 1.09 dollari per euro; lo Yen si sta muovendo in un intorno di 115; la Sterlina sembra aver trovato un valore di equilibrio a 0.90; il Franco svizzero si posiziona su quotazioni prossime a 1.085.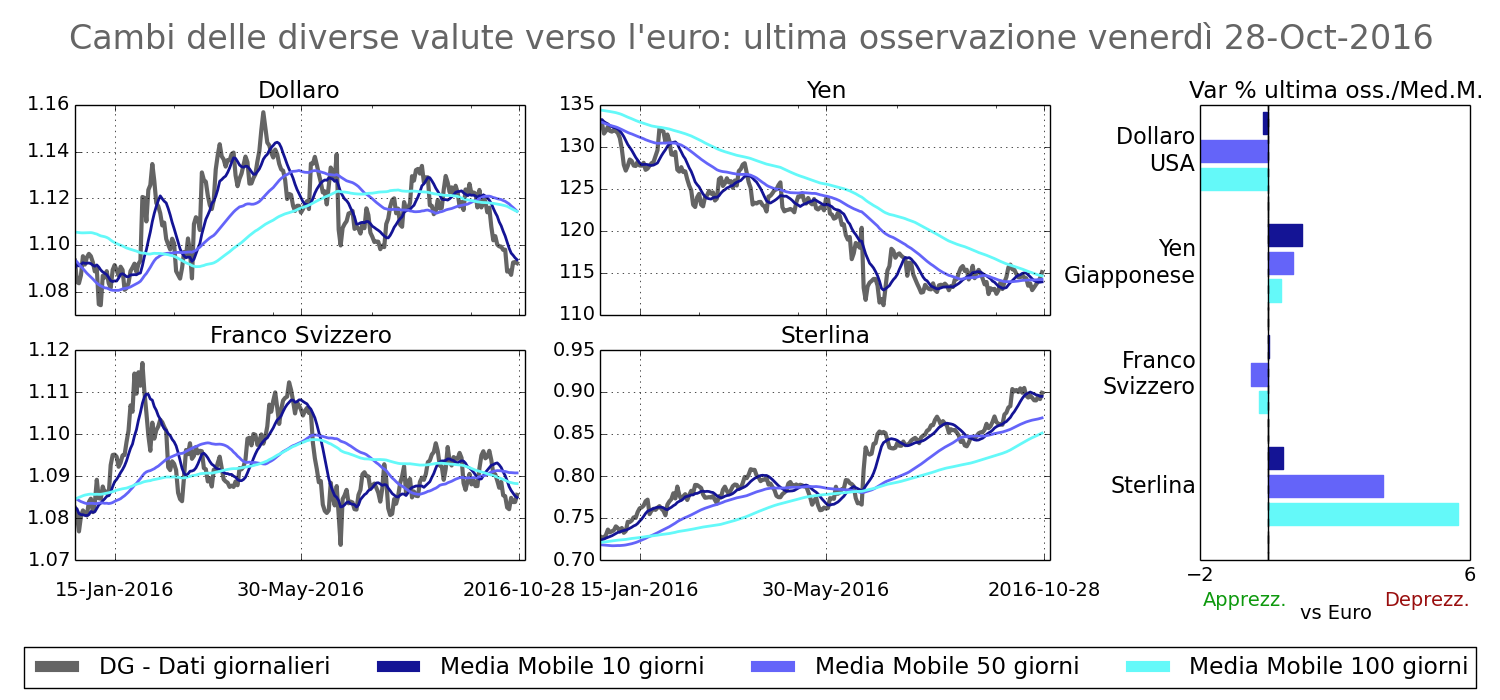 Dal lato dei cambi delle altre valute mondiali non si segnalano particolari movimenti, se non un generale leggero indebolimento verso l'euro, in un contesto di prosecuzione delle tendenze registrate nelle settimane precedenti.