Log in to use the pretty print function and embed function.
Aren't you signed up yet? signup!
La settimana appena terminata presenta una relativa stabilità dei tassi di cambio dopo gli effetti di rafforzamento del dollaro indotti dall'aumento dei tassi americani del 14 dicembre.
La BOJ (Bank of Japan) si è riunita il 20 dicembre. Nel corso dell'incontro la BOJ ha deciso di lasciare invariata la propria politica monetaria e, a sorpresa, ha rivalutato la situazione dell'economia nipponica evidenziandone un suo miglioramento. In aggiunta, ci si aspetta che nei prossimi interventi la BOJ adotterà un aumento dei tassi e non un loro taglio. In funzione di questi provvedimenti, il tasso di cambio dello Yen verso il dollaro ha evidenziato un leggero apprezzamento, interropendo la sua fase di progressivo indebolimento, iniziata due mesi fa.
Il contemporaneo rafforzamento dell'euro e del Franco svizzero nei confronti del dollaro suggerisce, tuttavia, anche l'esistenza di fattori specifici di indebolimento del dollaro nei confronti almeno delle principali valute mondiali.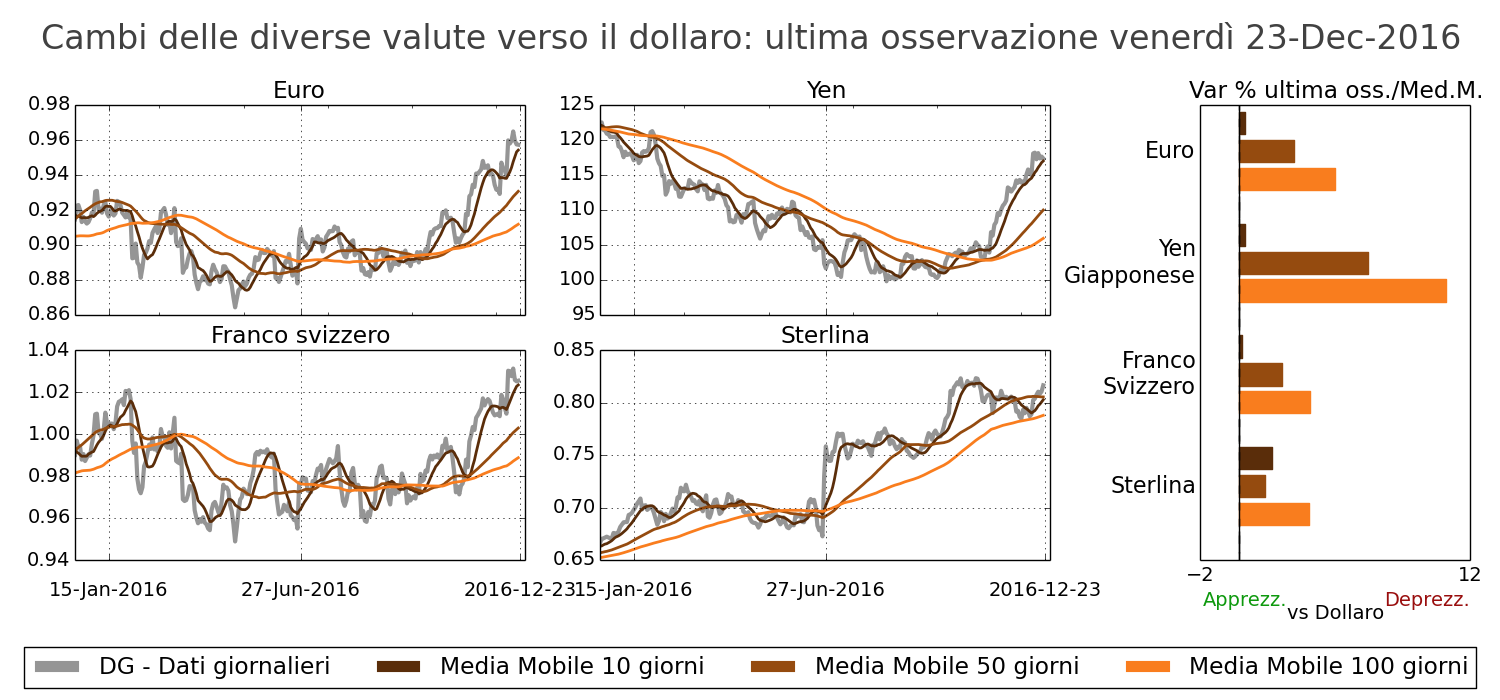 Ad esclusione dello yen, tutte le valute dell'area del Pacifico hanno continuato ad accusare un leggero indebolimento nei confronti del dollaro. Particolarmente accentuata è stata la perdita di valore del dollaro australiano che, assieme al dollaro neozelandese, in una sola settimana ha perso il 2%.
Tra le valute dei paesi in via di sviluppo, il Real brasiliano registra, anche questa settimana, un netto apprezzamento, candidandosi a risultare la valuta più "forte" nel corso del 2016. Naturalmente questa "forza" deve essere letta in relazione al forte deprezzamento subito dal Real nel 2015. Ciò non toglie, tuttavia, che la sua dinamica nel corso di quest'anno sia stata sorprendente.