Log in to use the pretty print function and embed function.
Aren't you signed up yet? signup!
L'amministrazione di Trump sembra indirizzata verso politiche economiche e monetarie significativamente diverse da quelle dell'amministrazione Obama. Molti analisti si stanno ponendo la domanda se sarà Trump a cambiare il mondo oppure sarà il mondo a cambiare Trump. Questa domanda nasce, da un lato, dalla rilevanza del cambiamento programmato dalla nuova amministrazione e, dall'altro, dal modo di agire del "business man" Trump, propenso ad ottimizzare i propri risultati all'interno di un contesto stabilito.
Queste incertezze si stanno riflettendo sul rapporto altalenante del cambio del dollaro verso l'euro. Come si vede dal grafico qui riportato, dopo la fase di apprezzamento del dollaro in relazione alle attese di aumento dei tassi americani, nelle ultime settimane, man mano che sono state esplicitate le intenzioni della nuova amministrazione in termini di politica economica e monetaria, il dollaro ha accusato un deprezzamento verso l'euro che sembra, tuttavia, aver perso intensità negli ultimi giorni.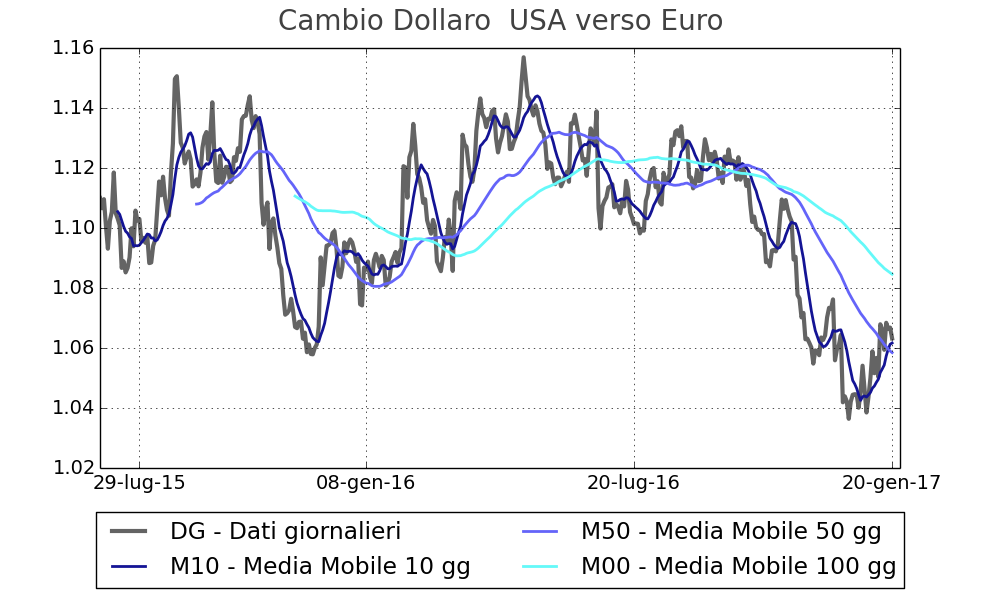 L'incertezza sul cambio del dollaro verso l'euro sembra originare dal lato del dollaro, come si ricava chiaramente dalla relativa stabilità che Euro, Franco svizzero e Yen registrano tra di loro. Viceversa la Sterlina sembra seguire maggiormente la valuta americana.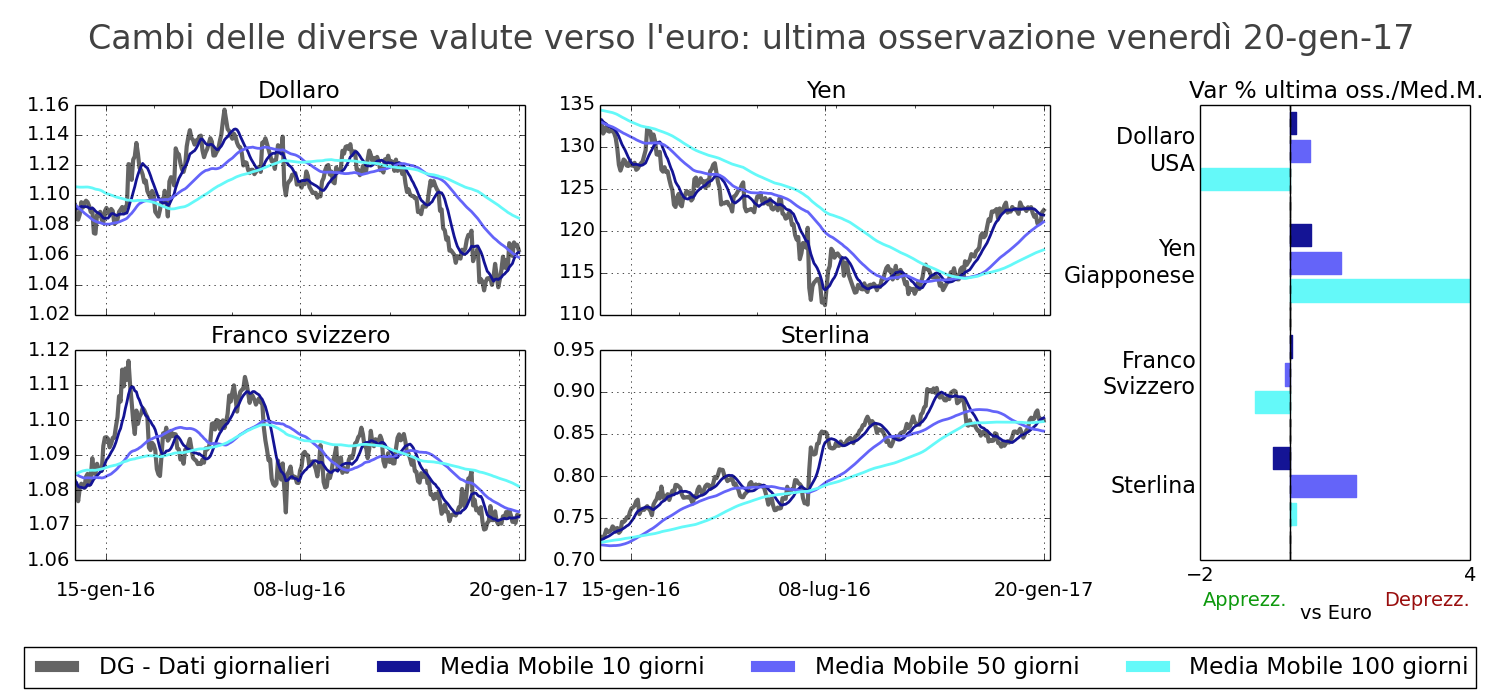 La lettura dei tassi di cambio bilaterali delle diverse valute mondiali, essendo espresse verso un'unica valuta di riferimento, può rendere difficile l'interpretazione dell'evoluzione dei diversi cambi, soprattutto in presenza di andamenti incerti. Ad esempio, la dinamica del cambio del Rublo russo verso l'euro potrebbe risultare opposta a quella del suo cambio verso il dollaro, non per fattori intrinsechi al Rublo, ma per la specifica dinamica del cambio delle due valute utilizzate come riferimento (euro o dollaro).
Una possibile soluzione che l'analisi economica propone a questo problema è quella di sostituire i tassi di cambio bilaterali con i tassi di cambio effettivi ottenuti come media dei tassi di cambio della valuta considerata verso un paniere di altre valute. Attualmente nel sistema informativo Ulisse non sono disponibili i tassi di cambio effettivi, per cui dobbiamo utilizzare, ai fini dell'analisi, i tassi di cambio bilaterali, in questo specifico caso verso l'euro.
Pur in questa limitazione, la settimana appena conclusa sembra evidenziare una progressiva debolezza della Lira turca, del Peso messicano e, recentemente, anche della Rupia indonesiana.