Log in to use the pretty print function and embed function.
Aren't you signed up yet? signup!
La settimana appena conclusa segna una relativa stabilità nel mercato dei cambi.
Negli ultimi giorni della settimana il rapporto di cambio dell'euro nei confronti del dollaro si è stabilizzato in un range di circa 0.89 euro per unità di valuta statunitense (1.12 dollari per euro), nonostante le turbolenze politiche caratterizzate dall'uscita degli Stati Uniti dall'accordo di Parigi sul clima e le tensioni tra A. Merkel e D. Trump, innescate dalle parole della cancelliera tedesca in seguito al G7 del 28 Maggio.

Tra le principali valute mondiali è possibile notare come la Sterlina risente dell'avvicinarsi delle elezioni politiche dell'8 Giugno, un evento fondamentale per il Regno Unito e, soprattutto, per i negoziati sulla Brexit. Nonostante questa tensione, il rapporto di cambio ha chiuso la settimana a 0.77 Sterline per dollaro. Yen e Franco Svizzero, invece, registrano una relativa stabilità rispetto alla settimana scorsa.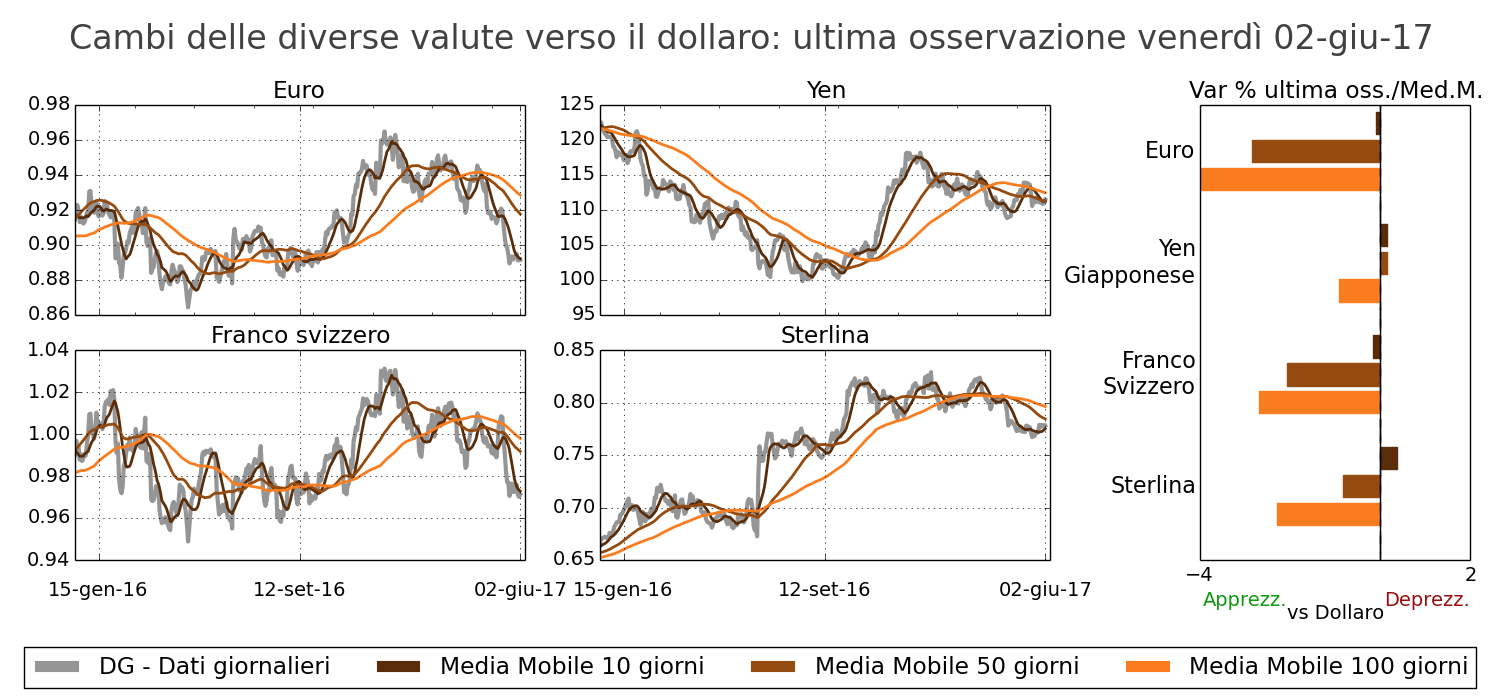 Dal grafico riportato di seguito emerge un segnale di stabilità nei confronti del dollaro anche dal Real Brasiliano, nonostante la situazione della politica brasiliana che vede il presidente Michel Temer sempre più oggetto di un possibile impeachment. Tra tutte le valute monitorate, il Dollaro Australiano è l'unica a registrare, questa settimana, una fase di netto indebolimento nei confronti della valuta statunitense. Ieri, il rapporto di cambio del dollaro australiano verso il dollaro americano è ritornato sopra la soglia di 1.35, segnalando un deprezzamento della valuta rispetto a tutte e tre le medie mobili (10, 50 e 100 giorni) utilizzate come benchmark.