Log in to use the pretty print function and embed function.
Aren't you signed up yet? signup!
Nel secondo trimestre 2017, sulla base delle pre-stime formulate da StudiaBo nell'ambito del Sistema Informativo Ulisse, le vendite all'estero delle imprese italiane di Prodotti e strumenti per la Salute1 hanno evidenziato un nuovo punto di massimo nei valori trimestrali in euro (Figura 1). Se misurata in termini di variazioni tendenziali, si tratta dell'ennesima crescita (+9.3% nell'ultimo trimestre, in euro) dell'export settoriale, che nel decennio in corso è passato da livelli su base trimestrale inferiori ai 4 miliardi di euro agli oltre 6.3 miliardi del trimestre appena concluso.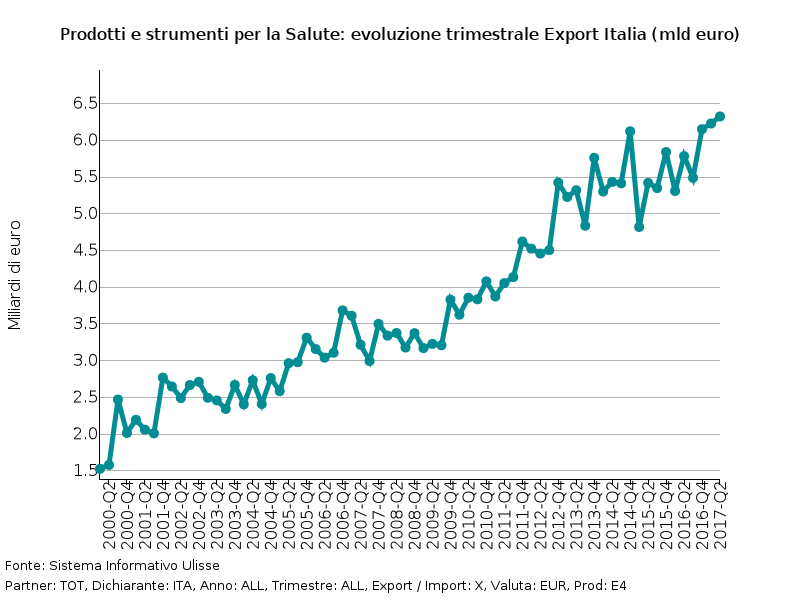 Non solo: la performance di crescita sui mercati esteri delle imprese italiane appare decisamente migliore della media dei concorrenti UE. Nel primo semestre dell'anno, la stima di crescita dell'export delle imprese italiane di beni per la Salute (+13.1% in euro) risulta decisamente più dinamica dell'insieme dei concorrenti dell'area UE28 (+5.9%), confermando quanto già registrato l'anno scorso: nella media 2016, infatti, l'export di Prodotti e strumenti per la Salute dei paesi comunitari aveva segnato un debole incremento (+0.2%), a fronte di un ritmo di crescita di ben 6 punti percentuali per le vendite all'estero delle imprese italiane.
In termini di destinazioni trainanti l'export italiano, si segnala la performance di crescita eccezionale delle vendite italiane sul mercato irlandese (+861 milioni di euro nel primo semestre dell'anno rispetto al corrispondente periodo 2016, spiegabile anche per effetto del ruolo di "hub" logistico-amministrativo del paese irlandese tra le multinazionali del settore), ma anche il forte aumento sul mercato statunitense (+474 milioni di euro rispetto al primo semestre 2016, equivalente ad una crescita tendenziale del 56 per cento). Da segnalare, inoltre, andamenti delle vendite italiane di Prodotti e strumenti per la Salute decisamente positivi e più favorevoli della media dei concorrenti UE anche sui mercati di Francia, Regno Unito, Spagna, Arabia Saudita, Brasile e Polonia. Vanno infine menzionate le performance di crescita dell'export italiano del settore in Svizzera e Russia, anche se con tassi di variazione meno favorevoli alla media dei concorrenti europei.


---
1 Per una descrizione dei codici prodotto relativi a questa industria, si rimanda a: Classificazione Ulisse: Prodotti e strumenti per la salute