Log in to use the pretty print function and embed function.
Aren't you signed up yet? signup!
La settimana scorsa è stata caratterizzata da due importanti eventi che hanno avuto un significativo impatto sul mercato dei cambi. Si tratta dell'intervento della Banca Centrale Europea e della Bank of Canada (si veda Euro e Dollaro canadese: l'influenza delle Banche Centrali ).
Questa settimana, gli istituti nazionali che hanno preso decisioni in materia di politica monetaria, influenzando di conseguenza le rispettive valute locali, sono la Bank of England (BoE) e la Schweizerische National-Bank (SNB).
Il Comitato di Politica Monetaria della BoE, lo scorso 14 settembre, ha deciso di mantenere inalterata la propria politica monetaria lasciando invariati i tassi d'interesse allo 0.25% e confermando la politica di acquisto titoli sia sui corporate bond che sui bond governativi.
Lo stesso governatore della Banca d'Inghilterra, Mark Carney, ha affermato che una riduzione degli stimoli monetari potrebbe avvenire già nei prossimi mesi in modo graduale e limitato, in base all'andamento dei dati macroeconomici del Paese.
La decisione della BoE è guidata dal buon andamento dell'economia inglese. In particolare si osserva un calo del tasso di disoccupazione mensile al 4.3% (riduzione di 0.1 punti percentuali rispetto al mese di giugno e di 0.4 rispetto inizio anno) e, ancora più importante, un aumento del tasso d'inflazione mensile al 2.9% (aumento di 0.3 punti percentuali rispetto il mese di giugno e di 1.1 rispetto inizio anno).
A beneficiare di tale situazione è la Sterlina che si è apprezzata sia nei confronti dell'euro che nei confronti del dollaro. Infatti, la valuta inglese da inizio mese ha recuperato il 5.4% del suo valore sull'euro (chiudendo la settimana con un valore pari a 0.88 Sterline per euro) e il 5.39% del suo valore sul dollaro, attestandosi su valori che non si osservavano da luglio 2016 (0.736 Sterline per dollaro).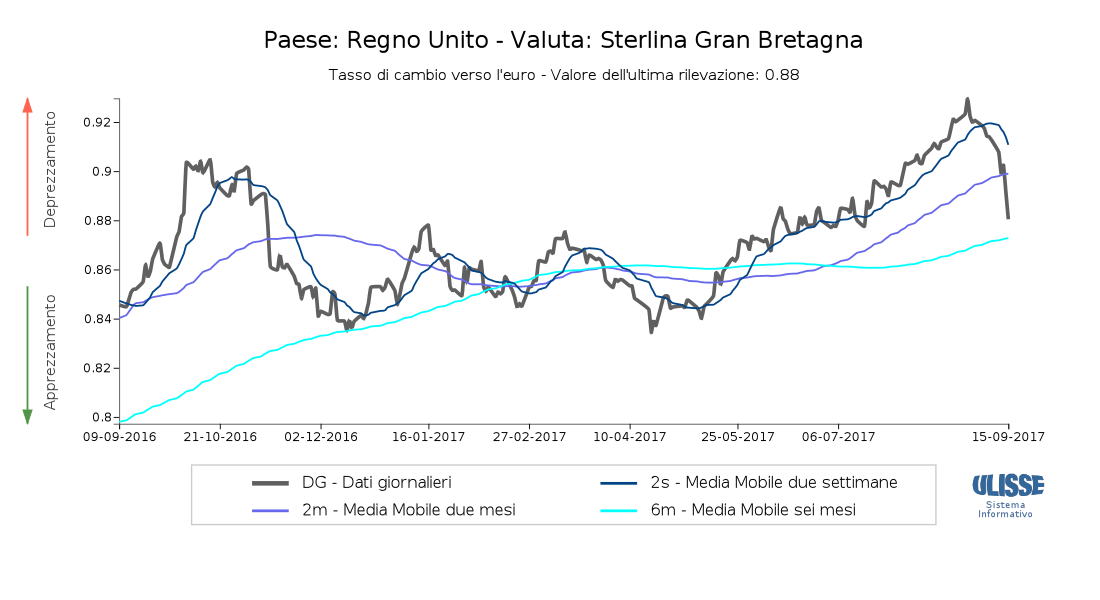 La Schweizerische National-Bank (SNB) ha seguito la strategia inglese mantenendo invariata la propria politica monetaria espansiva, lasciando inalterati i tassi d'interesse a -0.75%. Tale politica monetaria era già stata preannunciata dal governatore Thomas Jordan a fine luglio, provocando, in pochi giorni, una caduta del Franco svizzero del 4.3% nei confronti dell'euro e del 2.3% nei confronti del dollaro (si veda L'indebolimento del Franco svizzero e il cambio di valuta in Iran).
Tuttavia, il deprezzamento del Franco non è visto in modo negativo dall'istituto bancario svizzero che, ancora oggi, sostiene sia sopravvalutato.
Inoltre, il quadro macroeconomico della Svizzera non sembra migliorare, infatti, è la stessa SNB a rivedere a ribasso il tasso di crescita del PIL dall'1.5%, pronosticato a giugno, all'attuale 1%.
Tale scenario si riflette negativamente sul mercato dei cambi e sul Franco svizzero che, oltre a mostrare una dinamica molto volatile, da inizio settimana si è indebolito dello 0.7% nei confronti dell'euro (0.95% nei confronti del dollaro) raggiungendo un valore pari a 1.148 Franchi per euro (0.96 Franchi per dollaro).
Infine, da segnalare l'indebolimento dello Yen giapponese. Tale dinamica è giustificata principalmente da due fattori: fattori economici e fattori geopolitici.
Per quanto riguarda il primo aspetto, il Ministero del Commercio Internazionale e dell'Industria giapponese (METI) questa settimana ha confermato il calo della produzione industriale mensile dal 2.2% di giugno al -0.8% di luglio.
Inoltre, ad alimentare i timori degli agenti di mercato sono le ripetute minacce di Pyongyang che, dopo aver minacciato di "affondare" il Giappone con un attacco nucleare, questa mattina ha nuovamente lanciato un missile che ha sorvolato ed allarmato tutta l'isola giapponese.
Tale situazione si ripercuote sul mercato Forex e sullo Yen giapponese che, in pochi giorni, si è indebolito del 2.3% nei confronti del dollaro, chiudendo la settimana con un valore pari a 111.109 Yen per dollaro.