Log in to use the pretty print function and embed function.
Aren't you signed up yet? signup!
Continua la fase di apprezzamento dell'euro nei confronti del dollaro anche nella settimana della Fed.
Lo scorso mercoledì, infatti, il Federal Open Market Committee (FOMC), il comitato di politica monetaria della Federal Reserve americana, ha lasciato i tassi d'interesse invariati (1.50%, ultimo rialzo il 13 dicembre 2017) dichiarando, però, che per il 2018 le aspettative sul tasso d'inflazione sono positive.
I mercati, quindi, avrebbero dovuto scontare già da subito un probabile aumento dei tassi d'interesse nei prossimi mesi, ma ciò non è successo, infatti, il dollaro ha continuato a perdere terreno nei confronti dell'euro arrivando ad un valore pari a 1.249 dollari per euro.
La debolezza del dollaro, quindi, potrebbe aver innescato un nuovo interesse per le valute rifugio, quale ad esempio il Franco svizzero che da inizio novembre ha intrapreso una dinamica di apprezzamento nei confronti del dollaro, recuperando più del 7% del suo valore (vedi grafico sotto riportato).
Nelle ultime due settimane la valuta elvetica si è apprezzata non solo nei confronti del biglietto verde (3.12%) ma anche nei confronti dell'euro (1.69%), attestandosi su valori rispettivamente pari a 0.92 Franchi per dollaro, 1.16 Franchi per euro.
Monitorando le riserve ufficiali della SNB (Swiss National Bank) – da agosto pari a 56 miliardi di dollari- è possibile affermare che, negli ultimi mesi, l'istituto centrale svizzero non è intervenuto nei mercati Forex lasciando che il valore del Franco svizzero fosse determinato dai mercati.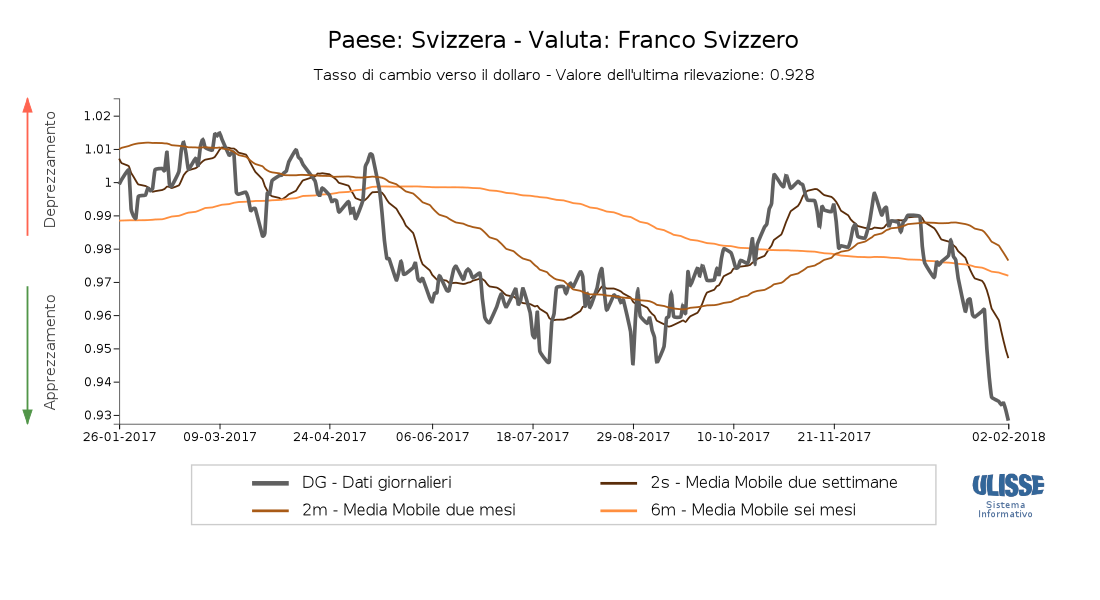 Le misure adottate dalla Central Bank of Sudan (SboS) per arginare le speculazione sui mercati secondari (mercati non ufficiali chiamati anche "black market") hanno provocato il secondo crollo della Sterlina sudanese nel giro di un mese.
Lo scorso novembre il governo sudanese, insieme alla SboS, ha ordinato l'arresto di importanti commercianti di valuta estera e il congelamento di decine di beni appartenenti a persone e società incriminate di riciclaggio e di finanziamento al terrorismo.
Tali eventi hanno provocato un ulteriore crollo della sterlina sudanese. Infatti, come si può osservare dal grafico sotto riportato, la valuta sudanese (ancorata al dollaro ormai da tempo) si è deprezzata del 5% lo scorso 15 gennaio e del 156% la scorsa settimana, attestandosi su un valore pari a 18 Sterline per dollaro.
Tale deprezzamento ha provocato aumenti nei prezzi del carburante, cibo e medicinali (chiamata anche "inflazione importata") scatenando proteste di massa in tutto il paese.