Log in to use the pretty print function and embed function.
Aren't you signed up yet? signup!
Una valuta che sta attraversando un periodo di significativo rafforzamento è il Peso Cileno.
La valuta cilena nell'ultimo anno ha assunto un trend di rafforzamento non solo nei confronti del dollaro (apprezzamento del 12%), ma anche nei confronti delle valute dei suoi principali partner commerciali.
Infatti, nel grafico sotto riportato si può osservare che il tasso di cambio effettivo del Peso cileno è passato da valori pari a 102 di inizio maggio, all'attuale 112.37, registrando una variazione positiva del 9.8% .
Un'altra importante informazione che può essere letta dal grafico del tasso di cambio effettivo riguarda il momentaneo indebolimento del Peso avvenuto nel mese di novembre. Proprio in quel periodo, più precisamente il 19 novembre (giorno in cui il Peso ha iniziato ad indebolirsi) si sono tenute le elezioni presidenziali, vinte al secondo turno (17 dicembre) da Sebastián Piñera coalizione di centrodestra "Chile Vamos". E' evidente come l'incertezza politica tra il primo e il secondo turno ha portato ad un deprezzamento del peso, completamente recuperato una volta preso atto del democratico avvicendamento della presidenza.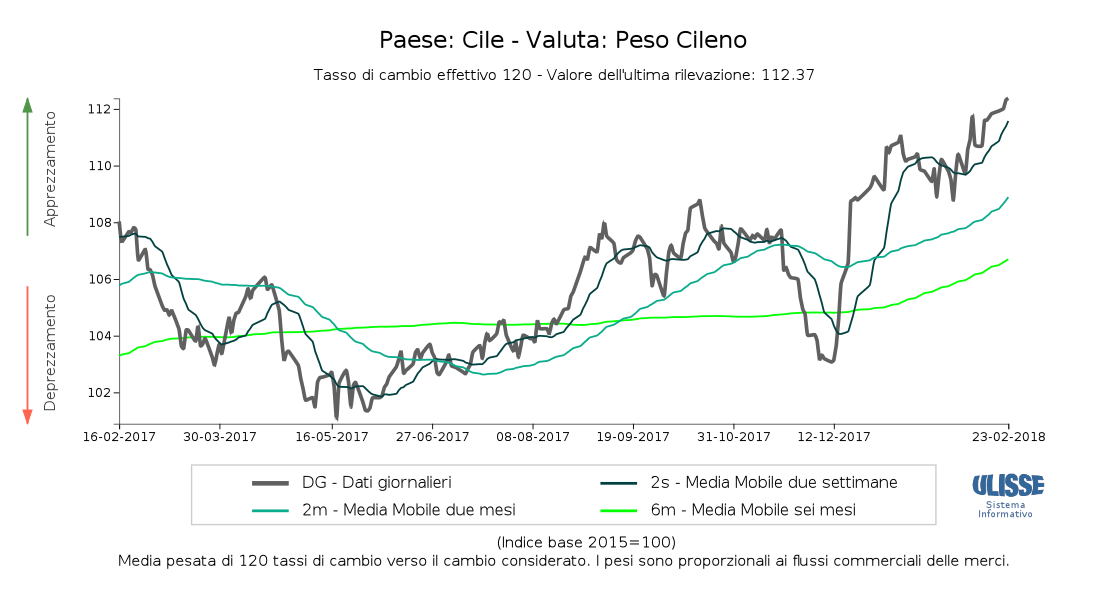 Tuttavia, i fattori che possono influenzare la dinamica di una valuta sono tanti. In molti casi la situazione economica di un Paese e le sue caratteristiche svolgono un ruolo molto importante. Il Cile è il primo produttore ed esportatore al mondo di rame, contribuendo per oltre il 40% al totale del valore delle esportazioni cilene. Variazioni nel prezzo di tale metallo possono, quindi, avere importanti effetti sull'economia del paese e su molti indicatori macroeconomici.
Insieme al tasso di cambio, un altro indicatore indiretto che misura lo stato di salute di un economia è l'indice di borsa.
Può essere interessante, quindi, confrontare la dinamica del tasso di cambio del Peso cileno (tasso di cambio dollaro per Peso), dell'indice di borsa cileno (Santiago Stock Exchange IGPA Index) e delle quotazioni del rame (quotazioni spot del London Metal Exchange) degli ultimi dieci anni, per valutare l'importanza delle quotazioni del rame per l'economia cilena.
Per riportare le tre misure appena descritte in un unico grafico e per fare un confronto tra esse, ogni variabile sopra citata è stata indicizzata al 2010. Inoltre, il cambio è stato considerato nella forma inversa di dollaro per Peso, in modo che aumenti di questo indicatore corrispondano ad apprezzamenti del Peso e, viceversa, le sue diminuzioni a deprezzamenti.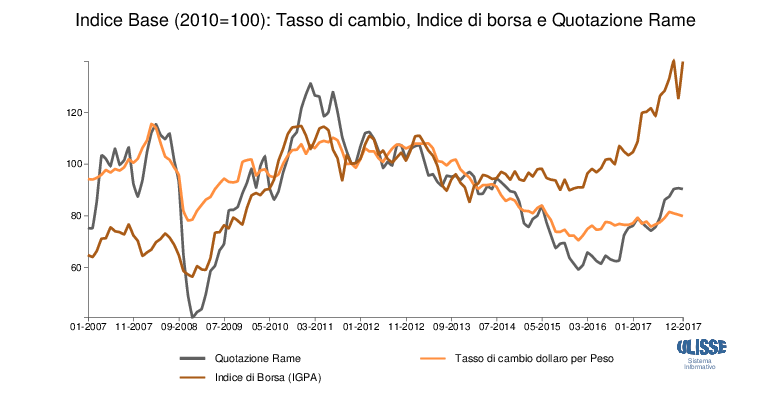 Come si può osservare dal grafico sopra riportato il tasso di cambio dollaro per Peso e l'Indice di borsa IGPA hanno condiviso la stessa dinamica del rame. Nel 2008, ad esempio, il prezzo del rame ha subito una forte diminuzione perdendo più del 60% del suo valore. La reazione dei mercati Forex e della Borsa Valori è stata la stessa, trascinando la valuta cilena e l'indice IGPA nella stessa direzione. Stessa cosa si può dire per l'ultimo anno, le quotazioni del rame stanno spingendo Peso e Borsa al rafforzamento.
Non vi è dubbio, quindi, che le quotazioni del rame influenzano in modo significativo la dinamica del Peso e dell'indice di Borsa cileno.