Segnali di recupero del Sud d'Italia
Le esportazioni delle regioni del sud da oltre due anni registrano tassi di crescita superiori a quelli medi italiani.
Published by Luigi Bidoia. .
Regional export
Export
Global economic trends
Log in to use the pretty print function and embed function.
Aren't you signed up yet? signup!
Alcuni giorni fa è stato presentato il 7° rapporto della Fondazione La Malfa su Le imprese industriali del mezzogiorno 2008-2016. L'analisi principale presentata nel rapporto riguarda il recupero di competitività delle medie imprese del Sud, che hanno recuperato interamente il gap che le separava delle corrispondente classe delle imprese del Nord. Le medie imprese localizzate nel Sud, pur assai limitate nel numero, sono riuscite negli ultimi anni a produrre risultati non diversi da quelli delle medie imprese del Nord. Detto in altre parole, i problemi economici del Sud d'Italia sono principalmente dovuti allo scarsa numerosità di medie imprese e non tanto ad un ambiente economico penalizzante. La politica industriale dovrebbe concentrarsi quindi sugli strumenti in grado di far crescere dimensionalmente le piccole imprese.
I dati ISTAT sul commercio estero per provincia, relativi al I trimestre di quest'anno, confermano l'analisi di un Sud industriale in grado di competere alla pari con il Nord. Il grafico che segue mette a confronto la variazione delle media mobile annua1 delle esportazioni del Sud con quelle totali dell'Italia.
Tassi di variazione delle esportazioni italiane e delle regioni del sud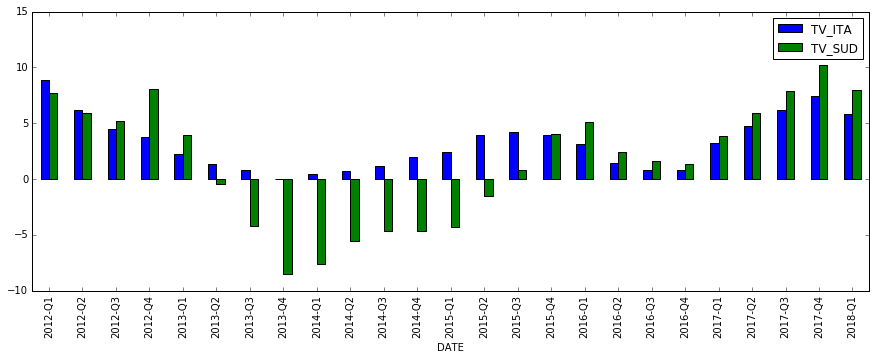 Il grafico evidenzia chiaramente come, dopo un triennio (2013-2015) di grandi difficoltà, le esportazione delle regioni del sud hanno iniziato a crescere a tassi leggermente superiori a quelli del totale Italia. Considerando in modo specifico il primo trimestre 2018, a fronte di un tasso di crescita delle esportazioni totali italiane, in termini di media mobile cumulata, del 6%, le regioni del sud sono aumentate del 8%, con tre regioni che hanno registrato tassi di crescita a due cifre: Sicilia 23%; Calabria 17%; Abruzzo 12%.
Se per la Sicilia questo risultato è dovuto in larga parte all'aumento del valore delle esportazioni di prodotti petroliferi, a loro volta sostenuti dall'aumento del prezzo del petrolio, molto più significative sono le determinanti delle altre due regioni.
Per la Calabria questi risultati positivi derivano da una crescente propensione all'estero dell'industria Agroalimentare, che accomuna un po' tutte le province calabresi, e dai successi di alcune imprese metalmeccaniche e della chimica per l'industria della provincia di Reggio Calabria (si veda l'articolo Alta tecnologia a Reggio Calabria ).
I risultati dell'Abruzzo sono invece in buona parte dovuti al successo che stanno avendo le calzature della Val Vibrata sul mercato svizzero (si veda l'articolo Il successo delle calzature della Val Vibrata sul ricco mercato svizzero).
Le esportazioni delle regioni del Sud d'Italia rappresentano una piccola quota del totale delle esportazioni italiane (poco più del 10%). Qualunque manifestazione di ottimismo non può, quindi, che confrontarsi con questo dato di fatto. Ciò non toglie che qualcosa nel sud d'Italia stia cambiando: casi isolati per ora, ma che potrebbero trovare in una politica industriale mirata, la forza per diffondersi.
---
(1) La media mobile cumulata è data dalla somma dei quattro trimestri che terminano con il trimestre considerato. Il tasso di variazione di un trimestre è calcolato comparando la somma quattro trimestri che terminano nel trimestre considerato con quella dei 4 trimestri che terminano nel corrispondente trimestre dell'anno precedente.