Si aggrava la crisi venezuelana
La dinamica del cambio fuori controllo riflette la crisi politica, economica e sociale del paese.
Published by Luigi Bidoia. .
Exchange rate
Latin America
Exchange rates
Log in to use the pretty print function and embed function.
Aren't you signed up yet? signup!
Questa settimana è stata indubbiamente caratterizzata dalla crisi del Venezuela, valutaria (svalutazione di oltre il 95% del Bolivar), economica (PIL previsto dimezzarsi quest'anno) e sociale (migliaia in fuga versi i paesi confinanti).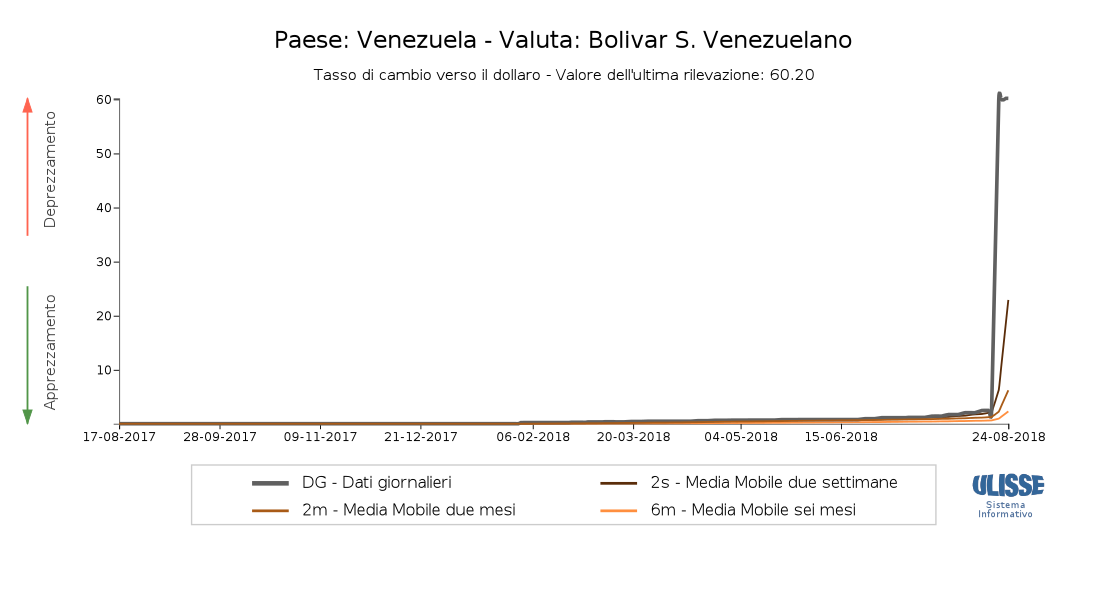 Una lunga serie di errori nella politica economica e monetaria
La politica monetaria e la gestione dei rapporti di cambio è sempre stata un problema per l'economia venezuelana. La prima crisi valutaria risale al 1984, a cui seguirono molte altre. Ma i problemi si sono aggravati in questo secolo per la caparbia volontà di controllare il cambio tramite azioni amministrative dirette.
Due interventi rivoluzionari, entrambi disastrosi, hanno preceduto l'intervento di lunedì scorso. Il primo è stato l'introduzione del Bolivar fuerte nel gennaio 2008 con un valore pari a 1000 vecchi Bolivar, e un cambio fisso verso il dollaro a 2.14. L'intento era quello di contenere via cambio l'inflazione, senza però attuare alcuna riforma per equilibrare domanda e offerta sul mercato interno e, soprattutto, senza limitare l'aumento della base monetaria. Il cambio fisso durò poco più di un anno; le successive svalutazioni deprezzarono il cambio, in pochi anni, ad oltre 6 bolivar per dollaro, per poi proseguire fino a 10.
Il secondo intervento rivoluzionario, 6 mesi fa, è stata la decisione di abbandonare il "peg" con il dollaro. In tre giorni, il tasso di cambio è passato da 10 bolivar per dollaro a 25 mila, avviando un circuito vizioso tra deprezzamento del cambio e inflazione che il governo non ha saputo arrestare. Le autorità monetarie sono state costrette progressivamente ad un continuo deprezzamento del cambio ufficiale a causa dell'esistenza di un mercato nero che, con valori di cambio arrivati a superare all'inizio di agosto un milione di bolivar per dollaro, ha drenato tutte le disponibilità di valuta estera non controllate dal governo. A metà di agosto il cambio ufficiale era già arrivato a 259 mila bolivar per dollaro.

Drammatiche le conseguenza dell'intervento di lunedì
L'ultimo intervento rivoluzionario è stato attuato lunedì. E' consistito nell'introduzione del Bolivar soberano con un valore corrispondente a 100 mila Bolivar fuerte; contemporaneamente il cambio ufficiale è stato svalutato fino a 60 bolivar soberano per dollaro, per limitare il suo scarto da quello del mercato nero. Nel corso di questa settimana, il cambio ufficiale si è mantenuto su questi livelli, ma sul mercato nero già venerdì erano necessari 80 bolivar per acquistare un dollaro.
E' evidente che in queste condizioni l'economia venezuelana è completamente bloccata. Il governo è intervenuto fissando amministrativamente i prezzi di una lista di beni di prima necessità, ma con il risultato di paralizzare ulteriormente l'economia.
Dopo questi errori e con riserve valutarie ormai quasi del tutto prosciugate, l'attuale governo non sembra avere nessuna possibilità di riportare l'economia venezuelana su un sentiero di normalità, se non con interventi sempre più autoritari.