British Pound and Norwegian Krone at the antipodes
The Brexit deal supports the Pound, while the causes of the depreciation of the Krone are uncertain
Published by Luigi Bidoia. .
Exchange rate
Pound
Exchange rates
Log in to use the pretty print function and embed function.
Aren't you signed up yet? signup!
British pound is undoubtedly the king of this week among currencies. Last Friday, expectations of a Brexit deal had already supported the British pound, taking it from 0.902 pounds per euro to 0.875. This week, the effective will to find a deal has been increasingly evident; a deal has finally been announced on Thursday morning by the President of the European Commission, Jean-Claude Juncker. In this situation the Pound closed the week at 0.864, which is not the maximum appreciation reached by the British currency during 2019. In spring, in fact, the pound had fallen many times below the threshold of 0.86 pounds per euro, when it seemed that PM Theresa May was about to close an agreement with the EU.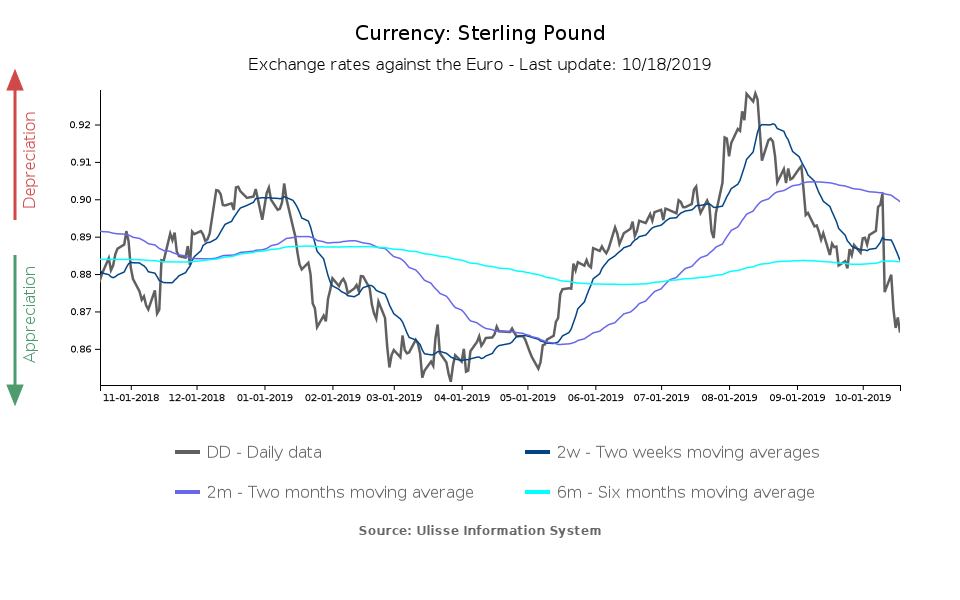 The prudence linked to the latest fluctuations of the pound is linked to the fact that the British Parliament will have to vote on the deal, reached on Saturday 19 October.
The outcome of the vote is uncertain, because the Labor, the Scottish nationalists and the Democratic Unionist Party of Northern Ireland do not seem willing to vote in favor of the deal reached. The financial markets seem therefore to have bet, but with prudence, on a parliamentary vote favorable to the deal.
Unlike the Pound, the week ended with yet another depreciation of the Norwegian Krone, which reached 10.22 crowns against the euro. In one week, the crown depreciated by almost 2%; in a month of over 3%; in a year of 8%. All analysts are wondering what are the determinants that have been weakening the Norwegian Krone for several months. The most accredited are:
a historical weakness of the currency in phases of high global uncertainty;
the high weight in the stock market of companies, whose results are linked to the price of oil.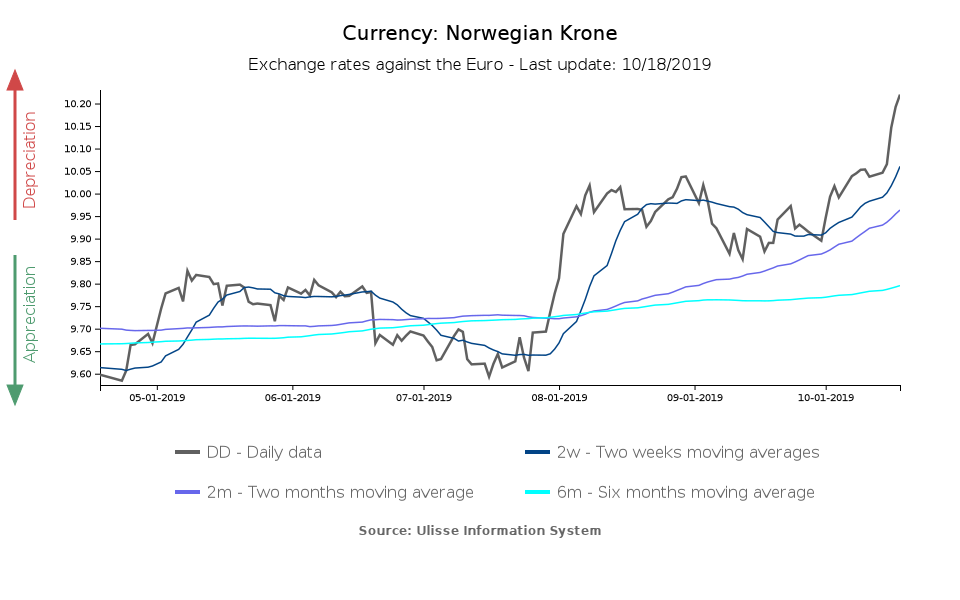 However, many doubts remain, because in the face of these factors of depreciation, there are other factors that should, conversely, lead to an appreciation of the Krone. Between these:
relatively high interest rates, increased during this year from 0.8 to 1.5;
GDP growth close to 2% this year and expected at 2.4% for 2020;
a largely positive current account balance, close to 7% of GDP.
Probably a non-marginal cause of the changes in the Norwegian Krone are the operations carried out by Norway's Government Pension Fund Global (the largest pension fund in the world), managed by the Central Bank of Norway. For several years, the value of the assets managed by the fund has exceeded 1000 billion dollars. The weight that the fund has on the Norwegian economy and on the balance of payments is evident if we consider that both the current account balance and the stock of Norway's foreign reserves have a level of a few tens of billions of dollars.