Log in to use the pretty print function and embed function.
Aren't you signed up yet? signup!
The past week has been characterized by the sharp depreciation suffered by the South African rand, which has lost more than 3% of its value in a single week.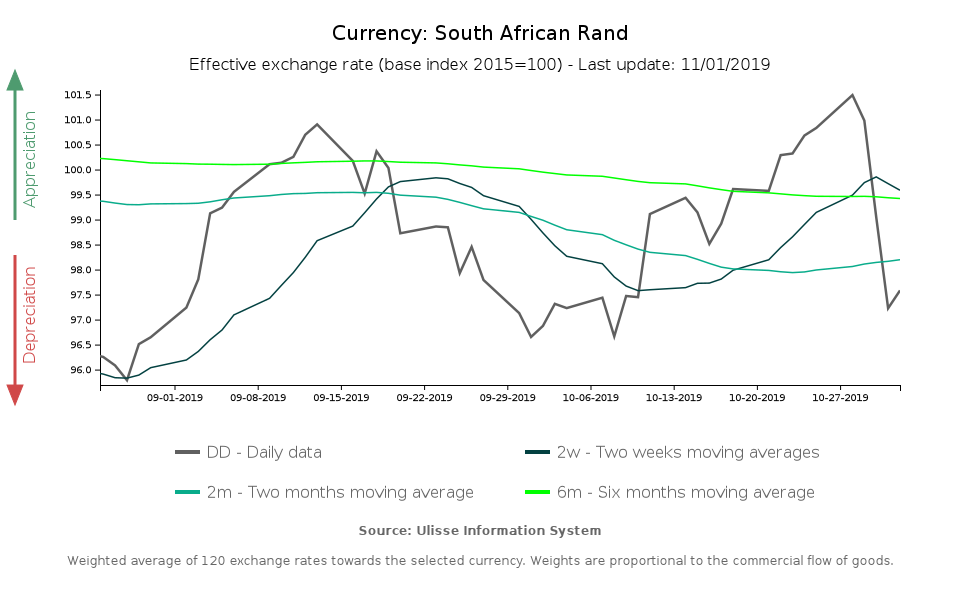 The element that caused concern on financial markets was the speech held in parliament on October 30 by Finance Minister Tito Mboweni, about South Africa's medium-term budgetary policy. Tito Mboweni is an economist that boasts a long academic and political career within the African National Congress (ANC), the party that has always won elections in the post-apartheid period. He served as central bank governor and worked as Goldman Sachs international consultant. Mboweni represents the international wing of the current government, led by President Cyril Ramaphosa. In his speech he urged the government, businesses and unions to take note of the need for a profound change in the country's fiscal policy.
Without this change, South African debt could move to an unsustainable trajectory. Within 3 years it could exceed 70%, significantly increasing its cost. Interest rates on ten-year government bonds are currently at 8%, but they could rise a lot if markets considered the progression of the debt as unsustainable. Last Friday, Moody maintained its rating on South African public debt at Baa3, changing its outlook to "negative": this choice was motivated by prospects of low economic growth and an increase in public debt.
The alarm raised by Tito Mboweni does not seem to have been appreciated by many of his party colleagues, who wonder why South Africa should not be able to sustain the same situation that is common elsewhere. Public debt to GDP ratio is close to 100% in the United States, France and Spain, while it exceeds 130% in Italy and 200% in Japan. In South Africa, the political class in power is finding it hard to acknowledge the current global economic crisis, which reduced the country's economic growth below 1% in 2018-2019 and below 1.5% in the next two years, resulting in high domestic sacrifices.
Source: ExportPlanning.
The current president Cyril Ramaphosa, who replaced the controversial Jacob Zuma in February 2018 and then won the elections in May 2019, does not seem to have enough political strength to support the change required by Tito Mboweni. In this situation, it is likely that South Africa will soon line up at the International Monetary Fund for a request for funds.