Forex markets respond quietly to new crisis between Israel and Palestine
The escalation of violence does not seem to affect the shekel as financial markets are confident in the quality of institutions and the actions of the central bank
Published by Gloria Zambelli. .
Exchange rate
Dollar
Uncertainty
Central banks
Exchange rates
Log in to use the pretty print function and embed function.
Aren't you signed up yet? signup!
In the last few days, the historic Israeli-Palestinian conflict has returned to the center of media attention, due to the escalation of violence in Jerusalem. The current tensions are the worst since the last war between the two armed groups in the summer of 2014, and they are likely to drag on for quite some time. However, as the chart shows, the internal crisis in the country does not seem to be reflected in the dynamics of the local currency, which has went through a depreciation limited to 0.3% over the last week.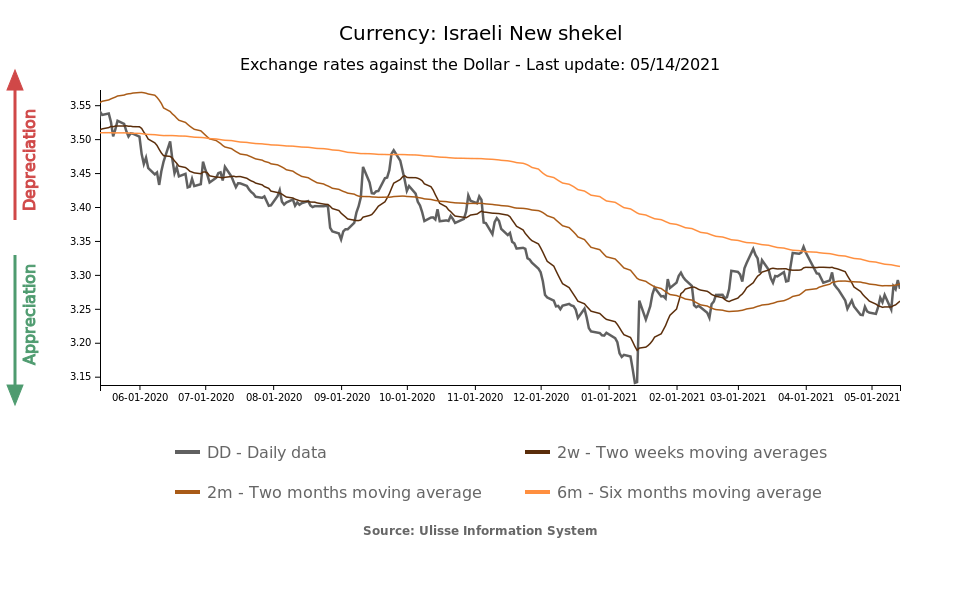 Forex markets' trust in institutions
After the rapid appreciation phase in January, which led to the Bank of Israel's decision to buy 30 billion dollars of foreign currency during 2021, the shekel has seen a stabilization phase hitting values close to 3.30 shekels per dollar.
At first glance, the armed clashes taking place in the country do not seem to be having any significant effects on financial markets. After an initial devaluation of 1% on Tuesday, May 11 (the day after the beginning of the bombings between Israel and the Gaza Strip), the domestic currency closes the financial week without further depreciation.
Analyzing the financial variables other than the exchange rates, there were some signs of uncertainty concerning government bonds during the week. In fact, the yield rates on 10 year bonds issued by the Israeli treasury went from 1.10 to 1.27, widening the spread against the American rates by 15 basis points.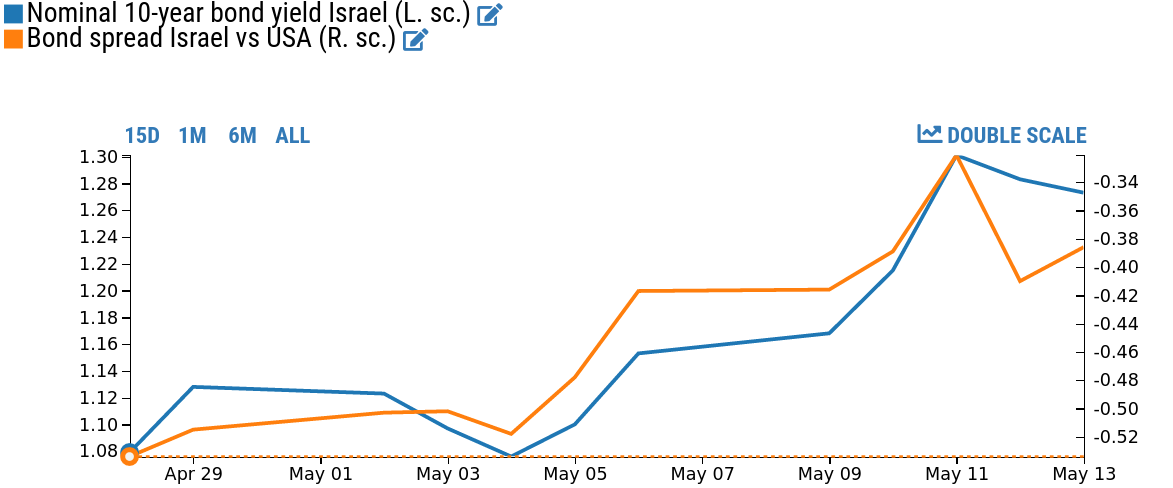 So, the evaluation of financial markets is not entirely neutral towards the escalation of tensions in Israel, attributing a greater risk associated with the country. However, this worsening was mainly manifested in the government bond market, whereas it seems to have been almost entirely absorbed by the local currency stabilization maneuvers.
Comparison with 2014 clashes
In light of the latest confrontation, which took place between July 8 and August 26 2014 and was known as "Operation Margin of Protection", there was no depreciation of the currency due to the concern of financial operators. Indeed, the strong depreciation that affected the Israeli shekel by August 2014 was mainly due to a strengthening of the dollar.
Conclusion
Despite the worsening of tensions within the area, the Israeli shekel does not seem to have lost its renowned strength on forex markets, due both to their cyclicalities and to the robustness of the country's institutions. To this extent, the effective management of the vaccination plan allowed Israel to be one of the first countries to come out of the lockdown.