Log in to use the pretty print function and embed function.
Aren't you signed up yet? signup!
During the last twenty years, the small Latin American nation of Costa Rica has distinguished itself for a strong transformation of its development model, aiming at a true diversification of its economic activity. One of the sectors that has become a symbol of this transformation is certainly that of health products. Until the beginning of the century, the structure of the country's exports was, in fact, almost exclusively dependent on agricultural products, but in the last two decades, the importance of high-technology products in the life sciences sector (medical devices, biotechnologies and pharmaceutical products) has become increasingly important.
Fig.1-Costa Rica: main export sectors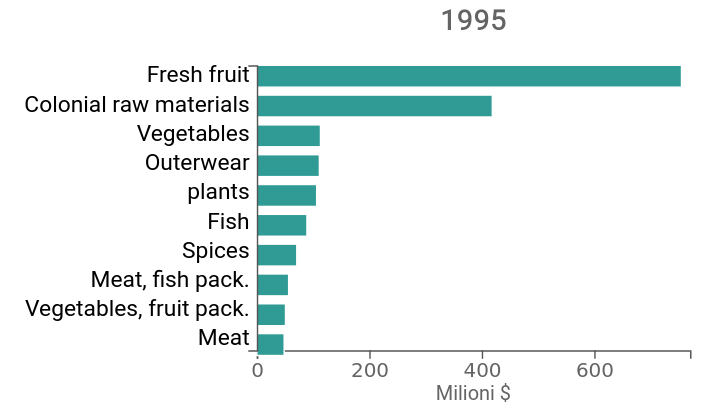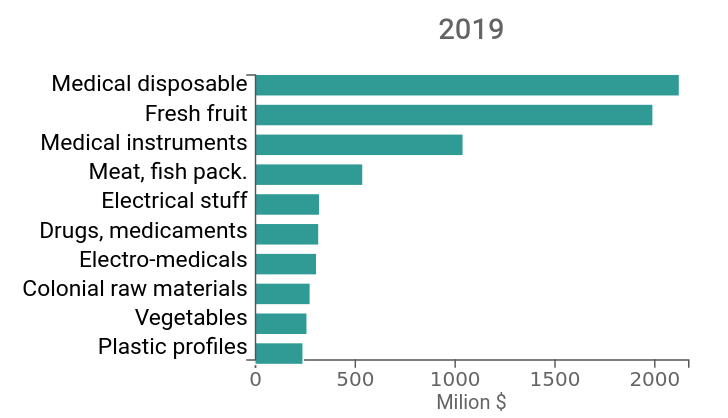 Source: ExportPlanning.
As shown in the graph above, in 1995, a large part of Costa Rica's exports consisted of agro-alimentary goods, primarily tropical fruit and coffee. Since the beginning of the century, however, there has been strong growth in exports of medical devices and equipment, drugs and electro-medical equipment, so much so that these items now account for around 35% of the country's total exports.
The growth of the sector becomes particularly relevant if made in comparison with the Italian performance of health products, in particular electro-medical and medical devices.
Fig.2-Medical devices: Export Italy vs Costa Rica

Fig.3 -Electromedicals: Export Italy vs Costa Rica

This result depends, in part, on some typical characteristics of Costa Rica: since the beginning of the century, the country's attractiveness to international investors has grown, especially in the life sciences sector, integrating into the global value chains especially of the U.S. pharmaceutical industry (from the U.S. comes in fact more than 50% of Foreign Direct Investment, for more details see the link).
The attractiveness of human capital
Although it is a relatively small country, with just above 5 million inhabitants, Costa Rica has no equal compared to neighboring countries in terms of political stability and wealth of human resources. Thanks to a relatively young population, the country is characterized by an endowment of human capital with good levels of education and bilingualism, following the decision, in 1949, to abolish its army, thus deciding to invest a large part of public resources in education and environmental protection. Today, Costa Rica is distinguished by a population with relatively high levels of public schooling and a GDP per capita that grew more than $3,000 between 2010 and 2020.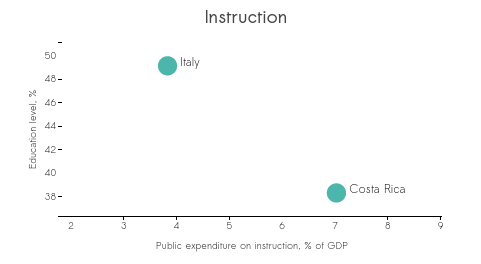 Source: ExportPlanning, Country Report- Reporting Tool.
The attractiveness of special economic zones
A second factor that has acted as an incentive to the attraction of capital from abroad has come from the introduction of Free Zones subject to special tax regimes, located near the country's main economic centers, where the infrastructure is adequate. Companies located in these areas have the possibility of enjoying multi-year exemption from payment of corporate income tax if they continue to invest in the country, as well as facilitations in terms of investment and customs procedures.
Costa Rica's economy seems to have completed the process of transformation and diversification of its economy, previously mainly agricultural, boasting important industrial activities, first and foremost in the medical-pharmaceutical sector. The country's success in recent decades has been sustained by the favorable context in terms of human development, making the country unique in its subcontinent, sharing very little with neighboring countries. Moreover, the economic outlook for the coming years is positive, with an estimated average GDP growth of 3.3% over the 2021-2023 horizon, according to the International Monetary Fund.