Log in to use the pretty print function and embed function.
Aren't you signed up yet? signup!
Man mano che si rendono disponibili le informazioni sul 2012, è possibile iniziare a fare un bilancio di quello che è stato per l'industria italiana un nuovo annus horribilis, con un ulteriore crollo dei livelli di attività. Nel 2012 il commercio mondiale misurato in dollari è rimasto sostanzialmente invariato. Tuttavia, misurato in euro, esso ha registrato una crescita significativa, prossima al 10%, avvicinandosi a 14 trilioni di euro. Il grafico qui riportato, evidenzia come anche la dinamica del commercio mondiale in euro del 2012 si colloca sul trend di lungo periodo iniziato nel 2003. La caduta del 2009 è stata negli anni successivi interamente recuperata. Complessivamente, quindi, da circa un decennio le opportunità per le imprese italiane sui mercati esteri crescono ad un tasso prossimo al 10%. Le imprese italiane che sono riuscite ad intercettare questa crescita, hanno visto raddoppiare il proprio fatturato sui mercati esteri nell'arco di un decennio. Non poco male come fattore di crescita ! [caption id="attachment_1516" align="alignnone" width="609" caption="Commercio mondiale (trilioni di euro)"]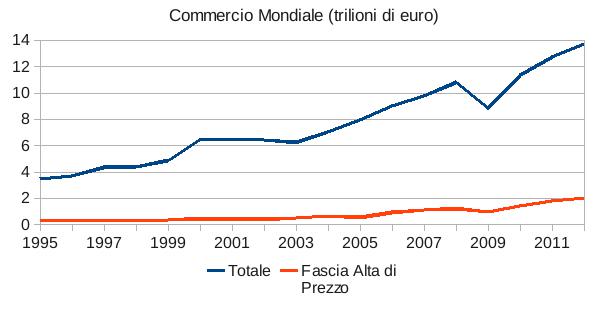 [/caption] Il problema è che poche imprese italiane hanno conseguito questo obiettivo. Anche nel 2012 il valore delle vendite sui mercati esteri di tutte le imprese italiane è aumentato di "solo" il 4%, ben al di sotto della crescita complessiva del commercio mondiale, comportando un'ulteriore flessione delle quote italiane. Va, tuttavia, subito sfatata l'idea che le imprese tedesche riescano sempre a far meglio delle imprese italiane. Nel 2012, le imprese tedesche hanno fatto peggio delle imprese italiane, aumentando le proprie vendite all'estero in euro di solo il 2%. Altri sono stati i competitori vincenti. Da un lato troviamo i produttori di petrolio (i paesi arabi, in particolare, le cui esportazioni sono aumentare in euro di oltre il 30%); dall'altro lato i nuovi paesi "manifatturieri", guidati dalla Cina, seguita dall'India, dal Vietnam, dal Messico e, tra i paesi più vicini a noi, dalla Turchia. E' evidente che i vantaggi di costo di cui possono beneficiare questi paesi rendono la competizione sulle produzioni standard impossibile per le imprese italiane. La buona notizia è che sta crescendo un segmento di commercio mondiale caratterizzato da prodotti di qualità che consentono agli esportatori di ottenere dai clienti esteri un premium-price significativo. Questo segmento è aumentato negli ultimi anni a tassi superiori a quelli medi del commercio mondiale complessivo, raggiungendo i 2 trilioni di euro nel 2012. Su questo segmento il ruolo di leader è detenuto saldamente dai produttori tedeschi, con un quota di commercio prossima al 20%, pari al doppio di quella detenuta dall'industria tedesca nel complesso del commercio mondiale. Sul segmento di fascia alta, l'Italia è in ritardo, avendo una quota di commercio pari a solo il 4%. E', tuttavia, su questo segmento che l'industria italiana può giocare la propria partita, con qualche speranza di risultare vincente. La gara è soprattutto con l'industria tedesca e la sua capacità di valorizzare i propri prodotti. L'analisi dovrà essere approfondita scomponendo il commercio mondiale per comparto, settore e, se necessario, per prodotto. Ma fin da ora è possibile segnalare come le pur necessarie azioni finalizzate alla riduzione dei costi non sono in grado, da sole, di disegnare un percorso di successo per l'industria italiana. A queste devono essere affiancate azioni che consentano di generare una conoscenza "scientifica" dei mercati esteri e di valorizzare il contenuto materiale e immateriale dell'offerta italiana.