Log in to use the pretty print function and embed function.
Aren't you signed up yet? signup!
La prima settimana del 2017 è stata drammatica per la Turchia, colpita da due attentati, la notte di capodanno e il 5 gennaio. La reazione del governo a questi attentati sembra andare verso una accentuazione della repressione democratica che caratterizza il paese dal fallito golpe del luglio scorso. In questa situazione la Lira turca è passata da valori inferiori a 3.7 lire per euro della fine dello scorso anno a valori abbondantemente superiori a 3.8 lire per euro, registrati ieri, con un deprezzamento nell'arco della settimana di oltre il 3%.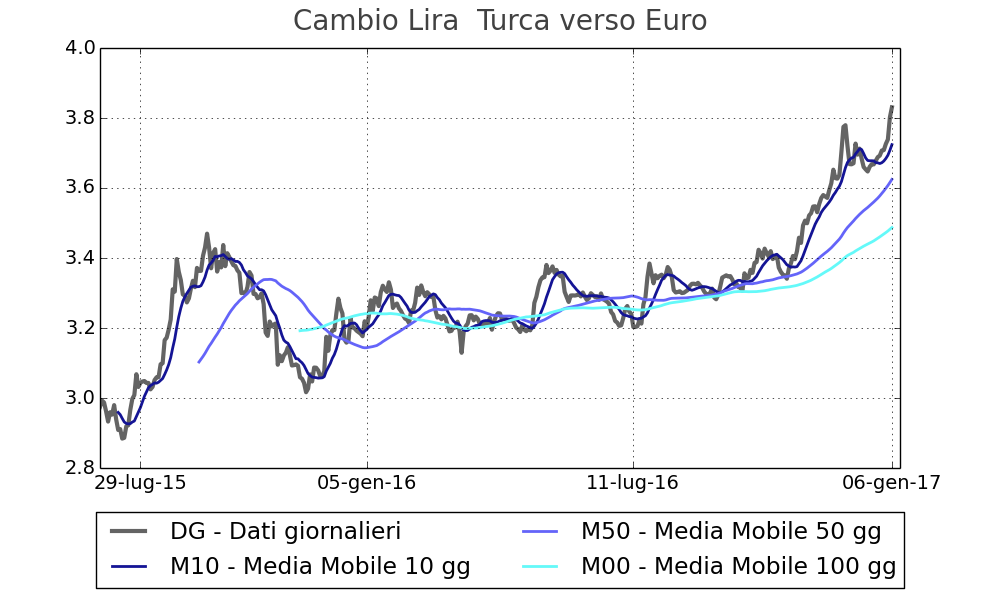 L'inizio dell'anno conferma un elevato grado di incertezza del rapporto di cambio tra euro e dollaro. Nel corso della settimana il cambio dollaro/euro è stato quotato sia a valori inferiori a 1.04 che superiori a 1.06, con modificazioni repentine anche nell'arco di poche ore. Nella media di venerdì le quotazioni sono state prossime a 1.06 dollari per euro, con un apprezzamento dall'inizio del 2017 dell'euro di oltre l'1%.
Relativamente più stabili sono risultati i rapporti di cambio dell'euro con il Franco svizzero (quotato per tutta la settimana su valori leggermente superiori a 1.07) e con lo Yen (quotato per tutta la settimana su valori leggermente inferiori a 123). Queste dinamiche sembrerebbero indicare dal lato dollaro la fonte di maggiore incertezza sul cambio dollaro/euro.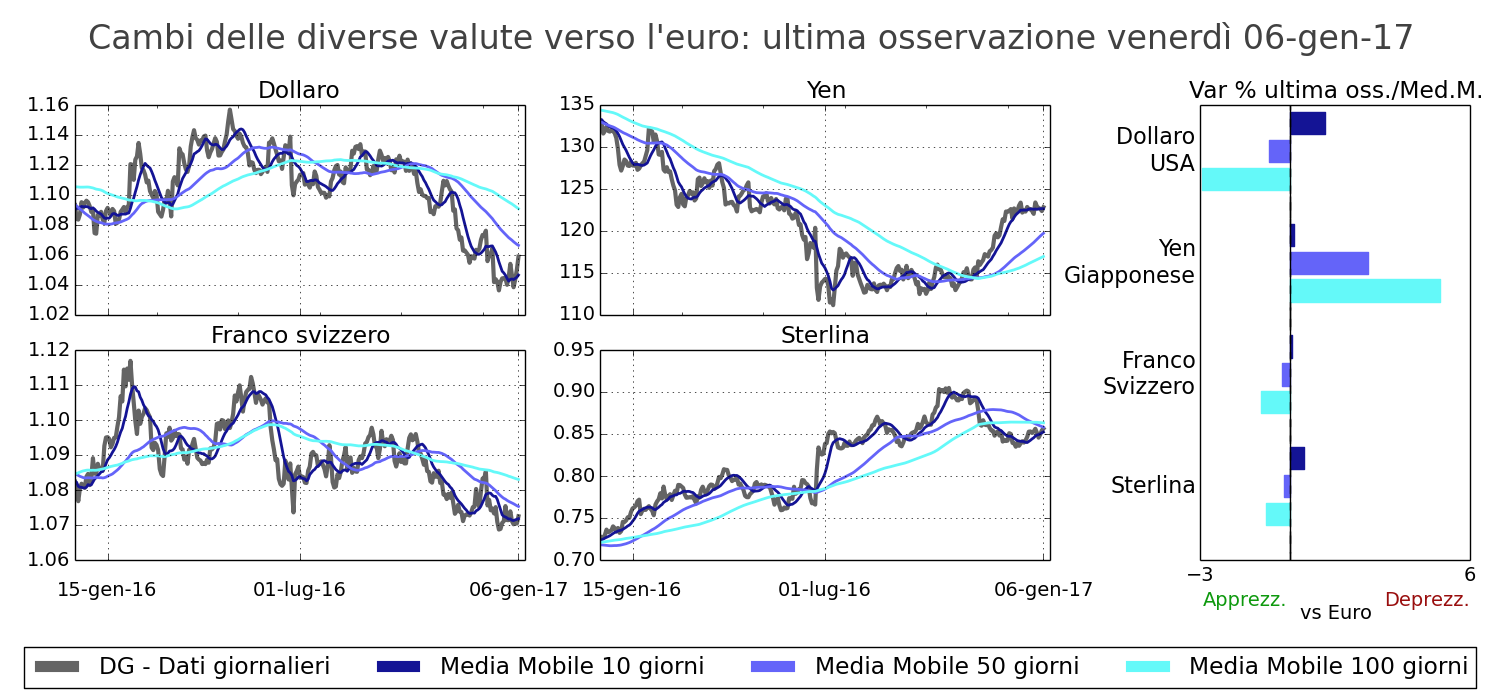 Nel corso della prima settimana dell'anno è proseguita la fase di apprezzamento del Rublo russo e del Real brasiliano che avevano caratterizzato gran parte del 2016. Anche il Rand sudafricano continua a presentare una tendenza verso l'apprezzamento, anche se in modo meno accentuato rispetto alle precedenti due valute.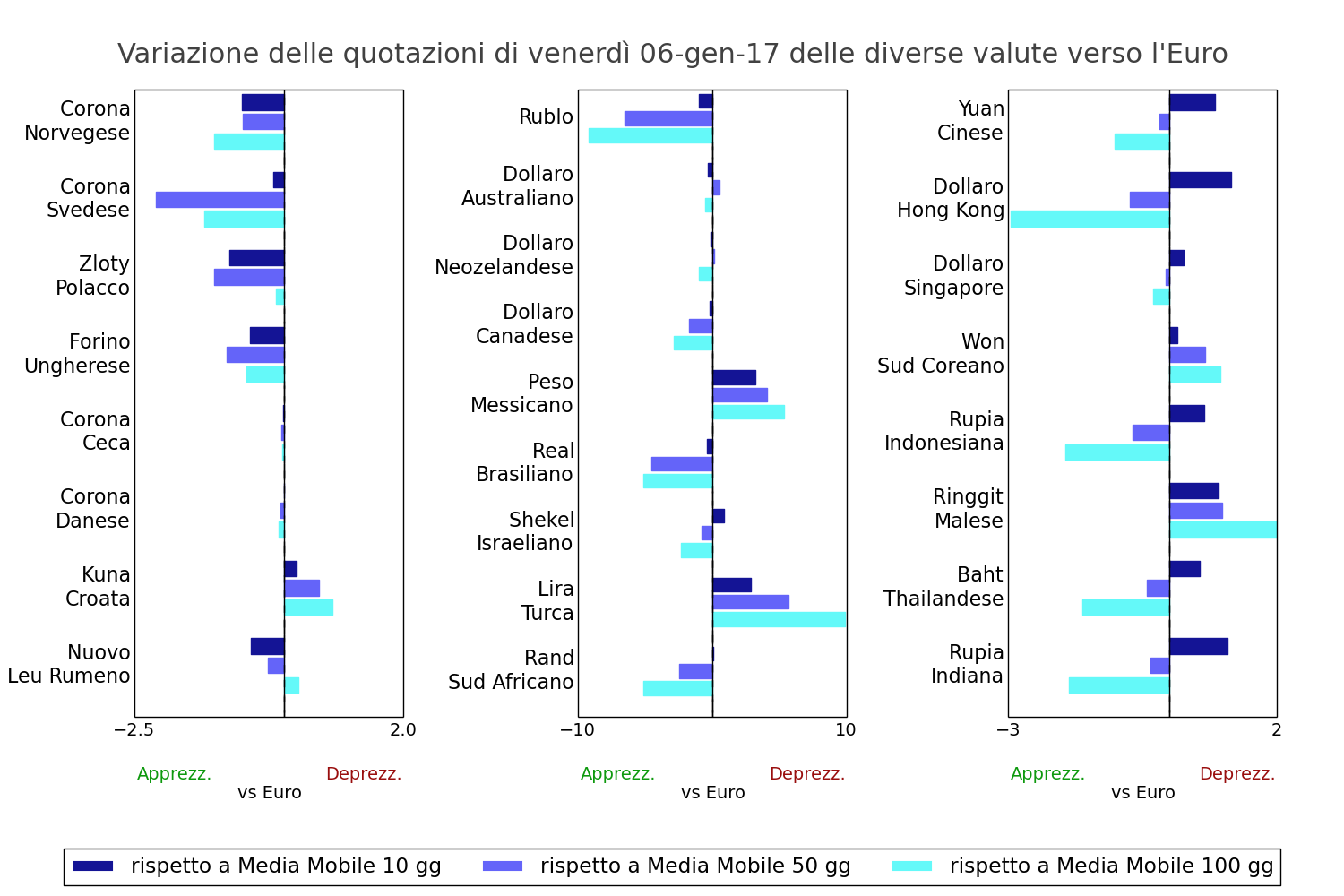 Le valute asiatiche stanno seguendo maggiormente le dinamiche del dollaro. Tra queste da segnalare una intrinseca debolezza del Ringgit malese e, anche se in modo meno accentuato, dello Won sudcoreano.