Log in to use the pretty print function and embed function.
Aren't you signed up yet? signup!
Il Peso Messicano in queste ultime settimane ha evidenziato un significativo apprezzamento. Nei confronti del dollaro è passato da 22 pesos per dollaro di metà Gennaio, a meno di 20 registrati questa settimana. La dinamica di questa valuta negli ultimi mesi ha sorpreso molti analisti. Infatti molti si attendevano un indebolimeto della valuta messicana, quale effetto della politica della nuova amministrazione americana nei confronti del Messico sul problema immigrazione.
Dopo anni di continuo deprezzamento, il Messico oggi presenta alcuni aspetti macroeconomici che portano a ritenere probabile una maggiore stabilità del suo cambio: il PIL, a prezzi costanti, ha chiuso il 2016 con una crescita del 2%; vi è consenso nel prevedere una dinamica nel 2017 leggermente in accelerazione; il saldo delle partite correnti è negativo, ma con valori non elevati; il debito pubblico si attesta a valori inferiori al 60% del PIL. L'unica nota negativa all'interno del contesto macroeconomico messicano è rappresentata dall'inflazione, che è risultata in accelerazione nell'ultima rilevazione di gennaio (4.7%), portando la Banca Centrale del Messico ad un aumento dei tassi di interesse al 6.25%, il 9 Febbraio.
Come è possibile notare dal grafico di seguito, il peso messicano ha mostrato anche nel passato fasi di momentaneo apprezzamento, che però non sono riuscite a invertire la tendenza di lungo periodo. Oggi, per le argomentazioni sopra esposte, a differenza delle esperienze passate, questa nuova fase di apprezzamenteo sembra presentare maggiori condizioni per una dinamica del peso più stabile.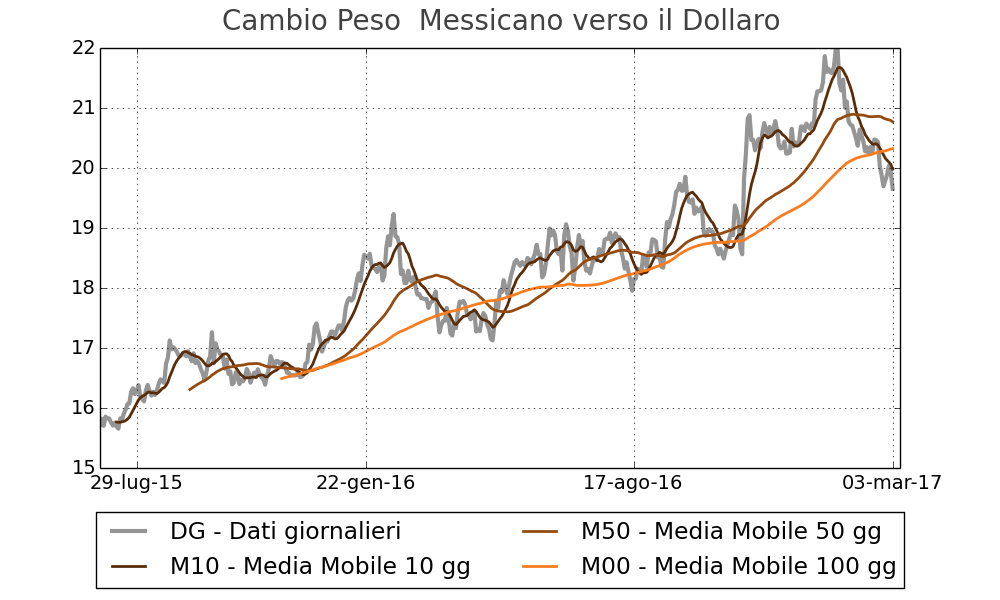 Nella settimana appena conclusa, Trump ha annunciato al Congresso i punti principali sul quale si concentrerà la sua amministrazione, con toni più moderati rispetto alle precedenti dichiarazioni. Questo nuovo approccio ha tranquillizzato i mercati, portando ad un rafforzamento del dollaro, che si è riflesso in un deprezzamento dell'euro e del Franco Svizzero.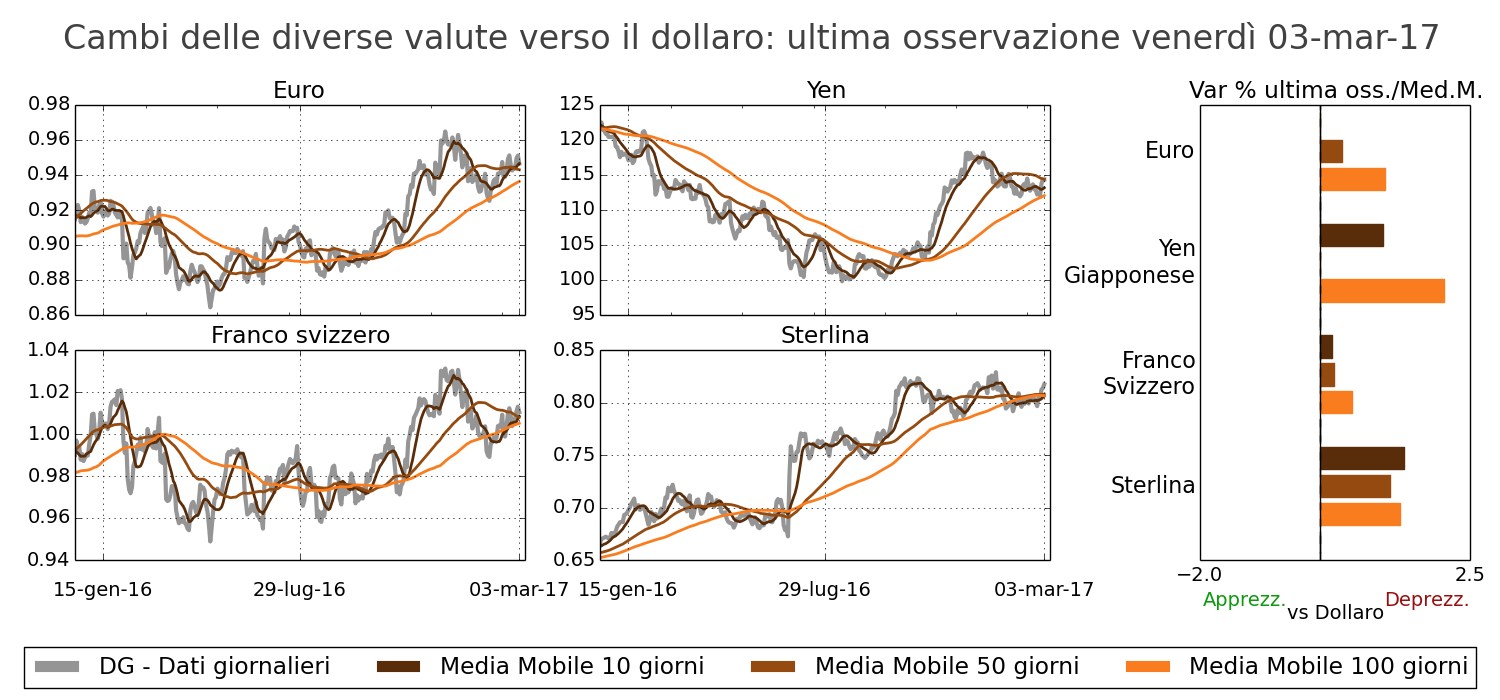 Infine, nell'ambito delle valute dei paesi in via di sviluppo, la Lira Turca, che nelle ultime settimane aveva registrato una dinamica in apprezzamento, è ritornata ad accusare segnali di indebolimento.