L'indebolimento del Franco svizzero e il cambio di valuta in Iran
Franco svizzero, Rial iraniano, Zloty polacco e Peso argentino, le ultime news
Published by Mattia Perna. .
Exchange rate
Swiss franc
Exchange rates
Log in to use the pretty print function and embed function.
Aren't you signed up yet? signup!
Il mercato dei cambi, questa settimana, si caratterizza da un sostanziale indebolimento del Franco svizzero. La valuta svizzera, infatti, ha raggiunto valori che non si registravano da gennaio 2015, data in cui la Banca Nazionale Svizzera (BNS) ha abbandonato il cambio minimo con l'euro (tale tasso di cambio era fissato a 1.20 Franchi per euro e serviva a contenere l'apprezzamento della valuta svizzera nei confronti dell'euro).
Uno dei motivi che ha causato l'indebolimento del Franco svizzero può essere identificato nelle recenti parole del presidente della Banca centrale svizzera, Thomas Jordan, che ha lasciato intendere ai mercati che, diversamente da quanto annunciato dalla BCE, la politica monetaria della BNS sarà ancora accomodante e volta a indebolire il Franco, secondo Jordan "significativamente sopravvalutato".
Dal grafico sottostante si può osservare come il Franco svizzero, da inizio settimana, si sia deprezzato del 3% nei confronti della moneta unica, raggiungendo un valore pari a 1.136 (Franchi per euro).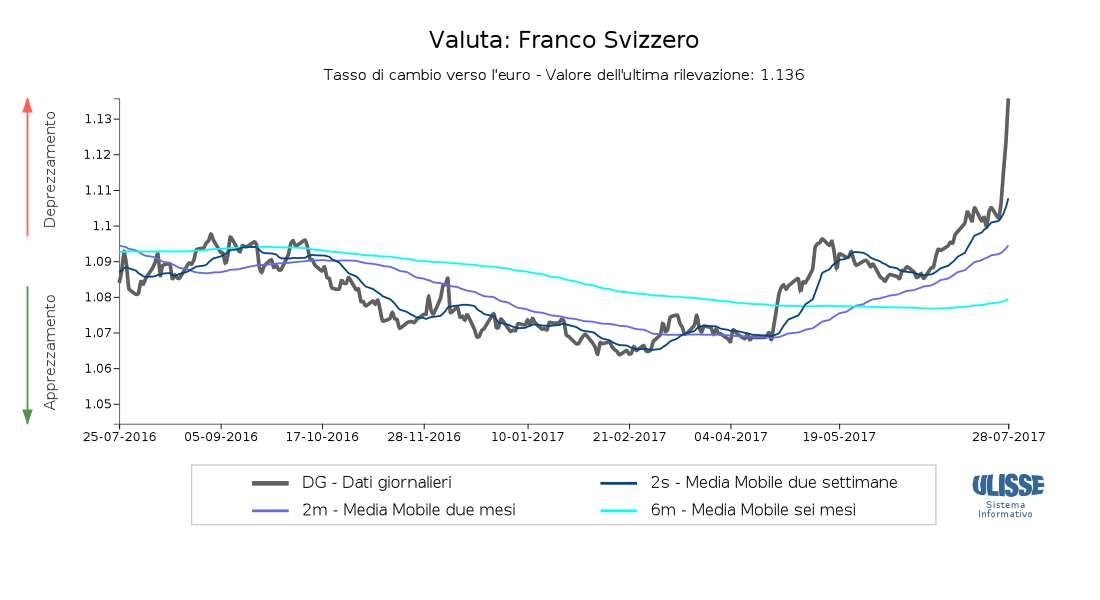 Settimana importante anche per il Rial iraniano. Il 24 luglio il governo iraniano, su incentivo della Central Banck of Iran, ha approvato il decreto legge che prevede il cambiamento della valuta ufficiale dell'Iran dal Rial al Toman. Il ritorno all'antica valuta Toman, abbandonata nel 1932 con un valore pari a 10 Rial, mira a facilitare le transazioni da parte della popolazione che in via non ufficiale non ha mai smesso di utilizzare tale valuta.
Oltre a questo cambio di valuta, il Rial iraniano, da inizio mese, si è indebolito dello 0.6% nei confronti del dollaro e del 4.1% nei confronti dell'euro chiudendo la settimana con valori pari a 32714.98 Rial per dollaro e 38371.4 Rial per euro. (Si riporta il grafico del cambio Rial per euro caratterizzato da maggiore instabilità)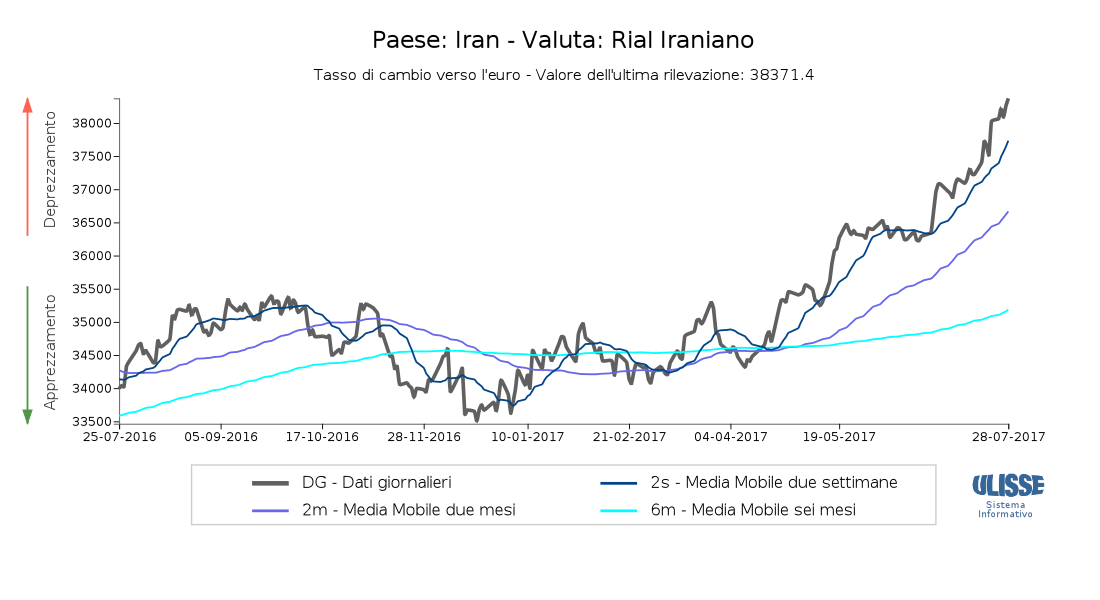 Tensioni politiche in Polonia a causa dell'approvazione, da parte della camera bassa, di una legge (in seguito bloccata dal presidente Andrzej Duda) che in sostanza cancella l'autonomia della magistratura. Tale situazione, oltre a provocare numerosi scontri all'interno del paese, ha contribuito ad indebolire lo Zloty polacco che si è deprezzato in poco più di una settimana dell'1.1% nei confronti dell'euro, chiudendo la settimana con un valore pari a 4.249 (Zloty per euro).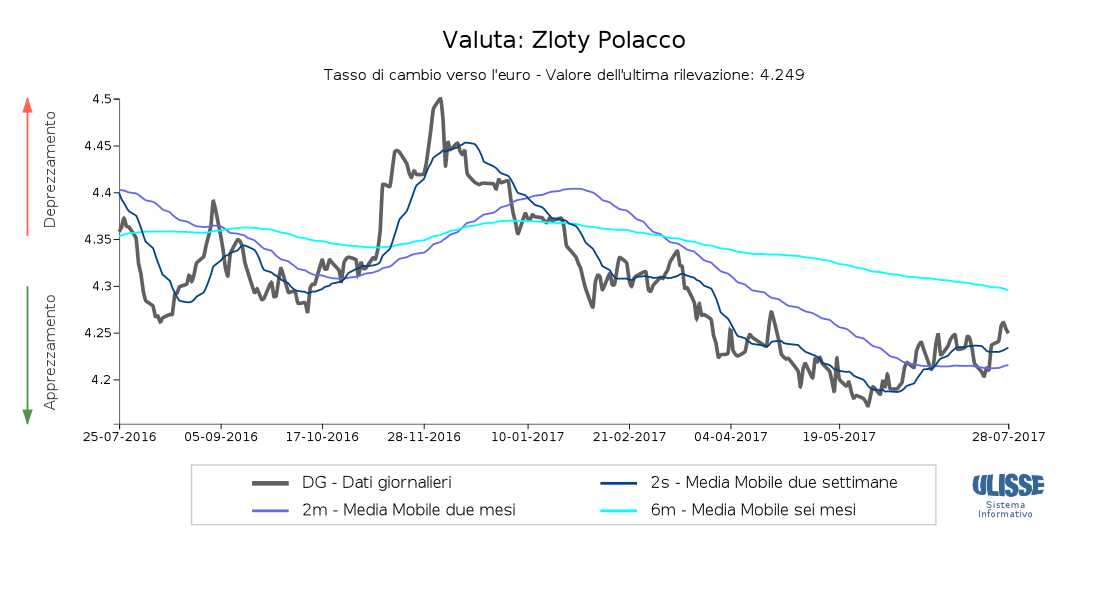 Situazione complicata anche in Argentina sia da un punto di vista politico che economico. Le elezioni legislative fissate per il 28 ottobre e la candidatura dell'ex presidente Cristina Fernández de Kirchner (con i sondaggi che la mettono al primo posto), indeboliscono il Peso argentino che in poco più di un mese ha perso più del 10% del suo valore nei confronti del dollaro.
Tale situazione si ripercuote negativamente sul quadro macroeconomico del paese ed in particolare sul tasso d'inflazione che, con il deprezzamento del Peso argentino nei confronti del dollaro, si teme possa aumentare e superare l'attuale 21.9% (mensile).
Come si può osservare dal grafico sotto riportato, in poco più di un mese il Peso argentino si è indebolito nei confronti del dollaro dell'11.5%, chiudendo la settimana con un valore pari a 17.716 (Peso per dollaro).