Log in to use the pretty print function and embed function.
Aren't you signed up yet? signup!
Questa settimana la Bank of Mexico (Banxico) è intervenuta con azioni volte a frenare la caduta del Peso messicano.
Infatti, come si può osservare dal grafico sotto riportato, negli ultimi mesi il Peso ha intrapreso una dinamica di deprezzamento, perdendo più del 6% del suo valore nei confronti del dollaro, chiudendo la settimana con un cambio pari a 19.729 Peso per dollaro.
L'istituto centrale messicano ha attuato, tramite contratti forward, un programma di copertura valutario (foreign exchange hedge) volto a sostenere la valuta messicana, evitando, in tal modo, l'utilizzo delle proprie riserve ufficiali (attualmente superiori ai 170 miliardi di dollari).
Le principali cause che giustificano la dinamica di indebolimento del Peso sono da ricondurre a tre principali eventi: riforma fiscale attuata dal presidente americano Donald Trump che potrebbe generare un deflusso di capitali dal Messico; negoziati NAFTA (North American Free Trade Agreement) attualmente in corso; elezioni Presidenziali in programma a luglio 2018.
Tali fattori, come afferma il nuovo governatore del Banxico, Alejandro Díaz de León, potrebbero influenzare il Peso anche nel prossimo anno, obbligando la Bank of Mexico ad intervenire ulteriormente.
Un altro elemento che incide negativamente sulla valuta messicana è il tasso d'inflazione che a dicembre ha superato il 6%, ben oltre il target del 3%, spingendo la banca centrale messicana ad aumentare i tassi d'interesse dal 7% al 7.25% poche settimane fa.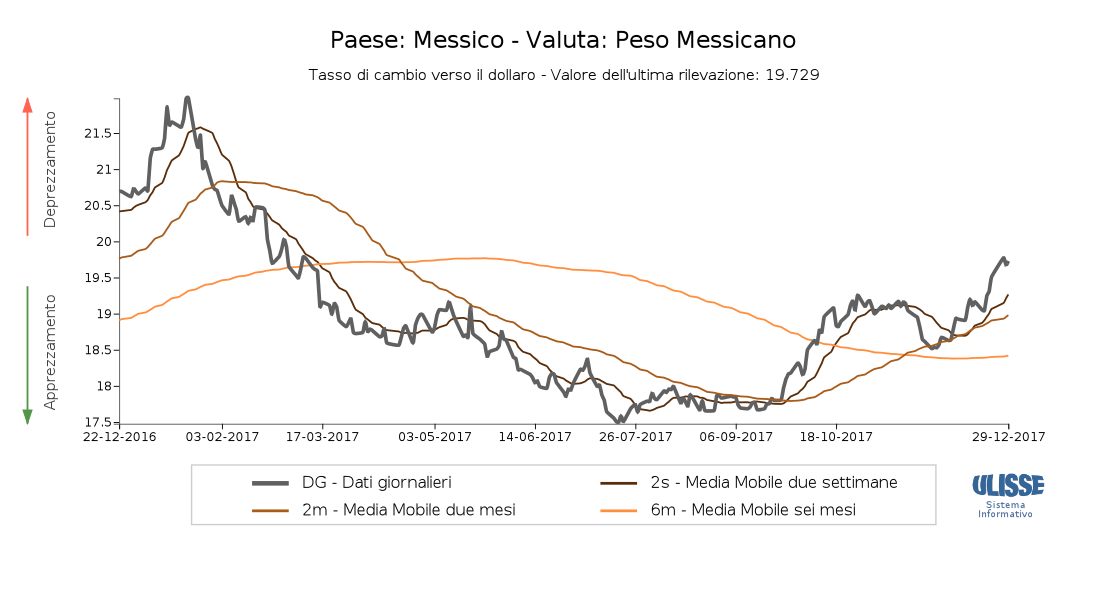 Una valuta che nel 2017 si è rafforzata significativamente nei confronti del dollaro è il Won sudcoreano. Come si può osservare dal grafico sotto riportato, il Won ha registrato una dinamica di apprezzamento nei confronti del dollaro nel corso di tutto il 2017, guadagnando più del 10% e raggiungendo un valore pari a 1066.964 Won per dollaro.
Le motivazioni sono da ricondursi ad un surplus di conto corrente pari a 85.1 miliardi di dollari (5.6% del PIL) e ad un quadro macroeconomico del Paese positivo.
L'economia sudcoreana, quarta economia asiatica, cresce ad un tasso maggiore del 3% con una disoccupazione pari al 3.8%. Inoltre, un tasso di inflazione perfettamente in linea con il target prefissato dalla Banca Centrale (2%) ha spinto, lo scorso novembre, la Bank of Korea (BOK) ad aumentare i tassi d'interesse dello 0.25% portandoli all'1.5%.
Le prospettive di crescita del Paese sono positive e robuste: secondo il CEBR (Center for Economics and Business Research) la Corea del Sud, nell'arco di un decennio, entrerà nelle prime 10 economie mondiali, superando Italia e Canada.
Tuttavia, l'apprezzamento del Won non è ben visto dalla BOK che sta adottando una politica valutaria volta ad aumentare le proprie riserve ufficiali, con l'intenzione di contenere l'apprezzamento del Won per non minare le esportazioni del paese.