Log in to use the pretty print function and embed function.
Aren't you signed up yet? signup!
La prima settimana del 2018 ha registrato la prosecuzione della fase di debolezza del dollaro nei confronto dell'euro, con valori che hanno superato la soglia di 1.2 dollari per euro, senza, tuttavia, allontanarsi da questo livello. Le notizie positive sulla situazione economica dell'UE e le buone prospettive sul 2018 hanno limitato gli afflussi di capitali verso l'area dollaro, pur in presenza di un differenziale di tassi dollaro-euro aumentato a 1.5 dalla metà dello scorso dicembre. Che sia l'area UE nel suo complesso oggetto di valutazioni positive da parte dei mercati finanziari è confermato dal generale apprezzamento delle altre valute delle Unione Europea. In questa settimana sono risultate, infatti, significativamente apprezzate la Corona Ceca, la Kuna Croata, il Fiorino Ungherese e, soprattutto, lo Zloty Polacco.
Tra le principali valute, tuttavia, non è il dollaro quello che sta accusando la maggior debolezza, bensì lo Yen.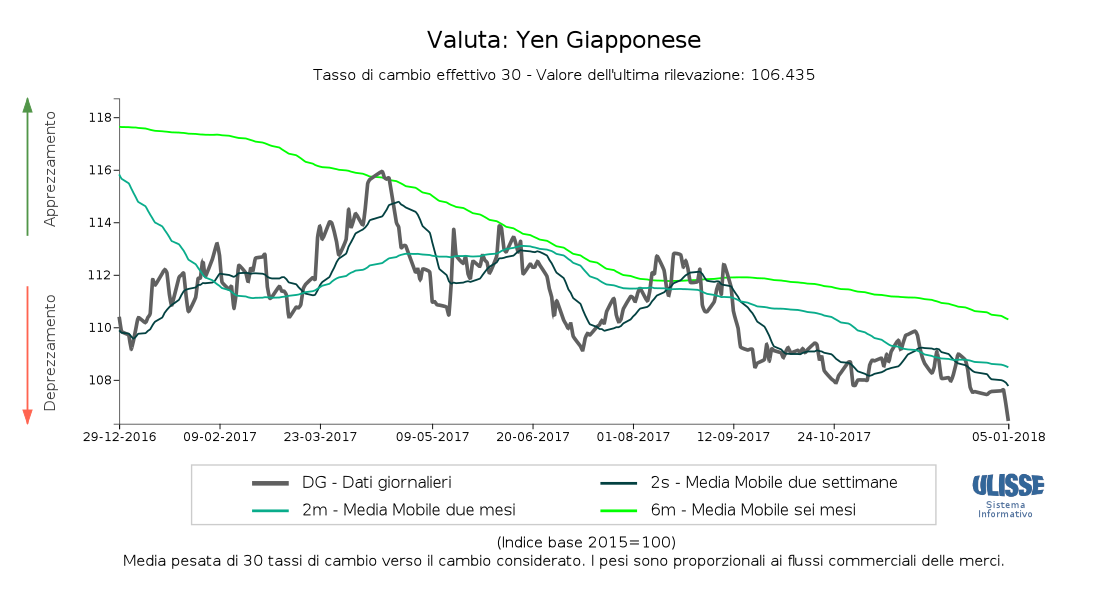 Il grafico qui riportato evidenza come il deprezzamento dello Yen, particolarmente significativo negli ultimi giorni in termini di tasso di cambio effettivo, sia la prosecuzione di un trend iniziato a metà aprile dello scorso anno. Nell'arco di 9 mesi lo Yen si è deprezzato nei confronti della media delle valute dei suoi partner commerciali di quasi il 10%. La bassa crescita dell'economia e soprattutto un'inflazione solo debolmente positiva non consentono di considerare l'economia giapponese uscita dal pericolo di ricadere in una fase di deflazione.
Una situazione opposta sta caratterizzando, invece, la Corea del Sud, che vede il Won apprezzarsi da oltre tre mesi, sull'onda delle notizie sempre più positive sulla sua crescita economica.
Da segnalare, infine, il forte apprezzamento del Rand sudafricano che in meno di due mesi è passato da 16.8 rand per euro della meta dello scorso novembre agli attuali 14.9, a conferma della fiducia data dai mercati finanziari alle modalità democratiche con cui è avvenuto il passaggio di consegne da Jacob Zuma a Cyril Ramaphosa per la guida dell'African National Congress. In qualità di leader dell'Anc, Ramaphosa mette fin d'ora una mano sulla presidenza del Paese, alla scadenza del mandato di Zuma nel 2019, e promette un "new deal" per l'economia sudafricana.