Log in to use the pretty print function and embed function.
Aren't you signed up yet? signup!
Il recente annuncio dell'Amministrazione Trump di possibili dazi sulle importazioni di lavatrici ad uso residenziale ha subito provocato un'alzata di scudi da parte degli esponenti dei governi di Cina e Sud Corea.
E' infatti comprensibile l'apprensione per i riflessi negativi che la decisione avrebbe per le vendite dei due paesi. Gli Stati Uniti risultano, infatti, di gran lunga il principale importatore mondiale nel segmento lavabiancheria con capacità superiori a 10 kg (riconducibili, però, solo in parte al segmento residenziale). Quello delle lavatrici a grande carico è anche il segmento che sta evidenziando i valori e i trend di crescita più favorevoli a livello internazionale, con un commercio mondiale che, nell'ultimo decennio, è cresciuto di circa 2 miliardi di euro (a fronte di una relativa stabilità per quelle di capacità medio-piccola), con le importazioni USA (+803 milioni di euro nel periodo 2008-2017) che sono risultate determinanti su tale performance.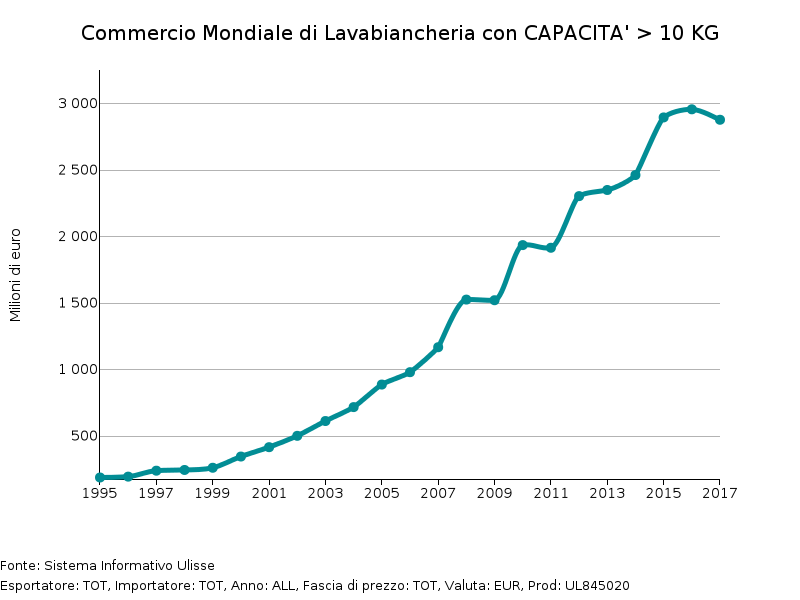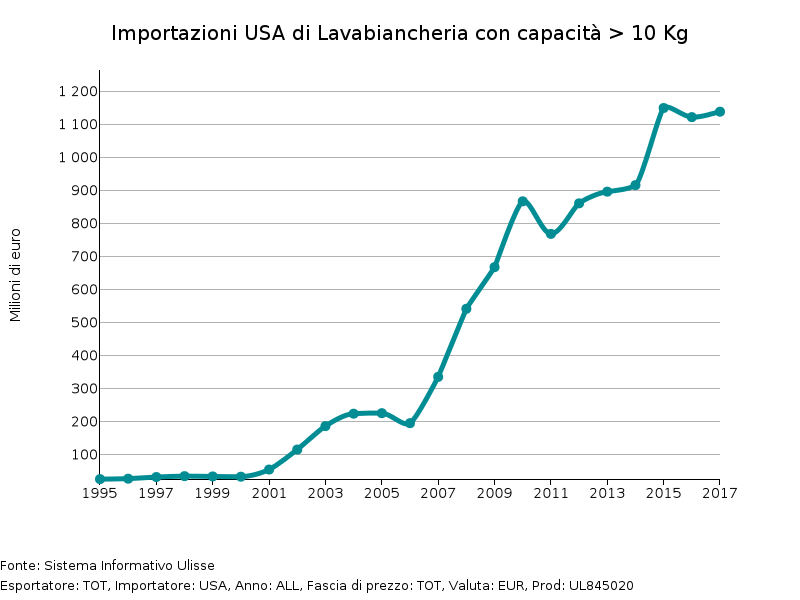 I flussi bilaterali del segmento "lavatrici a grande carico"
Come mostrano i dati del Sistema Informativo Ulisse, la composizione degli scambi internazionali del segmento delle Lavabiancheria con capacità superiori ai 10 kg evidenzia non solo la centralità del mercato statunitense (39.6% delle importazioni mondiali 2017), ma soprattutto la vulnerabilità dei paesi partner asiatici: l'anno scorso la Cina, primo esportatore al mondo del segmento, ha rivolto sul mercato statunitense circa il 36% delle proprie vendite in valore; per la Sud Corea, secondo esportatore mondiale del segmento, il mercato USA rappresenta circa il 45% del proprio export; per la Thailandia si tratterebbe di vedere "a rischio" il 33% del proprio export del segmento; nel caso del Vietnam (4° esportatore mondiale), gli Stati Uniti rappresentano addirittura la sola destinazione, segnalando molto probabilmente che si tratta di produzioni localizzate nel paese appositamente per "aggredire" il mercato USA con il basso costo.
Lo stesso discorso vale, naturalmente, per il Messico (storicamente primo bersaglio degli annunci protezionistici di Trump) per il quale il mercato statunitense riveste una importanza strategica, dato che assorbe ben il 53 per cento delle proprie esportazioni, peraltro più diversificate (oltre che verso il Canada, si segnalano flussi significativi anche verso i mercati del Sud America (con Cile, Colombia e Perù, su tutti).