Log in to use the pretty print function and embed function.
Aren't you signed up yet? signup!
Tra le istituzioni che rendono un'economia evoluta, la moneta svolge un ruolo molto importante.
Non tutte le economie usano una unica moneta per gli scambi interni e allo stesso tempo quotata sui mercati valutari internazionali. E' il caso, ad esempio, di Cuba dove esistono due monete: il Peso convertibile (CUC) utilizzato dai turisti e scambiato sui mercati internazionali con un peg di 1 verso il dollaro e il Peso (CUP) utilizzato principalmente dai residenti per operazioni interne.
In molti altri casi, la moneta è unica ma, viene scambiata a valori diversi su differenti mercati valutari. E' il caso del Venezuela dove il Bolivar, fino ad alcuni giorni fa, poteva essere scambiato sia sulla piattaforma DIPRO, ad un prezzo fisso di 10 Bolivar per dollaro (usato per importare medicinali e alimenti di prima necessità), sia sulla piattaforma DICOM ad un prezzo fissato sempre dalla banca centrale, ma variabile nel tempo.
Lo scorso 29 gennaio la Banca Centrale del Venezuela (BCV), con l'obiettivo di frenare l'inflazione (secondo il Fondo Monetario Internazionale nel 2017 pari al 652%) e di risanare l'economia venezuelana sempre più in crisi (tasso di crescita del PIL nel 2017 pari a -12%, tasso di disoccupazione pari al 26%) ha deciso di tornare ad un sistema di cambi unico trasferendo tutte le operazioni in valuta estera al sistema DICOM ed eliminando, quindi, il sistema DIPRO. Ha inoltre deciso di non intervenire nelle aste del sistema DICOM, lasciando il cambio determinabile dalla domanda e offerta degli operatori privati.
La prima asta valutaria relativa a questo nuovo sistema di cambio tenutasi lo scorso primo febbraio, ha determinato un crollo del Bolivar, passato da 3346.6 a 24968.7 Bolivar per dollaro (di seguito il grafico del tasso di cambio del Bolivar per dollaro). La BCV, in un comunicato ufficiale, ha commentato questo deprezzamento imputando alle sanzioni finanziarie imposte dal governo degli Stati Uniti d'America una domanda di Bolivar da parte di operatori esteri nettamente inferiore alle attese.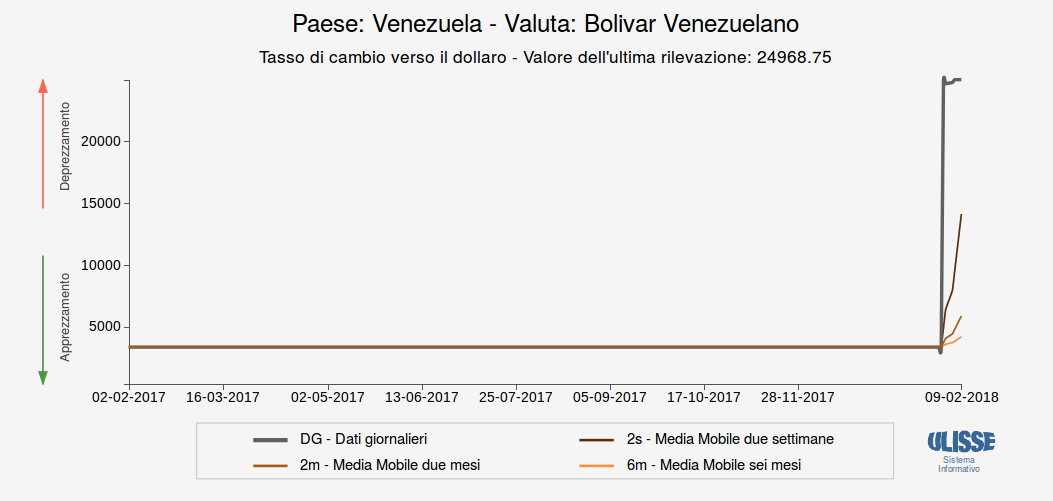 Con questo nuovo sistema il governo si prefiggeva anche l'obiettivo di risolvere il problema di scarsità di valuta estera nel Paese. Infatti, come si può osservare dal grafico sottostante, le stesse riserve valutarie dell'istituto centrale venezuelano dal 2009 si sono dimezzate fino a raggiungere un valore di 2400 milioni di dollari.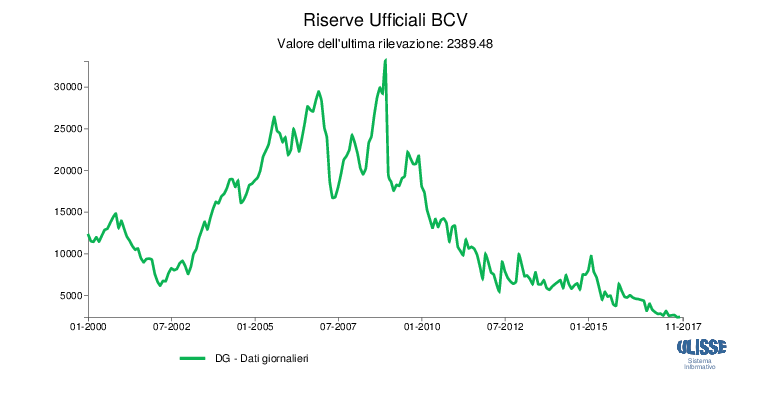 In un contesto così difficile le tensioni socio-politiche che stanno caratterizzando il paese, complicano la situazione. Il governo di Nicolas Maduro, ha deciso che le elezioni presidenziali in programma nel 2018 si terranno il prossimo 22 aprile. L'opposizione ne è risultata ulteriormente penalizzata, dopo il provvedimento della Corte Suprema di Giustizia venezuelana per presunte irregolarità nel processo di registrazione delle liste.
La decisione ha provocato anche la reazione della comunità internazionale che non solo mette in dubbio la trasparenza di tali elezioni, ma condanna la presidenza Maduro come causa del peggioramento socio-economico del paese.