Log in to use the pretty print function and embed function.
Aren't you signed up yet? signup!
Dopo essere stata al centro dell'attenzione mediatica per buona parte dell'estate, negli ultimi tempi la Lira turca non ha più fatto parlare di sé, tanto da sembrare rientrata l'emergenza valutaria. In effetti il grafico del tasso di cambio verso il dollaro mostra che, dopo un periodo di continuo indebolimento dalla primavera di quest'anno fino alla fine dell'estate, da inizio settembre la Lira sembra aver imboccato una fase di ripresa.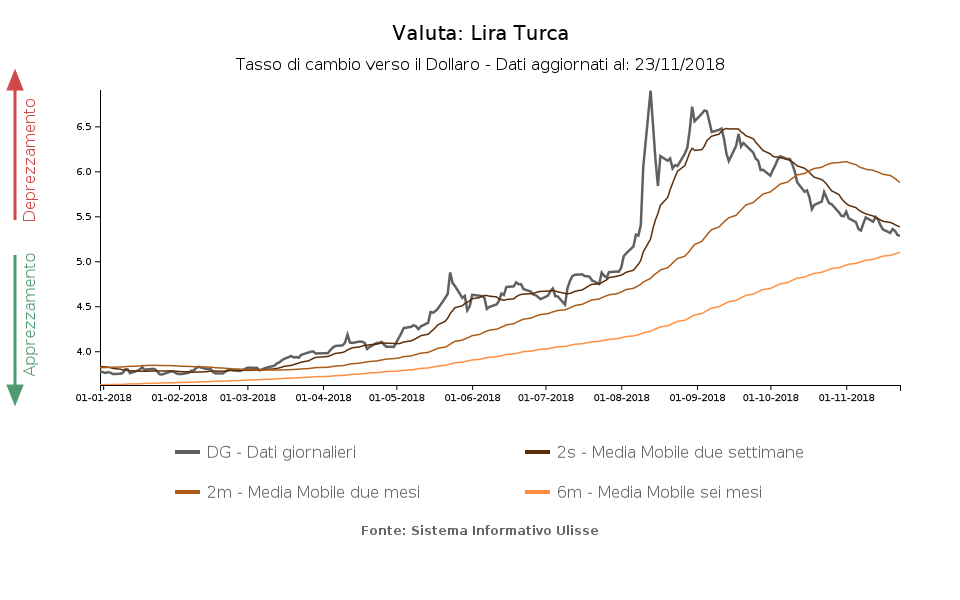 Con buona probabilità stanno dispiegando i loro effetti le forti mosse portate avanti a settembre dalla banca centrale e dal presidente Erdogan, ovvero l'aumento dei tassi al 24% e il divieto di condurre transazioni in valuta estera.
Un ruolo importante hanno avuto gli interventi sui mercati valutari della Banca Centrale, come si deduce dalla netta riduzione delle riserve valutarie di agosto e settembre 2018.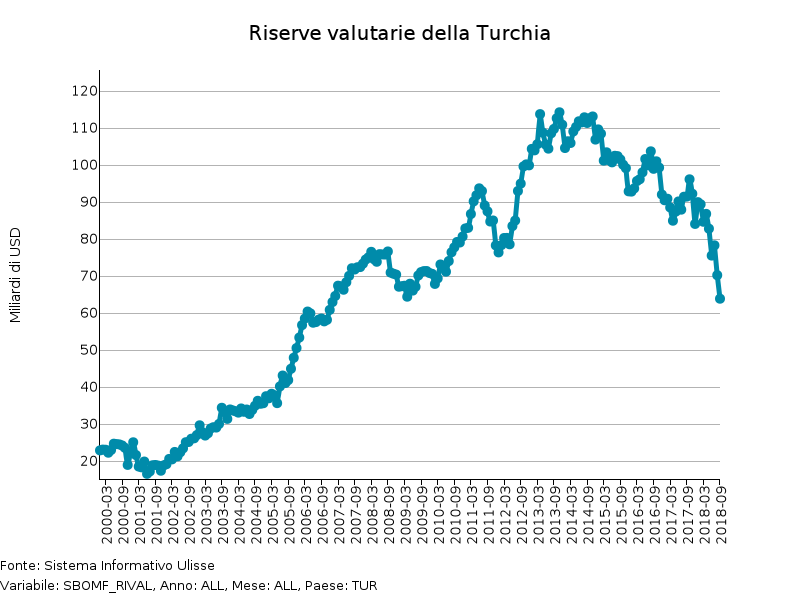 Nonostante il recupero della valuta, rimangono elevate le pressioni inflazionistiche che stanno investendo il paese. Come si legge nell'Inflation report 2018-IV della Central Bank of Turkey, il III trimestre 2018 si è chiuso con un tasso d'inflazione annuo al 24.5%; l'aumento alla fine del II trimestre si era fermato, invece, al 9.1%. Ad ottobre il consumer price index ha segnato un nuovo balzo in avanti, passando al 25.2%. L'aumento dei prezzi è stato percepito in tutte le categorie merceologiche.
Inflazione turca (gennaio 2005-ottobre 2018)
Fonte: Elaborazioni StudiaBo su dati TURKSTAT.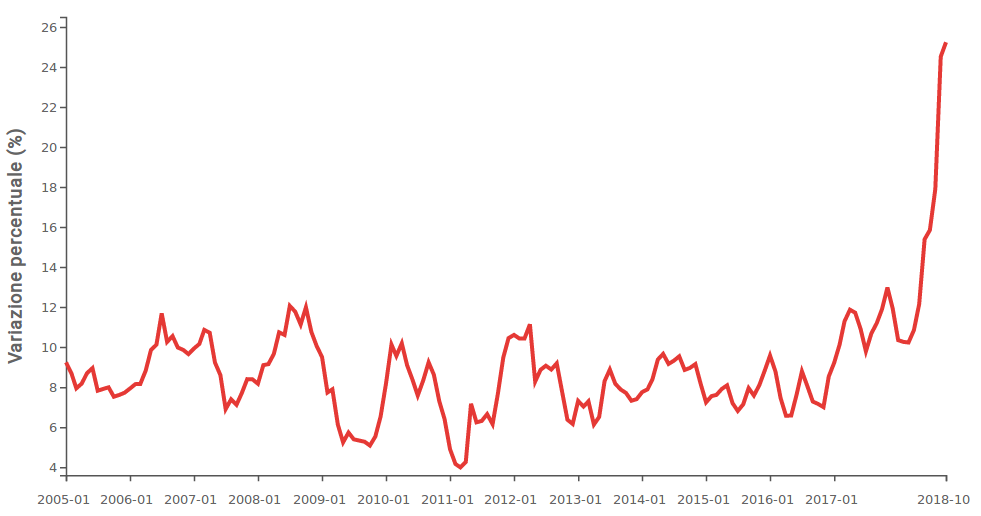 La forte crescita dell'inflazione avvenuta nel corso del 2018 è stata principalmente guidata dal deprezzamento della valuta, che da inizio maggio a metà agosto ha perso il 70% del suo valore rispetto al dollaro, salvo poi recuperare parzialmente nel corso dei mesi successivi.
Inevitabile frenata dell'economia turca
In questo contesto di volatilità del cambio e forte incertezza, il rallentamento dell'attività economica risulta inevitabile, come testimonia un tasso di disoccupazione in continua crescita dall'inizio del 2018. Anche la politica monetaria che si conferma restrittiva contribuisce al raffreddamento dell'economia: nel mese di ottobre la banca centrale turca ha lasciato invariato il tasso d'interesse di riferimento al 24%, male necessario per conseguire l'obiettivo della stabilità dei prezzi.
Il Fondo Monetario Internazionale conferma i timori di rallentamento della crescita: rispetto all'edizione di aprile 2018 del World Economic Outlook, quella di ottobre ha tagliato la crescita del PIL turco a prezzi costanti per l'anno in corso dal 4.4% al 3.5%, e per il 2019 dal 4% allo 0.4%.
L'ultima previsione dell'OCSE stima invece la variazione del PIL turco nel 2019 leggermente in negativo.
Riequilibrio in corso?
L'unica nota positiva di questo rallentamento è che forse potrebbe portare con sé un riequilibrio dell'economia.
Infatti, se da un lato calano le spese dei consumatori turchi, così come quelle del governo, dall'altro la domanda estera rimane dinamica, tanto che le esportazioni del paese hanno segnato un +22.4% a settembre rispetto allo stesso periodo dell'anno precedente. La diminuzione della domanda interna ha invece avuto riflessi sulle importazioni, calate del 18.3% nello stesso mese. Ciò apporta beneficio alla bilancia commerciale, riducendo il deficit.
Tirando le fila dell'analisi, l'outlook complessivo sulla Turchia non risulta incoraggiante, soprattutto per la questione della stabilità dei prezzi, difficile da gestire di fronte a un'inflazione a doppia cifra, in un paese in cui ci sono dubbi circa l'indipendenza della banca centrale.