Log in to use the pretty print function and embed function.
Aren't you signed up yet? signup!
Internationalization is a very complex process that requires a great deal of information in order to define "optimal" strategies. In the Italian SME scenario, management intuition and experience already gained in foreign markets are often more relied upon than precise, detailed and up-to-date information, which could reveal hidden opportunities that would otherwise not be considered. In order to make decisions such as where to go and in which way, companies need up-to-date and objective data.
In this perspective, using as a case study a small Italian wine company that decides to expand its business beyond the domestic market, the different modules of Export Planning are explained with a view to business internationalization. The analysis will be limited to MENA area in which the company has not yet managed to expand.
Export Readiness Assessment
First of all, before going abroad, the company must understand if it is ready to do so, that is, if it has the appropriate resources, skills and structure. To this purpose, the tool Export Readiness Assessment of ExportPlanning proposes a questionnaire that helps to identify strengths and weaknesses in relation to eight thematic sections: Domestic Market Position, Professional skills, Product/Service Potential, Management Commitment, Foreign Market Knowledge, Export Motivation, Innovation Processes and Corporate Strategy. For each section there are a fixed number of questions ranging from the basic level to the in-depth level.
Export Readiness Assessment: results of the ERA questionnaire by area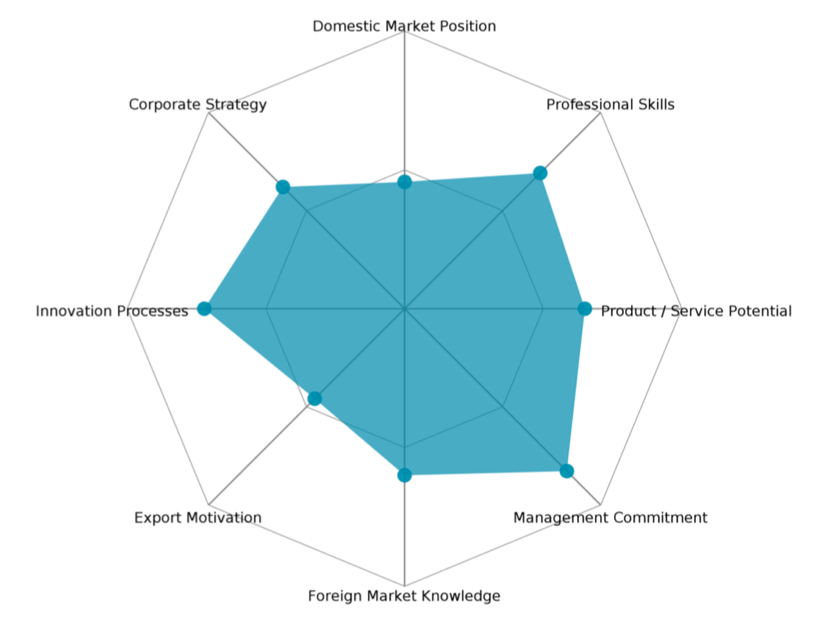 The data obtained confirm that the wine company already has a sufficiently strong and consolidated structure to face the international market, both from an organizational point of view (resources) and with regard to the products offered (competitiveness).
The choice of target markets
In order to identify the markets with the greatest potential, through the ExportPlanning's MarketSelection tool, a set of macro and sector indicators have been considered. In particular, the sector indicators refer to the Bottled Wines business.
Bottled Wines: Indicators for Market Selection within MENA area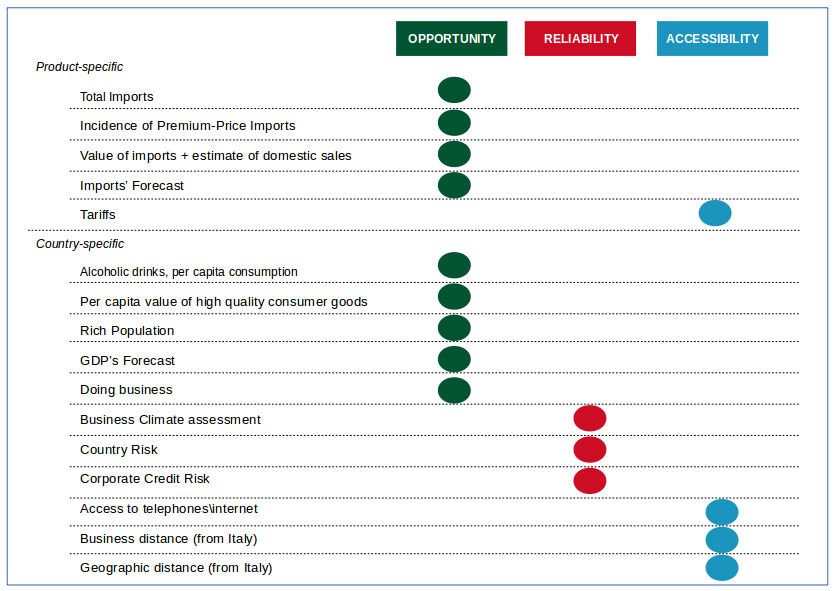 The indicators refer to three different areas of potential:
Opportunity: it refers to all the factors that - directly and/or indirectly - tend to make a country the most attractice as a target market; it includes both product-specific (i.e. total value of imports; relevance of premium-price imports; estimate of apparent consumption; forecast of import values in a 3-year-scenario) and country-specific (i.e. per capita consumption of Alcoholic drinks; per capita value of high quality consumer goods; doing business evaluation; population with an annual income of more than euro 15,000; GDP forecast2) indicators;
Reliability: it refers specifically to country-specific indicators of risks, such as business climate assessment3, overall country risk evaluation4, corporate credit risk5;
Accessibility: it refers both to product-specific (tariffs) and country-specific (i.e. access to telephones\internet, business distance, geographic distance) indicators.
Bottled Wines: MENA's Top Potential Markets (scores, max=100)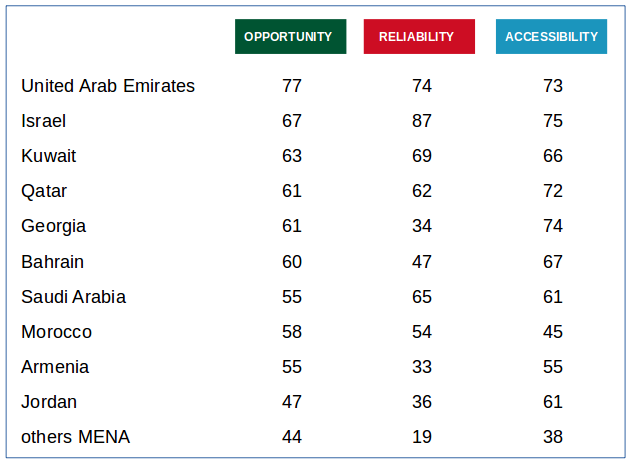 The combined analysis of the aforementioned indicators made it possible to construct a ranking based on the potential levels of markets: the United Arab Emirates rank first in the ranking within the MENA area, with high scores in terms of Opportunity (with a score of 77 out of 100), Reliability (74/100) and Accessibility (73/100).
Top Potential Market: United Arab Emirates
Bottled wine imports of United Arab Emirates1 have been recording an increasing share of the High price-range, which passed from 5.5 percent in 2008 (equal to just 2 million euros) to 54.1 percent in 2018 (corresponding to 57 million euros).
France is the market leader, with over 50 million euros of exports at FOB prices and a distinctive positioning on premium-price segments (average FOB price of over 6 euros per kilo [7.12 per liter]). On the higher price segments, there are also good sales placements from New Zealand (7.2 euros per kilo [10.94 € / lt]) and Spain (5.6 euros per kilo [5.81 € / lt]).
United Arab Emirates: positioning 2018 of top partner countries of Bottled Wines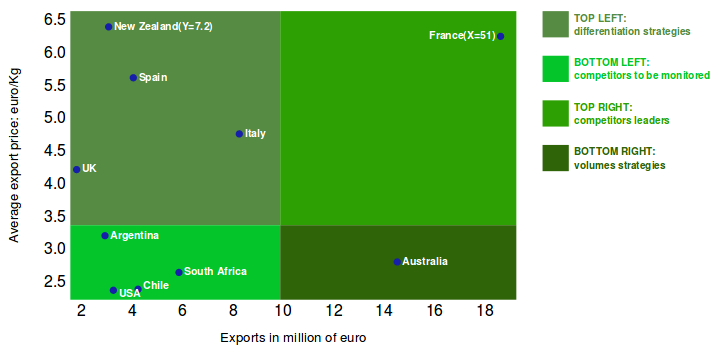 Sales from Italy appear to be less efficient in terms of average price (with an average 2018 price less than 5 euros per kilo [5.16 € / lt]) and with a total value of just over 8 million euros, also behind Australia in the category of commercial partners of the market.
Conclusions
The analysis carried out allowed the company to identify the UAE market as a destination area with significant growth potential. Moreover, the second part of the article allowed to document the segmentation of the market, helping in identifing the correct market penetration strategy.
---
1) The information is taken from the
Ulisse
database, which organizes the annual bilateral flows segmented by price ranges for 152 countries and over 3000 products, from 1995 to 2018.
2) Source: International Monetary Fund.
3) Source: Coface.
4) Source: OECD.
5) Source: Sace.