Log in to use the pretty print function and embed function.
Aren't you signed up yet? signup!
Technical Textiles are experiencing widespread applications (from the automotive to the naval and aerospace sectors, from geotextile and medical to construction, etc.), as documented in the article "European textile intermediates industry: the new role of towing technical textiles".
A specific segment in this industry is Technical Textile for Sportswear1. This sector has been recording a strongly dynamic expansion, driven by the ever-increasing centrality of sports (mostly outdoor2 sports), the shift in consumer habits and the growing popularity of informal clothing styles.
The global demand of technical fabrics for sportswear has been expanding rapidly in recent years: between 2009 and 2018 it recorded a CAGR (Compound Annual Growth Rate) of 9% in euro, showing a much more dynamic trend compared to traditional textile sectors.
Graph 1: Tech-fabrics for Sportswear compared with industry benchmarks (indexes in Euro)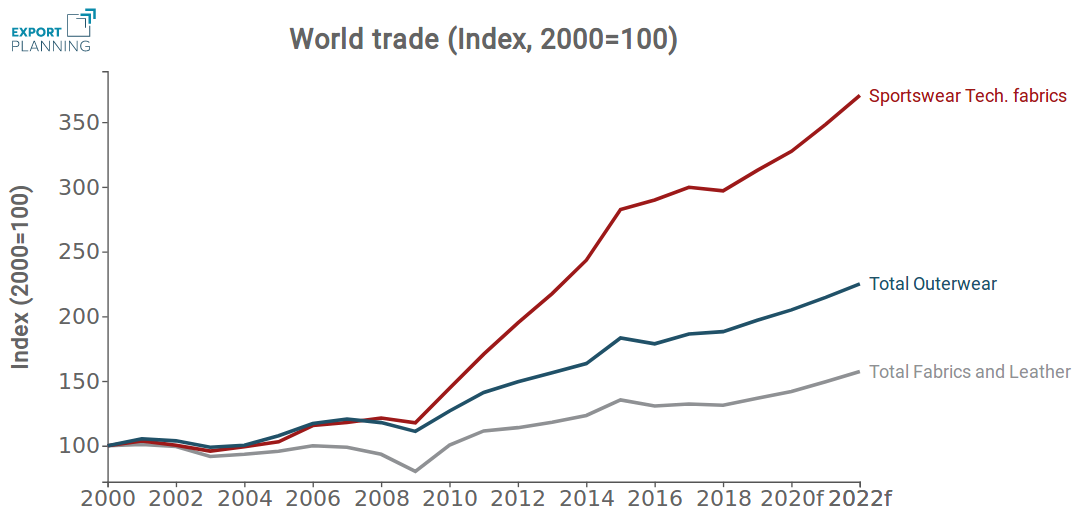 Source: ExportPlanning - Analytics
As shown in Graph 1, the world trade growth of Tech-fabrics for Sportswear3 is definitely more favorable than the average of both Fabrics and Outerwear benchmarks. Considering 2000 as base year (2000 = 100), world trade of Tech-applications for sportswear tripled from the beginning of the century, compared to much smaller values for Total Outerwear (188) and Total Fabrics and Leather (131).
Based on StudiaBo's forecasts available in ExportPlanning, this trend is expected to continue to be favorable (with a 6% CAGR in euro for 2019-2022 for world trade of Tech-fabrics for Sportswear), signaling significant market opportunities for companies operating along the textile supply chain.
At the base of the significant growth of the sector, there appears to be changes in fashion and consumption habits at the international level. In particular, two major macro-trends are significantly impacting consumer choices: on the one hand, the growing focus on healthcare and wellness is encouraging behaviors aimed at personal care and outdoor2 life; on the other hand, the same fashion houses are increasingly offering more casual and informal clothing.
For example, the manufacturing sector known as athleisure, which aims to combine luxury clothing with garments that have always been used in the gym (hooded sweatshirts, leggings, acetate tracksuits etc.), is attracting more and more interest among consumers.
Graph 2: Evolution of the interest for "Athleisure" on the internet
Source: Google Trends
The interest in the development of synergies between companies in the textile sector in the field of Tech-application for Sportswear is also documented by the first International Forum "Just like together for sport & fashion - International Forum for Technical Textiles", which will be held in Turin (Italy) on October 25.
---
1) The analysis refers to the following product categories: wear non-woven fabric, felt, coated fabrics; tracksuits not knitted or crocheted; tennis shoes; t-shirts and tank tops, knitted or crocheted, not cotton; jackets, knitted or crocheted, not cotton, for men; jackets, knitted or crocheted, not cotton, for women.
2) Please refer to the article
"Changes in outdoor lifestyles confirmed by international trade flows"
.