Log in to use the pretty print function and embed function.
Aren't you signed up yet? signup!
In the landscape of emerging currencies, we address today the case of the Brazilian Real. It is several months that the Brazilian currency has been strengthening against the dollar, managing to maintain this positive trend despite the appreciation of the dollar in the last period (see the article Dollar appreciation on the wave of optimism of the FED).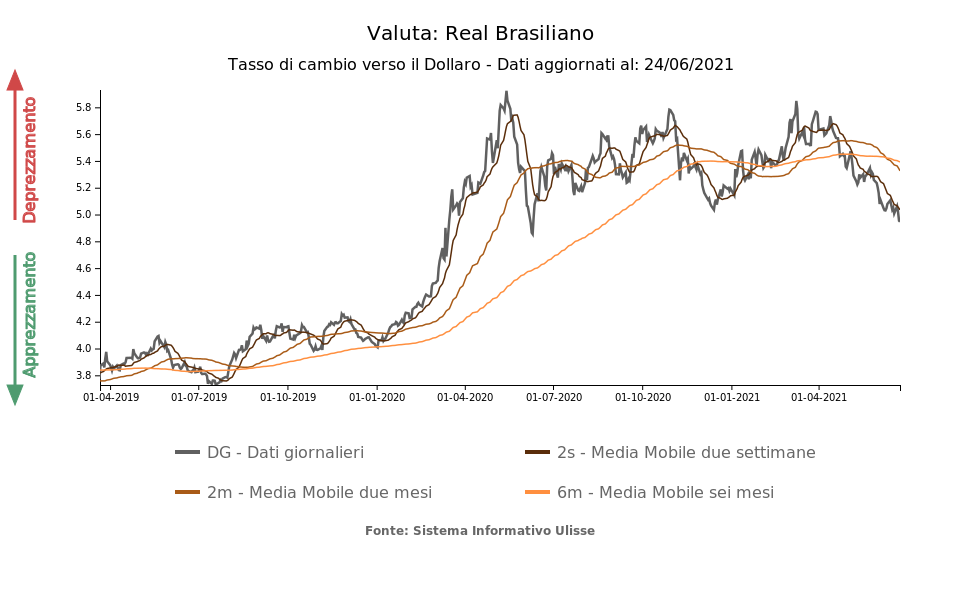 As you can clearly see from the chart, despite the exchange rate still being below pre-pandemic levels, between mid-April and June there was a 16% appreciation, falling below the 5 reals per dollar barrier on Wednesday.
COPOM's Hawkish Turn
What is attracting particular attention among international observers is the choice of the Brazilian Central Bank to abandon the path of a partial normalization of monetary policy, opting for a more aggressive strategy to keep inflation expectations in check for 2022.
On Wednesday 16 June, in fact, Copom, the monetary policy committee of the Banco Central do Brasil, deliberated a new increase in the benchmark interest rate (Selic), reaching 4.25%. Although the decision of Copm was expected by the financial markets, it should be noted that this is already the third increase in the Selic in 2021, with the others occurring in March and May, after the cut made during the most acute period of the pandemic.
Nominal interest rate: Brazil
Source: DailyDataLab

The primary objective of the Brazilian central bank therefore remains price stability, deciding to move before other emerging economies towards increasing reference rates and moving away from other countries that currently prefer to maintain an accommodating monetary policy.
The central bank also warned that there could be further upward adjustments: "For the next meeting, the Committee foresees the continuation of the monetary normalization process with another adjustment of the same magnitude. However, a deterioration of inflation expectations for the relevant horizon may require a quicker reduction of the monetary stimulus", as reported on the bank's website.
Inflation in Brazil
Guided by the strong increase in monthly gasoline and electricity prices, +2.9% and 3.9% in May, Brazil's annual consumer price index rose above 8%, the highest level since October 2016 (Source: Banco Central do Brasil).
The forecast also suggests that this trend will continue at least until September and then return to more stable levels. In fact, According to reports from Reuters, some economists believe that to reach its inflation target of 3.5% in 2022 the reference rate should reach 6.5%. This gives a good understanding of the central bank's decision to opt for monetary tightening.
Conclusions
It is therefore the improving assessment of the markets towards Brazil, thanks to the start of a restrictive monetary policy, which by supporting the appreciation of the real, makes investment in Brazil more attractive to foreign investors.