Log in to use the pretty print function and embed function.
Aren't you signed up yet? signup!
In the wine segment, both still and sparkling, South Korea is becoming a market with increasingly interesting prospects. As mentioned in the article Measuring Demand Potential: Big Data for Market Selection, the country is experiencing a rapid and significant development in wine imports, so much so that it has been identified as a market in which a decisive acceleration of product sales is taking place by the Machine Learning algorithm adopted by ExportPlanning.
For an exporting company, intercepting this stage of penetration of a product in a market appears particularly strategic, as it is by far the most profitable way of entering the market. At this stage, in fact, the exporter will still face few active competitors and demand is characterised by growth at high rates, giving the company the so-called 'first mover advantage'.
The determinants of South Korea's accelerating wine demand phase
South Korea is increasingly growing as a destination for the global wine trade: between 2018 and 2021, the country's imports experienced an average annual growth of more than 34% in the case of bottled wine and 21% in the case of sparkling wine. For both segments, in fact, Korean imports hit a new all-time high, placing them along a particularly dynamic growth trend that has characterised recent years (Fig.1). It is no coincidence that last year, the Global Compass 2021 report, published by Wine Intelligence, indicated the Asian country as the second most attractive market on the international wine scene.
Fig.1 - Corea del Sud: importazioni di vino imbottigliato e spumante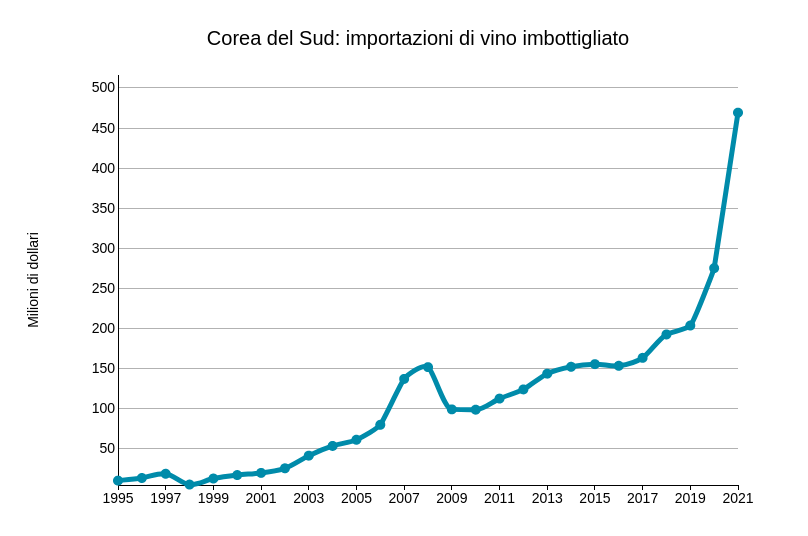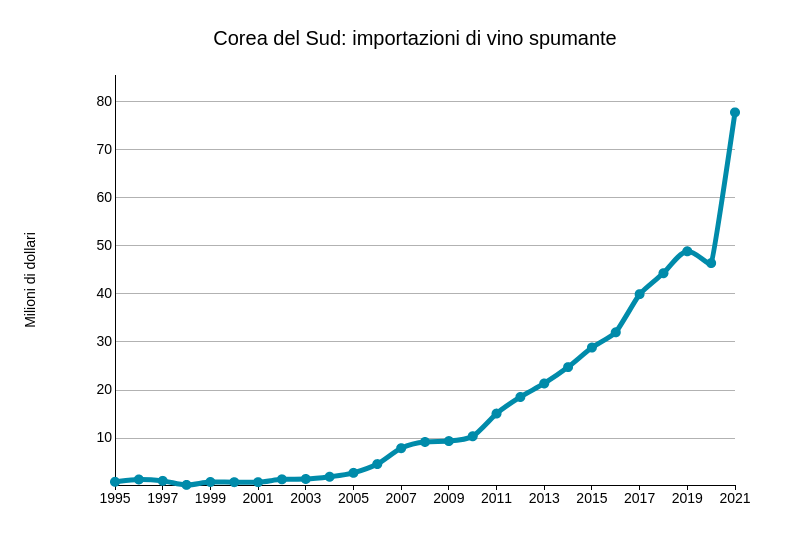 The reasons for the rapid development of the market are related to several existing phenomena and long-term structural conditions that add up to more recent consumer trends. Firstly, South Korea's economy is robust, being the tenth largest economy in the world and the fourth largest in Asia. The country is characterised by a medium-high per capita income (comparable to Italy's), which has allowed the consolidation of a high-spending middle class.
Fig.2- Corea del Sud: outlook economico Source: ExportPlanning.
These characteristics are supporting the country's imports, particularly of consumer goods, whose share of total imports has grown considerably over the past two decades. Demand is geared towards increasingly sophisticated tastes and an orientation towards high-end segment products. In fact, as shown in Fig.3, the share of the higher price segments is now about 30% of total imports, compared to 20% in 2011. Benefiting from this are mainly 'iconic' foreign products which, very often, boast an exotic appeal that increases their desirability in the eyes of the local consumer.
Fig.3 - Corea del Sud: distribuzione delle importazioni per fasce di prezzo Source: ExportPlanning.
The medium-term structural phenomena just described have also gone hand in hand with what appears to be a genuine progressive change in local drinking culture, which has emerged especially in the last three years and is partly sustained by pandemic-induced changes in consumption choices. While access to an increasing amount of information on Western patterns and culture have increased the desirability of particular categories of goods, including wine, the increased interest in wine seems to have penalised other types of alcohol, such as beer. This is particularly evident when one considers the evolution of wine and sparkling wine imports and compares them with those of beer.
Fig.4 - Corea del Sud: import delle principali bevande alcoliche Fonte: ExportPlanning.
Starting in 2018, Korean beer imports started a downward trend that is still ongoing, and is confirmed by the available data for the first half of 2022: it is estimated that between 2021 and 2018, there was a contraction of about USD 87 million. This is offset by an increase of USD 276 million for the still wine segment and USD 33.5 million for sparkling wine.
Conclusion
With 51.7 million consumers and a high-spending middle class, South Korea is rightfully among the most attractive markets for wine exports in Asia. In the market, wine consumption is increasingly being characterised as a social phenomenon, taking place in what is defined as the 'acceleration phase' in the cycle of penetration of a product in a given market. This aspect allows us to categorise the demand potential of the product in the country as particularly high, however it should not be forgotten that the area could also present critical aspects if it is not approached with an adequate knowledge of the market. Only the joint analysis of opportunities and risks, in relation to the strengths and weaknesses of the company, can constitute an objective reference for deciding whether or not to make the region one's target market.