Russia-China-India commercial Alliance consolidates
About a year and a half after the invasion of Ukraine, Russia's foreign trade has changed dramatically: the growing weight of Beijing and New Delhi
Published by Marzia Moccia. .
Europe
Asia
Conjuncture
Global economic trends
Log in to use the pretty print function and embed function.
Aren't you signed up yet? signup!
A circa un anno e mezzo dall'invasione dell'Ucraina, il commercio con l'estero russo è cambiato radicalmente. Come conseguenza dell'invasione e della violazione dei diritti internazionali, tutto il "blocco occidentale" ha infatti risposto con sanzioni mirate a isolare Mosca politicamente, commercialmente e finanziariamente. Il Cremlino ha quindi puntato a compensare i danni dell'embargo, cercando di cementificare i rapporti con altri partner commerciali, rivolgendo la propria attenzione in primis verso Cina e India.
Non a caso, lo scorso marzo Cina e Russia hanno firmato un accordo di cooperazione, in cui Mosca si impegnava a soddisfare la crescente domanda di energia cinese, promettendo entro il 2030 di fornire almeno 98 miliardi di metri cubi di gas e 100 milioni di tonnellate di gas naturale liquefatto all'anno, impegnandosi anche a favorire l'uso della valuta cinese nei pagamenti. Parallelamente, la Russia, in accordo con l'Unione Euroasiatica, ha deciso di accelerare il processo di approvazione di un accordo di libero scambio con l'India.
Il rapporto tra Mosca Pechino e Nuova Delhi
A fronte della mancanza delle dichiarazioni di commercio estero russe, specchio della sempre più profonda spaccatura creatasi tra Russia e gli alleati, un modo per poter leggere tali fenomeni consiste nel prendere in considerazione le informazioni doganali pubblicate dai rispettivi partner, come Cina, Unione Europea e India.
Fig.1 – Esportazioni russe verso UE, Cina e India
dati mensili, miliardi di dollari, l'area in giallo delinea lo scoppio della guerra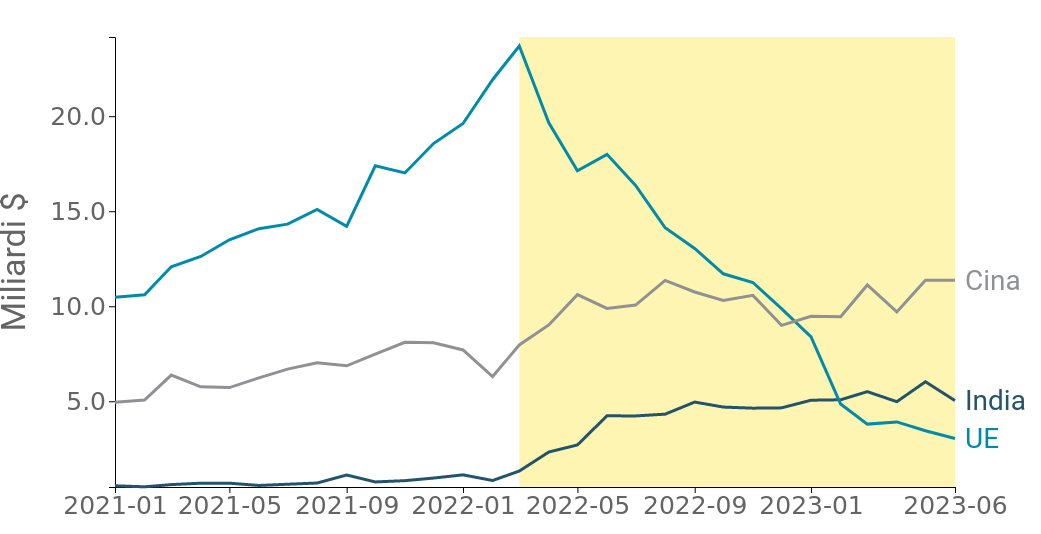 Fonte: Elaborazioni ExportPlanning
Dal grafico proposto appare evidente come al netto ridimensionamento del mercato europeo, ha fatto da contraltare il progressivo aumento delle esportazioni di Mosca verso Cina e India.
In particolare, secondo i dati doganali cinesi, le esportazioni russe verso il Paese del Dragone sono risultate in aumento del 20% rispetto al corrispondente periodo del 2022 e sono sostanzialmente raddoppiate rispetto al dato 2021. Aumento ancora più significativo per la tigre indiana, dove le esportazioni russe sono passate da una quota irrisoria ad essere prossime a 32 miliardi di dollari nella sola prima metà del 2023.
La rilevanza degli energetici
Sostanzialmente il paniere di esportazioni del Cremlino verso Cina e India si compone quasi interamente di materie prime, e in particolare energetiche: come mostrato dalle figure che seguono, infatti, nei primi sei mesi del 2023 circa il 90% delle esportazioni dirette verso i due Paesi sono state rappresentate da gas, petrolio greggio e derivati. A essi seguono, ma in misura largamente inferiore, intermedi alimentari e chimici.
Fig.2 – Composizione delle esportazioni russe verso Cina e India
Cina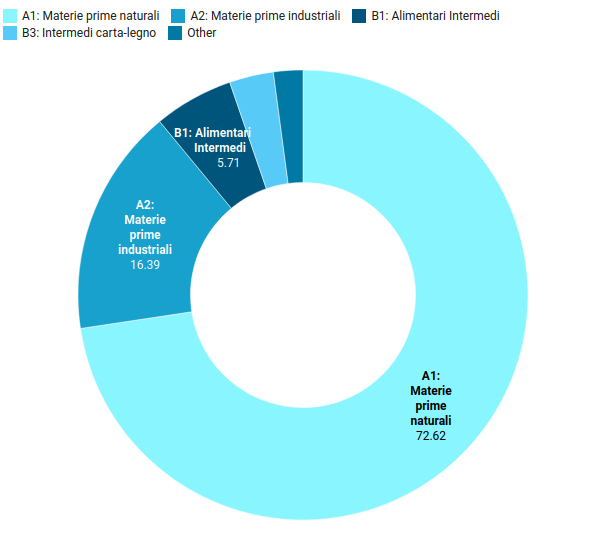 India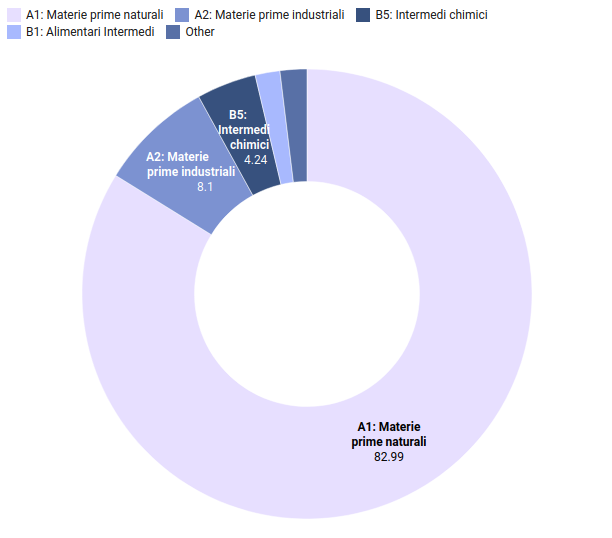 Fonte: Elaborazioni ExportPlanning
Con la progressiva e significativa perdita del mercato europeo, la Russia ha quindi puntato a un sostanziale shift dei propri partner commerciali, ricollocando verso Cina e India le vendite di petrolio e gas.
L'altra faccia della medaglia: un rapporto bilanciato?
L'asse commerciale tra Russia e "Sud" del mondo si è fatto quindi più solido, anche a fronte delle poche alternative russe. Il peso del Cremlino in qualità di paese fornitore di Cina e India sta infatti crescendo nel corso dei mesi più recenti, in particolare per l'India (si veda il grafico che segue).

Fig.3 – Peso della Russia sul totale dai paesi fornitori
dati mensili, share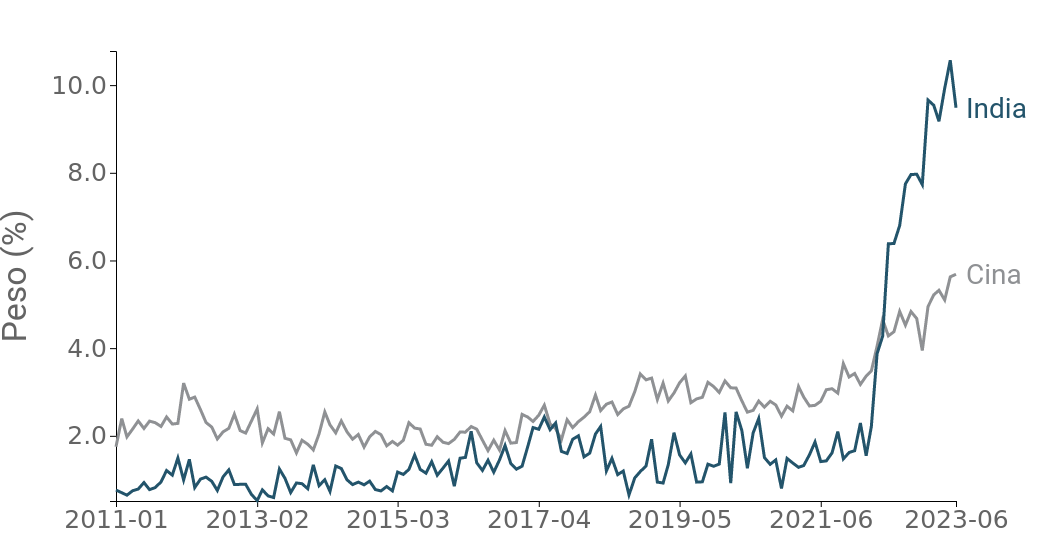 Fonte: Elaborazioni ExportPlanning
Tuttavia, è bene sottolineare come diversi commentari hanno visto nel nuovo sodalizio un rapporto sempre più sbilanciato, soprattutto in favore di Pechino.
Secondo quanto osservato da Maria Shagina, dell'International Institute for Strategic Studies, le sanzioni hanno infatti esacerbato il rapporto già asimmetrico tra Russia e Cina, dal momento che la Russia è ad oggi un partner minore per il Paese del Dragone, pesando per poco più del 5%, a fronte di un ruolo decisamente più significativo della Cina per la Russia.