Log in to use the pretty print function and embed function.
Aren't you signed up yet? signup!
La scorsa settimana si è svolta a Bologna la prima tappa del roadshow di Bper " ESPORTARE IL MADE IN ITALY". Tra i diversi interventi, quello di Roberto Berardi (Product Manager di Marini - Gruppo Fayat) è risultato particolarmente interessante. Berardi ha illustrato infatti l'utilizzo che Marini fa dei dati sui flussi di commercio estero (ricavati in larga parte dal Sistema Informativo Ulisse) per supportare il processo decisionale di sviluppo delle strategie di internazionalizzazione.
Marini è un produttore di fama mondiale d'impianti per asfalto, con il mondo come area di mercato potenziale. In molti paesi, Marini ha una propria stabile organizzazione; in alcuni anche società controllate.
Gli impianti per la produzione di asfalto rappresentano oltre i 3/4 dei flussi di commercio estero del settore Ulisse "UL847430 - Macchine per mescolare materie minerali", i cui dati possono quindi essere utilizzati per analizzare i flussi di commercio estero degli impianti per asfalto. Berardi ha sottolineato come l'analisi dei flussi di commercio deve essere solo un primo passo, a cui devono seguire approfondimenti effettuati sui singoli mercati. Tuttavia, poichè i mercati potenzialmente interessanti sono dell'ordine delle centinaia è evidente come sia necessario poter preselezionare i mercati su cui effettuare i successivi approfondimenti.
Nelle "Macchine per mescolare materie minerali" la Germania è il paese competitore con la maggior presenza di imprese esportatrici. Le imprese tedesche esportano nel mondo oltre 200 milioni di euro, seguite dalla imprese cinesi. L'Italia, con oltre 100 milioni di euro, contende agli Stati Uniti la terza posizione.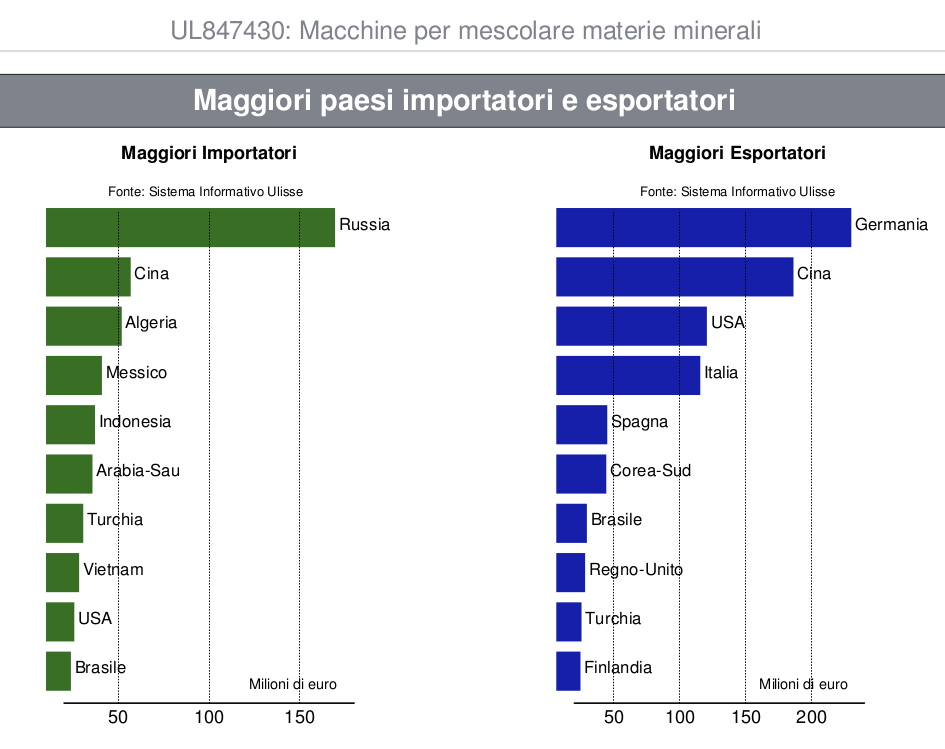 Utilizzando i dati Ulisse a livello di singolo paese importatore, Marini ha scoperto che in tre mercati dell'Europa dell'Est (Russia, Polonia e Romania) le vendite delle imprese tedesche risultavano molto più elevate delle stime di mercato fatte dai responsabili commerciali locali della Marini, segnalando come le vendite aziendali non fossero coerenti con il potenziale del mercato e con gli investimenti commerciali effettuati. Questa evidenza ha portato ad avviare progetti di riorganizzazioni nelle strutture commerciali di questi tre paesi, producendo in breve tempo significativi risultati positivi. Un'altra evidenza significativa emersa dai dati sui flussi commerciali riguarda le elevate quote di mercato che detengono rispettivamente i produttori brasiliani in Angola e i produttori turchi in Iran, dovuta a molteplici fattori, quali la vicinanza linguistico culturale e la diversa relazione esistente tra i governi dei diversi paesi. Questa evidenza ha portato Marini a organizzarsi per servire l'Angola con una propria struttura brasiliana e l'Iran con una propria struttura turca, ottenendo in poco tempo risultati significativi. Interessante, infine, il caso del mercato egiziano, le cui importazioni segnalano livelli statisticamente bassi del valore unitario per macchina. Approfondendo questo aspetto, Marini ha scoperto che le vendite sul mercato egiziano di macchinari non finiti risultano "sostenute" dalle autorità locali che cercano di stimolare la produzione locale anche attraverso l'importazione di macchinari non completi.
Naturalmente, le azioni avviate dalla Marini nei vari mercati sono state precedute da analisi molto approfondite. Senza, tuttavia, l'analisi preliminare effettuata tramite i dati Ulisse, il tempo e i relativi costi del processo decisionale sarebbero risultati decisamente superiori.