Log in to use the pretty print function and embed function.
Aren't you signed up yet? Log in!
I due casi che ci sembrano di particolare interesse della dinamica dei tassi di cambio di questa settimana sono il Peso Messicano e il Dollaro australiano, entrambi in netto apprezzamento. L'apprezzamento registrato dal Peso dalla metà di gennaio ad oggi (passato da 22 a 20 pesos per dollaro) è particolarmente significativo se si considera il trend di lungo periodo che vede il Peso deprezzarsi dall'estate del 2014 dai 14 pesos per dollaro agli attuali 20-22 pesos.
Ma il caso su cui vogliamo soffermarci questa settimana è quello del Dollaro australiano. Questa moneta sta attraversando una fase relativamente lunga in cui si muove all'interno di un range compreso tra 1.3 dollari australiani per dollaro Usa e 1.4. Nelle ultime settimane essa si è apprezzata significativamente, ritornando su valori vicini all'estremo inferiore. L'interesse per questa valuta è legato a uno dei fattori che concorrono a determinarne la dinamica: il carry trade effettuato contro le valute a bassi tassi di interesse, prime tra tutte lo yen. L'Australia è infatti un paese con buone prospettive economiche (prossime al 3%) e bassi livelli di squilibri in termini di inflazione (prevista al 2.1 per quest'anno), saldo di partite correnti (negativo per circa 50 miliardi di dollari, pari al 3.5% del PIL, largamente compatibile con una economia in crescita) e debito pubblico (pari al 41% del PIL). Allo stesso tempo però ha tassi di interesse relativamente elevati (attualmente del 1.5%), se comparati con quello delle principali valute mondiali (Dollaro: 0.75%, Euro: 0%, Yen: 0%, Sterlina: 0.25%, Franco Svizzero: -0.75%).
E' ovvio che in questa situazione può risultare conveniente indebitarsi in una valuta a basso tasso di interesse e impiegare i fondi ottenuti in asset denominati in dollari australiani. Movimenti nei tassi di interesse tendono quindi a influenzare significativamente le quotazioni del cambio. Inoltre, poiché la Reserve Bank of Australia (RBA) persegue con determinazione l'obiettivo di inflazione (2-3%), modificazioni nell'inflazione possono anticipare interventi nei tassi e quindi cambiamenti nelle quotazioni del dollaro australiano. E' quanto è successo ad esempio, nel maggio dello scorso anno quando la RBA decise di ridurre i tassi di interesse a causa dell'improvviso calo dell'inflazione. A questa decisione seguì un significativo indebolimento della valuta australiana nei confronti del dollaro statunitense, passando in poche settimane da valori inferiori a 1.3 a quotazioni prossime a 1.4. A fine del 2016 è stato l'aumento dei tassi americani (da 0.50% a 0.75%), non seguito dalla RBA, che ha portato ad un nuovo rally di deprezzamento del dollaro australiano da 1.3 a 1.4, recuperato successivamente fino a ritornare nei giorni più recenti a 1.3.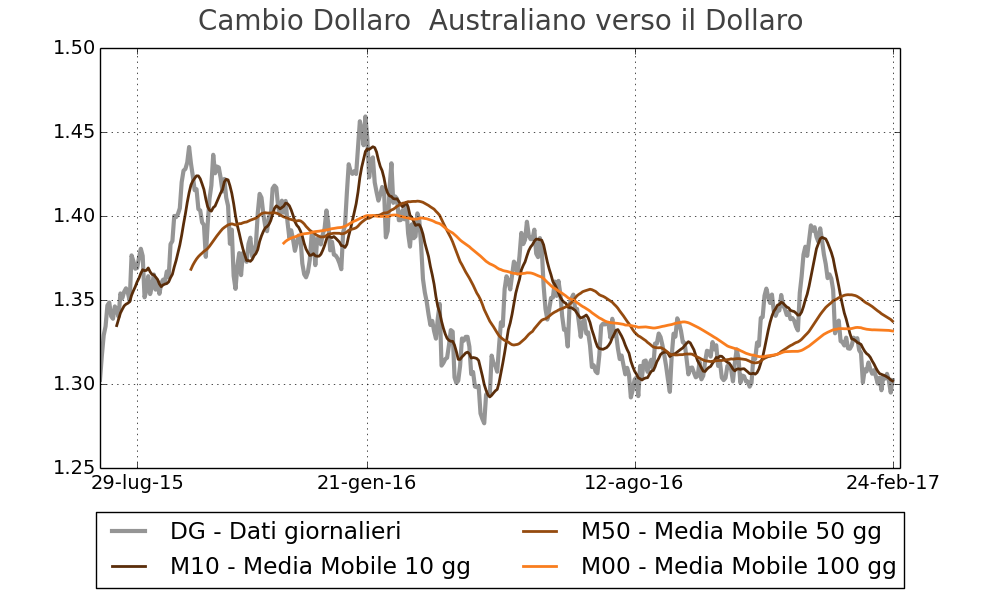 Tra le principali valute mondiali si evidenzia una relativa stabiltà dei diversi tassi di cambio, con un leggero deprezzamneto dell'Euro e del Franco svizzero nei confronti del dollaro, mentre non si notano particolari dinamiche a riguardo di Yen e Sterlina.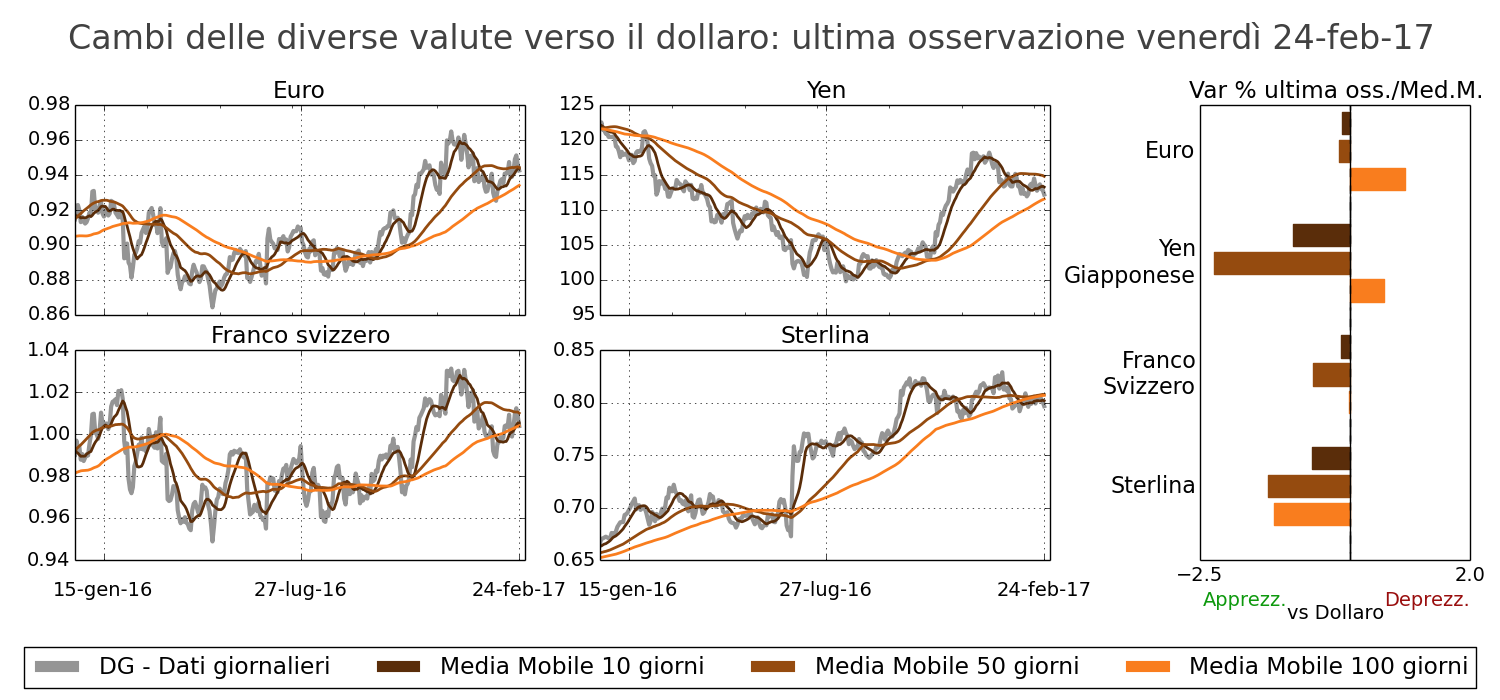 La maggior parte delle valute dei paesi emergenti presenta un apprezzamento nei confronti del dollaro, in particolare, continua il rafforzamento del Real brasiliano e del Rand sudafricano. A queste due si aggiunge, come visto, il Peso Messicano, riuscito a rafforzarsi nei confronti della valuta statunitense per la prima volta nel 2017.