Log in to use the pretty print function and embed function.
Aren't you signed up yet? signup!
I dati Exportpedia rivelano che il comparto trainante delle esportazioni nella provincia di Venezia è rappresentato dal sistema moda e da quello agroalimentare. I dati più interessanti provengono dal Sistema Moda: in particolare si registra un aumento tendenziale rispetto allo stesso periodo dello scorso anno del +126% per gli occhiali, +48% per la gioielleria e gli orologi , e un +8% per le calzature , particolarmente significativo, dati i livelli di esportazione del settore.


Figura 1: Esportazioni sistema moda provincia di Venezia: variaz. tendenziali I trimestre 2017
Fonte: Exportpedia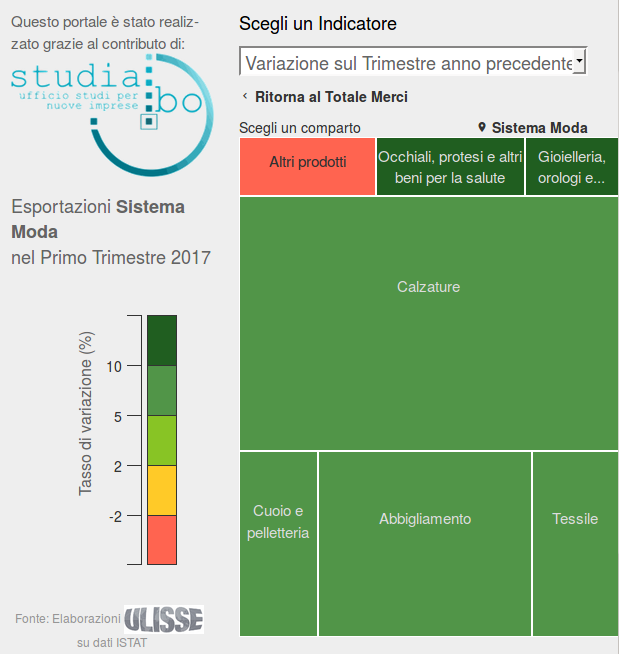 Il distretto delle calzature della valle del Brenta
Relativamente alle calzature, la produzione è localizzata maggiormente nel distretto delle calzature della riviera del Brenta. Si tratta di un distretto situato tra la provincia di Venezia e di Padova, la cui produzione si concentra su calzature femminili destinate a prestigiosi marchi di moda italiana e internazionale.


Il distretto si è sviluppato alla fine del 1800, radunando i grandi calzaturieri della provincia, che hanno unito la loro specializzazione professionale avviando le attività calzaturiere del distretto. Lentamente, grazie all'introduzione di nuove tecnologie e tecniche di organizzazione oltre che all'apertura ai grandi mercati esteri, il livello qualitativo della produzione è migliorato ed è ad oggi molto elevato.


Il cuore del distretto è rappresentato dalle PMI che sfidano le grandi produzioni internazionali proponendo dei prodotti di tendenza senza mettere da parte la qualità che contraddistingue il marchio made in Italy.


In particolare, i dati Exportpedia mostrano un flusso importante di esportazioni italiane verso la Francia (variazione tendenziale rispetto all'anno precedente del +37%) e la Svizzera (variazione tendenziale del +47%), da sempre associate all'alta moda e alle marche di lusso. Il primo trimestre 2017 mostra anche un'apertura verso il mercato orientale, in particolare verso Hong Kong e Russia rispetto ai quali si registra una variazione tendenziale rispettivamente del +33% e del +8% rispetto al primo trimestre 2016.


Il focus sulla qualità è confermato anche dai principali mercati esteri destinatari delle esportazioni. Come evidenziato dal grafico disponibile su www.allesterodove.it, elaborato con i dati SiUlisse, un aumento delle importazioni di calzature di qualità si registra non solo in Europa ma anche su mercati intercontinentali quali Cina, Giappone e USA.


Figura 2: Paesi importatori di calzature di fascia Alta e Medio alta di prezzo (2016)
Fonte: All'estero dove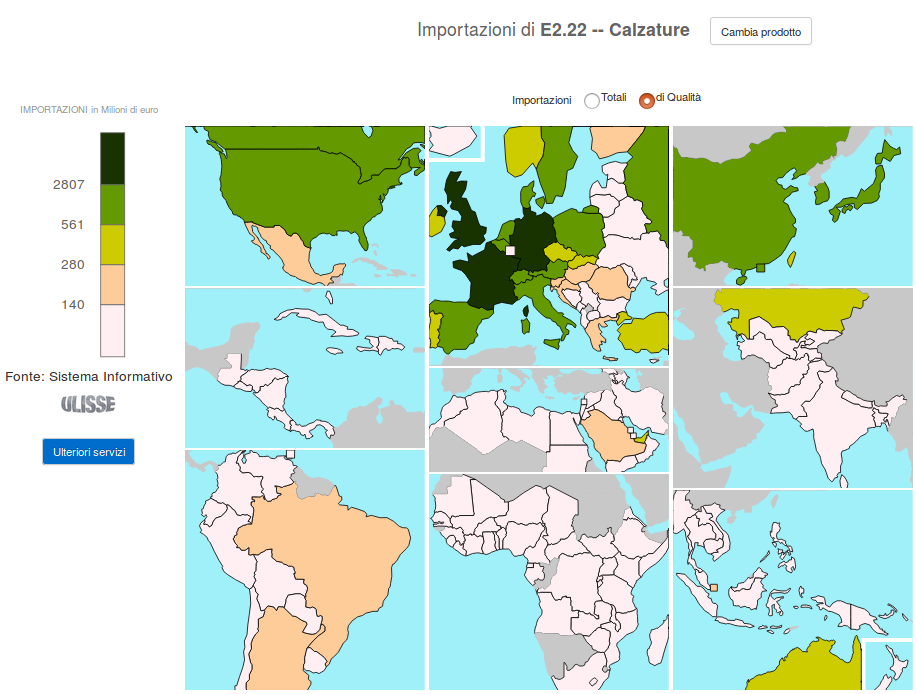 E' interessante notare che sul mercato delle importazioni di qualità negli ultimi anni si sono affacciati paesi, in precedenza assenti dai flussi di commercio estero, quali il Vietnam, che in poco tempo ha occupato una quota consistente di mercato. Da qui l'importanza delle aziende italiane di esportare la qualità all'estero, attraverso la sfida dell'internazionalizzazione.


Per supportare le PMI in questo percorso, SIUlisse sarà presente anche a Farete il 6-7 settembre 2017 per presentare il sistema informativo Ulisse a supporto all'internazionalizzazione.