Log in to use the pretty print function and embed function.
Aren't you signed up yet? signup!
I dati del Sistema Informativo Ulisse evidenziano una crescita del 14% 1 delle esportazioni italiane di farmaci nel primo semestre del 2017 rispetto allo stesso periodo del 2016, con un flusso di esportazioni nei primi sei mesi dell'annno pari a 10,7 miliardi di euro.

Il focus rimane sulla qualità : le materie prime farmaceutiche prodotte in Italia sono un comparto d'eccellenza nella filiera del farmaco. Il settore ha fatto delle esportazioni nella fascia premium price il suo principale fattore competitivo e il suo plus rispetto alla concorrenza. Negli ultimi 10 anni le esportazioni italiane di Farmaci di Fascia Alta di prezzo sono cresciute di 5 miliardi di euro.

Le principali destinazioni dell'export italiano sono il Belgio , la Germania e gli USA.


Il punto di forza sta nell'avanguardia e nella scommessa sull'innovatività. Negli ultimi anni il settore farmaceutico italiano è cresciuto molto dal punto di vista della ricerca e dello sviluppo e sulla frontiera dell'innovazione,aumentando del 20% negli ultimi 3 anni gli investimenti in questa direzione.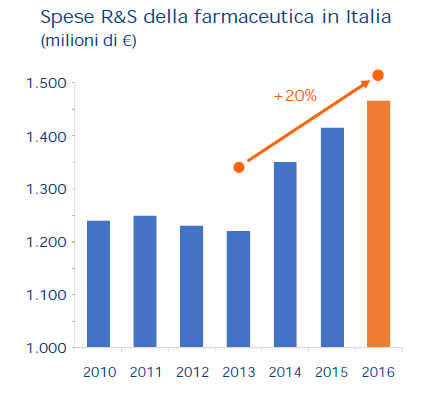 Figura 1:Fonte: www.farmindustria.it
La ricerca svolta in Italia è sempre più specializzata in ambiti biotecnologici e biomedicali, annoverando anche la digitalizzazione tra i fattori per incrementare la qualità della gestione delle patologie e l'elaborazione di nuovi modelli di cura che stanno rivoluzionando profondamente l'industria della salute nel nostro Paese.
---
1: Il Sistema Informativo Ulisse considera una media tra le dichiarazioni dell'Italia e le dichiarazioni dei paesi partner