Log in to use the pretty print function and embed function.
Aren't you signed up yet? signup!
A Bologna, in questi giorni è stato inaugurato Fico Eataly World, il più grande parco agroalimentare del mondo. La struttura si estende su 10 ettari e punta a dare visibilità internazionale all'eccellenza enogastronomica e agroalimentare italiana. La struttura accoglie stand di centinaia di piccole e medie imprese e di piccoli produttori, racchiudendo in un'unica struttura la tradizione locale e la cultura del cibo di alta qualità.
La scelta della regione Emilia Romagna non è casuale. L'Italia rappresenta un punto di riferimento importante per il settore agroalimentare nel mondo e l'Emilia Romagna è la terza regione per esportazioni di prodotti alimentari dopo Lombardia e Veneto. Ma sopratutto, la regione è la prima in Europa per numero di prodotti con marchio Dop e Igp: ad oggi sono in totale 44, distribuiti su tutto il territorio. Questa varietà dell'offerta culinaria è il motivo per cui spesso si parla di food valley emiliana, che racchiude tutte le specialità regionali e rappresenta un ottimo biglietto da visita per l'italianità all'estero.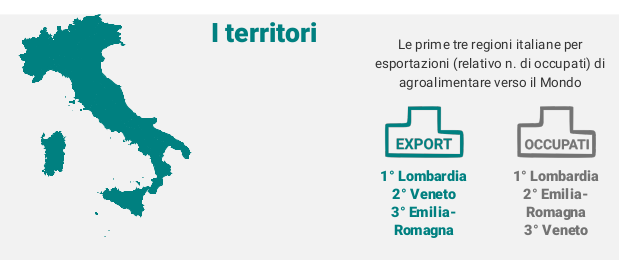 Figura 1: Prime tre regioni italiane esportatrici di prodotti alimentari all'estero
Fonte: Exportpedia

L'agroalimentare è un settore dalle opportunità crescenti: la domanda mondiale (data dalla somma delle importazioni di tutti i paesi del mondo) di beni alimentari confenzionati e non confezionati vede un trend in crescita costante.
Esportazioni mondiali di prodotti alimentari
Anche nel 2017, la regione Emilia Romagna sta registrando risultati positivi sui mercati esteri: nei primi sei mesi di quest'anno, le esportazioni del settore sono cresciute del 7.2% rispetto al 2016.
Le prospettive per le esportazioni agroalimentari dell'Emilia Romagna sono particolarmente positive sopratutto se Fico risulterà una vetrina per i prodotti regionali aperta al mondo, con un effetto traino per l'intera economia regionale. Infatti il settore rappresenta l'11.1% del totale delle esportazioni regionali e commercializza i propri prodotti principalmente in Germania, Francia e Regno Unito.