Log in to use the pretty print function and embed function.
Aren't you signed up yet? signup!
Una valuta che nelle ultime settimane si è indebolita significativamente è il Hryvnia Ucraino.
L'Ucraina sta attraversando un periodo molto delicato sia da un punto di vista economico che sociale. Questa settimana il parlamento ucraino ha approvato una legge che prevede il ripristino della sovranità statale sui territori dell'Ucraina orientale. Dal 2014, infatti, nelle regioni di Donetsk e Lugansk sono in corso conflitti tra i separatisti -sostenuti dalla Russia- e l'esercito ucraino (la guerra del DonBass). Tale provvedimento ha quindi richiamato l'attenzione internazionale e della Russia che ha definito l'atteggiamento del governo ucraino come: "preparazione di una nuova guerra".
A peggiorare la situazione vi è un quadro macro economico dell'Ucraina molto negativo (tasso di crescita del PIL 2%, tasso d'inflazione 12.8%, saldo delle partite correnti -3.4 miliardi di dollari, rapporto debito Pil 86% in aumento) che potrebbe aumentare le difficoltà finanziarie del settore pubblico, ormai da anni supportato dal programma di assistenza del Fondo Monetario Internazionale.
In un contesto così incerto a farne le spese è il Hryvnia, la valuta ucraina, che da anni ha intrapreso una dinamica di deprezzamento sia nei confronti del dollaro che nei confronti dell'euro. Questa settimana tale trend di indebolimento è aumentato, infatti, come è possibile osservare dal grafico sotto riportato, il Hryvnia si è indebolito in pochi giorni del 4.4% nei confronti della valuta unica e del 2.8% nei confronti del biglietto verde, chiudendo la settimana con valori rispettivamente pari a 35.3 Hryvnia per euro e 28.8 Hryvnia per dollaro.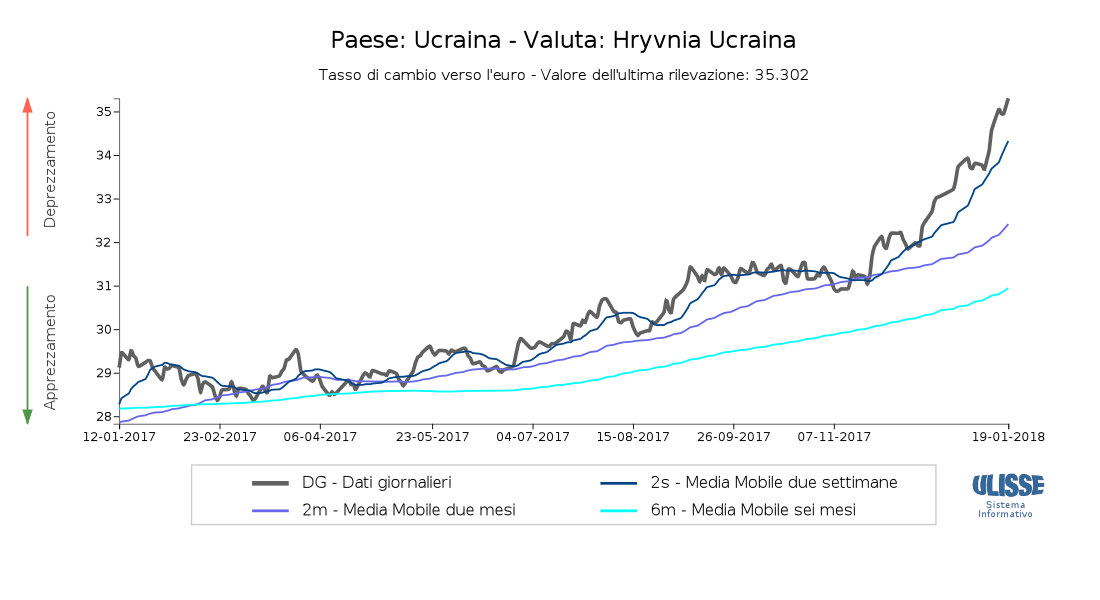 Da qualche giorno l'euro ha superato la soglia degli 1.20 dollari per euro.
La valuta unica ha ormai conquistato la fiducia degli agenti di mercato grazie ad un quadro macro economico dell'Unione Europea solido e in continuo miglioramento. Infatti, l'economia europea si caratterizza da un tasso di crescita del PIL del 2.3%, un tasso d'inflazione dell'1.7% e un surplus delle partite correnti pari a 404.9 miliardi di dollari.

L'euro rappresenta sempre più il punto di riferimento per valutare la forza delle varie valute. Solo quattro valute si sono apprezzate questa settimana nei confronti della valuta unica: Corona norvegese, Peso messicano, Sterlina inglese e Corona ceca.
Tra queste monete da segnalare la Corona ceca che da aprile 2017, mese in cui la Czech National Bank (CNB) ha abbandonato il peg con l'euro, ha intrapreso una dinamica di apprezzamento nei confronti dello stesso, attestandosi su un valore pari a 25.4 Corone per euro.
L'economia della Repubblica Ceca gode di ottima salute, infatti, si caratterizza da un tasso di crescita del PIL pari al 3.5%, tasso d'inflazione pari al 2% e saldo delle partite correnti in surplus pari a 1.2 miliardi di dollari.
Da monitorare, però, i possibili effetti del secondo turno delle elezioni presidenziali in programma il prossimo 26-27 gennaio che vede al ballottaggio due esponenti con ideologie opposte: l'attuale presidente Milos Zeman (anti-europeista) e lo scienziato Jiri Drahos (europeista).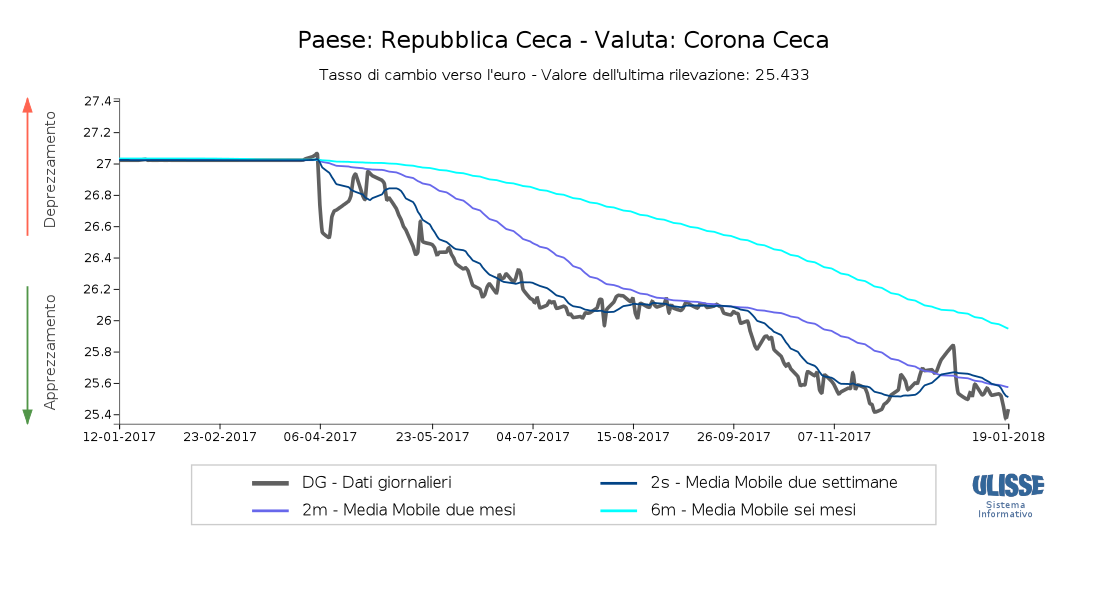 Infine, da segnalare il crollo della Sterlina del Sud Sudan, rilevato dalla Banca d'Italia questa settimana che vede la sterlina indebolirsi del 190% nei confronti del dollaro, valuta cui è ancorata. Importante sottolineare la presenza di mercati valutari secondari (black market) utilizzati soprattutto in paesi poco sviluppati come quello sudanese nei quali i tassi di cambio potrebbero essere molto diversi da quelli ufficiali.