Il successo delle calzature della Val Vibrata sul ricco mercato svizzero
La strategia di focalizzazione sul mercato svizzero premia le calzature della Val Vibrata rispetto a quelle del vicino distretto marchigiano.
Published by Luigi Bidoia. .
Regional export
Bestpractice
Export
International marketing
Log in to use the pretty print function and embed function.
Aren't you signed up yet? Log in!
Nell'articolo Segnali di recupero del sud abbiamo messo in risalto il recupero delle regioni del sud d'Italia in termini di esportazioni.
In questo articolo ci soffermeremo sul caso delle calzature della Val Vibrata.
Nella zona costiera della provincia di Teramo sorge il distretto industriale Vibrata-Tordino-Vomano, uno dei più dinamici ed avanzati casi di distretto polisettoriale nel panorama produttivo italiano. Il distretto è formato da PMI che si integrano l'un l'altra al punto da dare vita ad una filiera che accoglie nell'area tutte le fasi della produzione, dalla trasformazione delle materie prime al prodotto finito, realizzando prodotti di grande qualità per i più importanti marchi di moda mondiale.
Il distretto della Val Vibrata produce anche calzature, in sinergia con il vicino distretto delle Calzature di Fermo.
Nell'anno mobile terminato a marzo di quest'anno, le esportazioni di calzature della provincia di Teramo sono aumentate del 70%, a fronte della riduzione dell'1% di quelle della provincia di Fermo. Dall'analisi dei due distretti l'elemento di diversità che emerge con maggiore evidenza è la diversa strategia di internazionalizzazione seguita dai due distretti. Il distretto di Teramo si è concentrato sul mercato svizzero che in questi anni ha presentato (presenta e presenterà) in assoluto le maggiori opportunità per le imprese italiane di calzature di fascia alta.
Si veda a questo riguardo l'ordinamento dei mercati con i maggiori potenziali per le esportazioni italiane di calzature di fascia alta, sviluppato con il tool Market Selection di www.exportplanning.com.
Market Selection per esportazioni di Calzature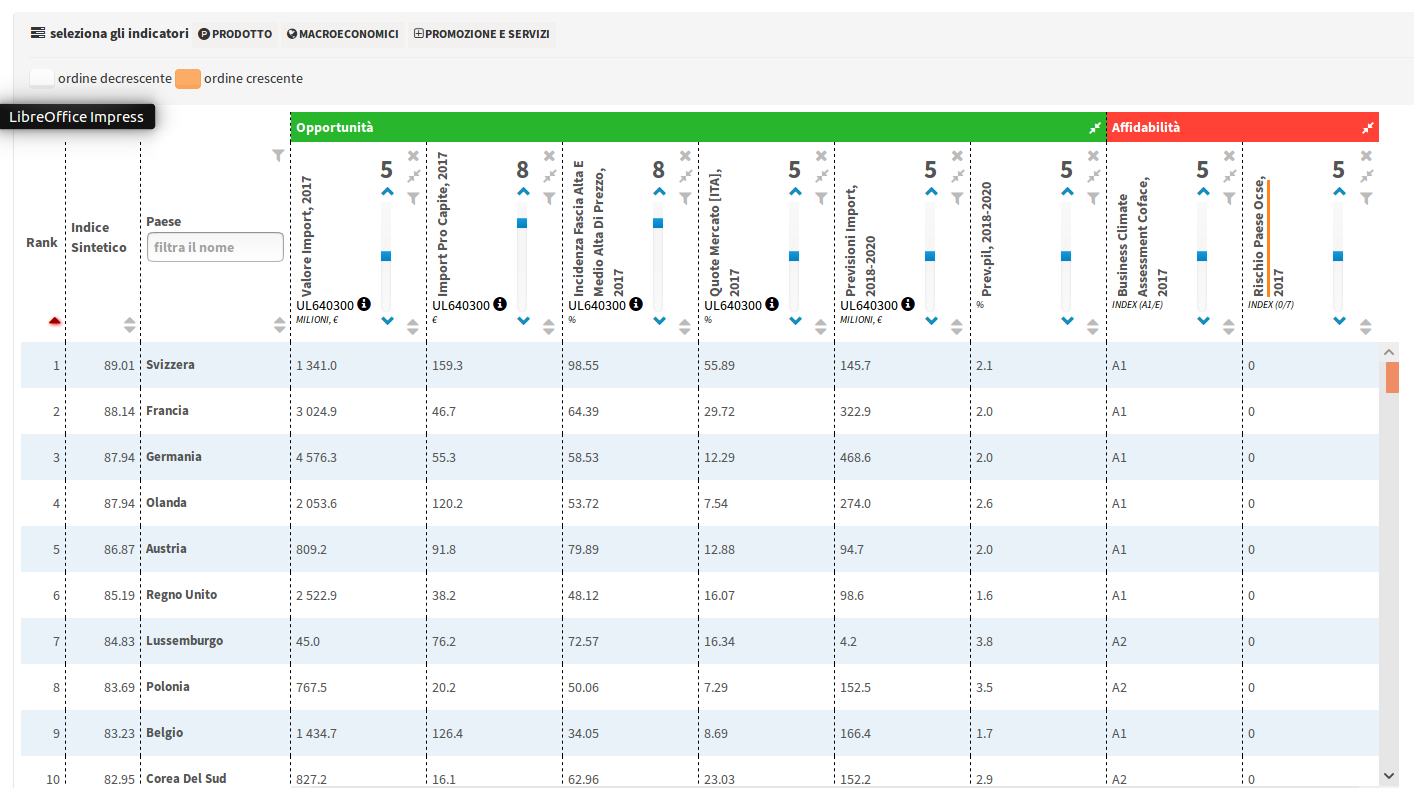 Di seguito sono poste a confronto le treemap dei mercati di destinazione delle calzature di Teramo con quelle di Fermo relative ai tassi di variazione tendenziali del I trimestre 2018. La dimensione dei diversi rettangoli è proporzionale all'importanza del mercato; i colori dei rettangoli indicano la dinamica dei diversi mercati: in calo (colore rosso) o in crescita (colore verde).
Esportazioni provinciali di calzature per mercato di destinazione

Teramo
Fermo
Dall'analisi di queste due mappe risulta evidente la focalizzazione del distretto di Teramo sul mercato Svizzero. Allo stesso modo è chiara la dispersione degli investimenti commerciali su molti mercati da parte delle imprese del distretto di Fermo. Queste diverse strategie riflettono molto il livello delle esportazioni delle due province. A fronte dei quasi 800 milioni di euro esportati da Fermo nel 2017, le esportazioni di Teramo sono di soli 50 milioni di euro. Per le imprese che commercializzano le calzature prodotte a Fermo è necessario guardare ad una molteplicità di mercati per ottenere risultati tanto significativi. Tuttavia, i risultati di Teramo suggeriscono che, a volte, la concentrazione su alcuni specifici mercati, quando questi presentano elevate opportunità e bassi rischi, è sicuramente una strategia da prendere in esame.