Log in to use the pretty print function and embed function.
Aren't you signed up yet? signup!
In the article Dental Care and Oral Hygiene Products: Evidence from World Trade, we reported how, as the world's affluence grows and the demand for health grows stronger, the demand for particular categories of health-related goods, previously destined for a narrow circle of markets, is progressively expanding to new geographies.
The case of oral hygiene products and professional dental goods provides a good illustration of this phenomenon: as per capita income increases, there is also a progressive consolidation of demand for oral hygiene products. The growth in consumer awareness on this issue is also a prelude to a strengthening of the local professional dental sector, which in turn becomes an activator of demand for dental equipment and specific materials.
Based on this development model, the following are some cases of particularly interesting markets, which have been characterised by a significant development of imports in the sector in recent years: Chile and Vietnam.
Chile: consolidation of GDP per capita
Over the last two decades, Chile has significantly improved the quality of life of its citizens. Since the 1990s, the country has seen a significant growth in per capita income. Whereas in 2000 it was just over $5,000, today the country has a per capita income of $16,000, which, although lower than the OECD average, denotes significant growth.
The increase in wealth has been accompanied by an improvement in life expectancy and a greater interest on the part of public policy in health expenditure, with dedicated welfare programmes. Life expectancy at birth in Chile is now 81 years, which is in line with the OECD average.
These conditions have therefore led to a considerable increase in demand for health in the country, which has also resulted in an increase in demand for oral hygiene and professional dental products.
Chile: imports of oral hygiene and professional dental products
Source: ExportPlanning.
The increase in demand for personal dental care goods in Chile began in the early years of this century and went hand in hand with the growth in demand for products for professional use (although slightly ahead of it), although the latter were more affected by the pandemic context. In both cases, this growth is particularly strong: in 2005, Chilean imports of oral hygiene products were just over $26 million and those for professional equipment and materials were $23 million; pre-consumer 2022, they are estimated at $139 million and $91 million respectively, substantially quadrupling in both cases.
The recent development of the sector and the prospect of further consolidation of the country's estimated per capita wealth in the next five years make the market particularly attractive for the sector.
Vietnam: an exponential growth
Another market with a particularly interesting scenario is on the Asian front: Vietnam. Hanoi has shown marked growth in GDP per capita since the 1990s, although the country still lags far behind Chile in terms of per capita wealth. Today, Vietnam has a per capita income of just over $4000, yet the exponential growth that has characterised it during this century is particularly interesting.
The exponential development curve of per capita income is reflected in the marked growth recorded by the country's imports of oral hygiene and professional dental products.
Vietnam: imports of oral hygiene and professional dental productsi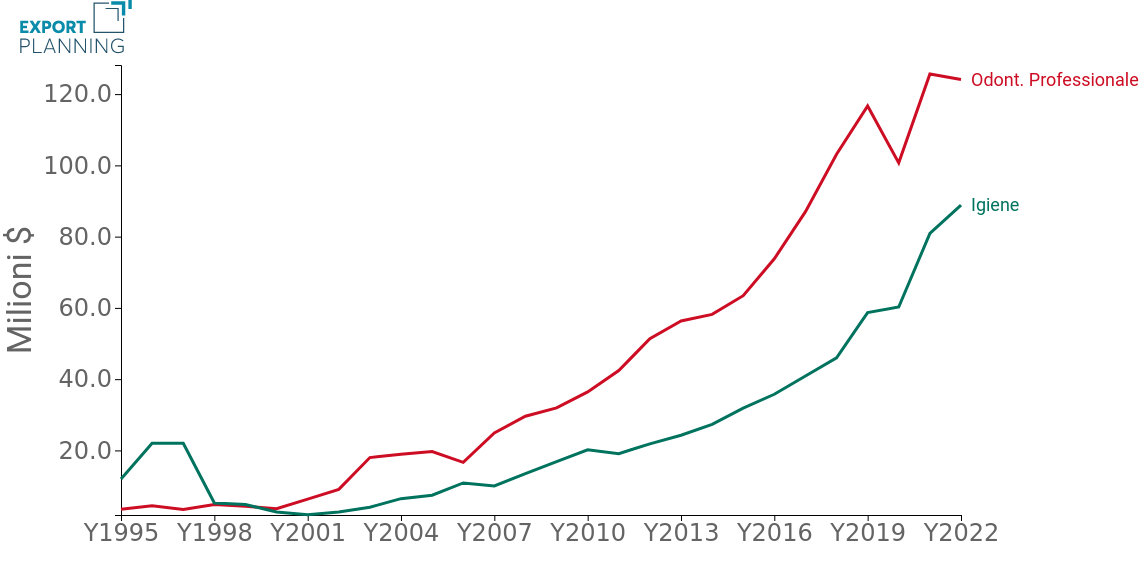 Source: ExportPlanning.
Overall, demand for products related to the two types of goods has substantially exploded as local wealth increased, from $7 million for oral care and hygiene goods and $19 million for professional goods, to an estimated $88 million and $124 million by 2022.
The ample prospects for growth and development of per capita wealth make Vietnam a special monitor of the current economic situation, and certainly an important location for exporting companies in the dental sector.
A further factor of potential is the indication of a marked acceleration in demand for these goods, making the country a BLue Ocean market, i.e. a market where demand tends to grow faster than the number of competitors, guaranteeing particularly high returns.