Log in to use the pretty print function and embed function.
Aren't you signed up yet? signup!
I dati pubblicati dall'Istat sulle esportazioni delle varie province italiane confermano nel II trimestre del 2016 un andamento negativo delle esportazioni della provincia di Pavia .
Dopo aver registrato una variazione tendenziale in euro del -6.2% nel primo trimestre dell'anno, nel secondo trimestre le vendite all'estero delle imprese manifatturiere localizzate nella provincia di Pavia sono calate del 12 . 2 % in euro rispetto al corrispondente periodo del 201 5 . Continuano le flessioni tendenziali di Chimica , Metalmeccanica e Agroalimentare , mentre appaiono in tenuta quelle di Sistema Casa e Sistema Moda.
In termini cumulati, nei primi due trimestri dell'anno la flessione è pari al 9.5%, corrispondenti a circa 170 milioni di euro in meno rispetto al corrispondente periodo 2015.
[caption id="attachment_7162" align="alignnone" width="1254"]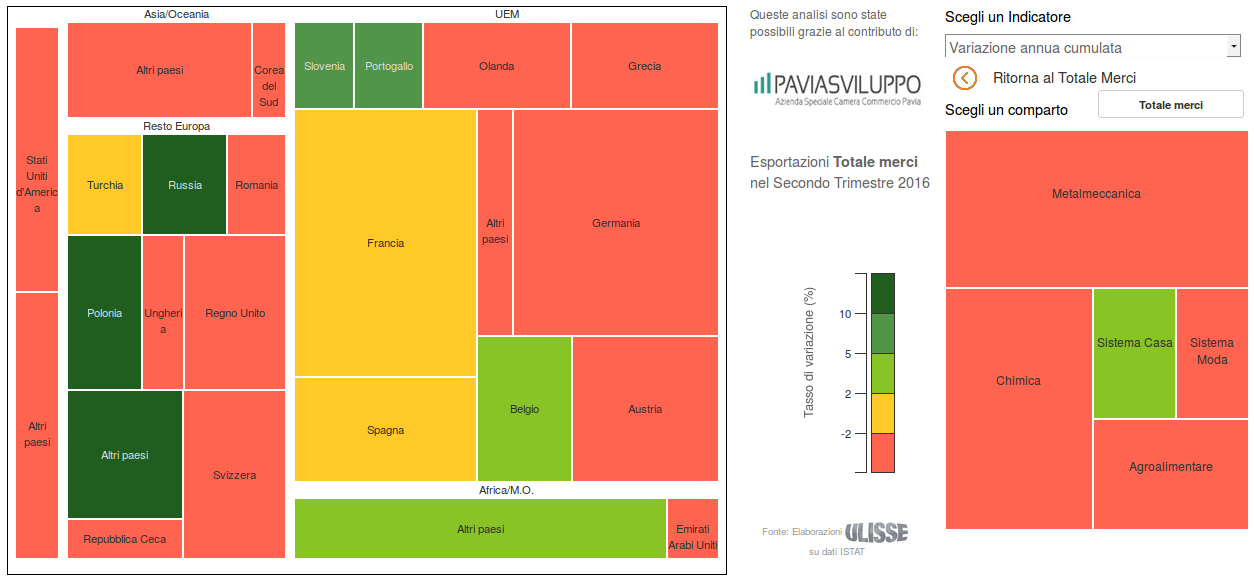 Esportazioni provincia di Pavia: Variazioni % tendenziali cumulate Gen-Giu 2016 (fonte: Exportpedia)[/caption]
Nel la prima parte del 2016 (gennaio-giugno) il settore Chimico ha offerto i contributi più negativi alla performance esportativa della provincia, con una riduzione cumulata prossima ai 98 milioni di euro (pari al -17.3%) rispetto al primo semestre 2015. Si segnalano, in particolare, l e flessioni tendenziali delle vendite all'estero di Medicinali e preparati farmaceutici (-53 milioni di euro) e di Prodotti derivanti dalla raffinazione del petrolio (-37 milioni di euro). Le maggiori cadute tendenziali dell'export provinciale di Chimica si evidenziano sui mercati di Regno Unito (-31 milioni di euro), Olanda (-22 milioni di euro) e Svizzera (-17 milioni di euro).
In calo nei valori tendenziali nella prima metà dell'anno appaiono anche le vendite all'estero provinciali di Metalmeccanica (-40 milioni di euro rispetto al primo semestre 2015) e di Agroalimentare (-30 milioni di euro) . Anch'esse negative, pur con riduzioni più contenute (-8 milioni di euro), risultano, inoltre, le esportazioni delle imprese pavesi di Sistema Moda .
Di converso, va sottolineata la capacità di tenuta evidenziata dal Sistema Casa , che – per quanto contenuta - registra una variazione di segno positivo (+3.7% rispetto al primo semestre 2015, corrispondenti a poco più di 5 milioni di euro ). Apparecchi per uso domestico , Apparecchiature per illuminazione , Vetro e di prodotti in vetro e Prodotti in legno, sughero, paglia e materiali da intreccio risultano i comparti " trainanti " l'export provinciale nel primo semestre 2016. In aumento soprattutto le vendite provinciali di Sistema Casa rivolte ai mercati di Francia , Regno Unito e Svizzera .