Log in to use the pretty print function and embed function.
Aren't you signed up yet? signup!
Market selection is a complex decision-making phase of the internationalization process. In a best practice approach this choice requires a SWOT-type analysis: the opportunities offered by a foreign market must be considered together with the risks associated and the strengths and the weaknesses of the company involved in internationalization process. In fact, the success of an internationalization project cannot disregard the analysis of company's characteristics, evaluating its export readiness (Export Readiness, ER) in terms of competitiveness and resources.
Export Readiness Assessment
In addition to the opportunity factor, reliability (country risk, sovereign, banking and corporate credit risk, exchange rate risk) and accessibility (tariff and non-tariff barriers, infrastructure endowment) might also be taken into account when selecting a target market. While the opportunity profile is certainly an essential factor in the choice of a target market, the importance of reliability and accessibility factors strictly depends on the evaluation of the company's export readiness (Export Readiness, ER).
In the case of a high ER, the increased resources/competencies may allow to better compensate for the possible risks associated with potential target markets. In the case of a low ER, however, it is appropriate to give significant weight to reliability and accessibility indicators. The threat is in fact to cancel out market opportunities due to the company's weaknesses. In this case the internationalization project should be managed as a "special project".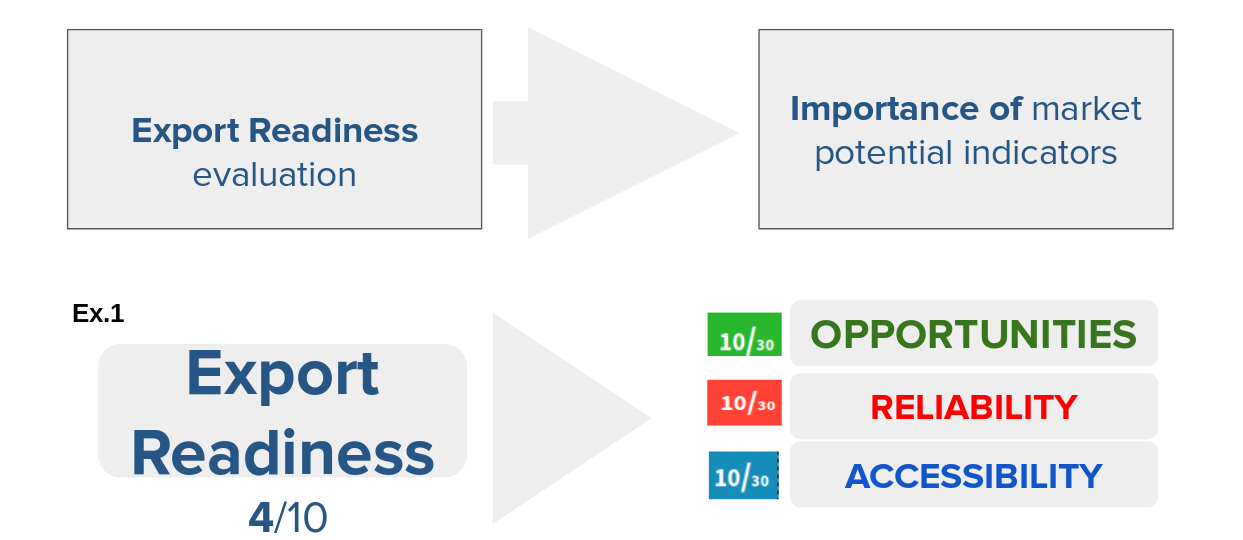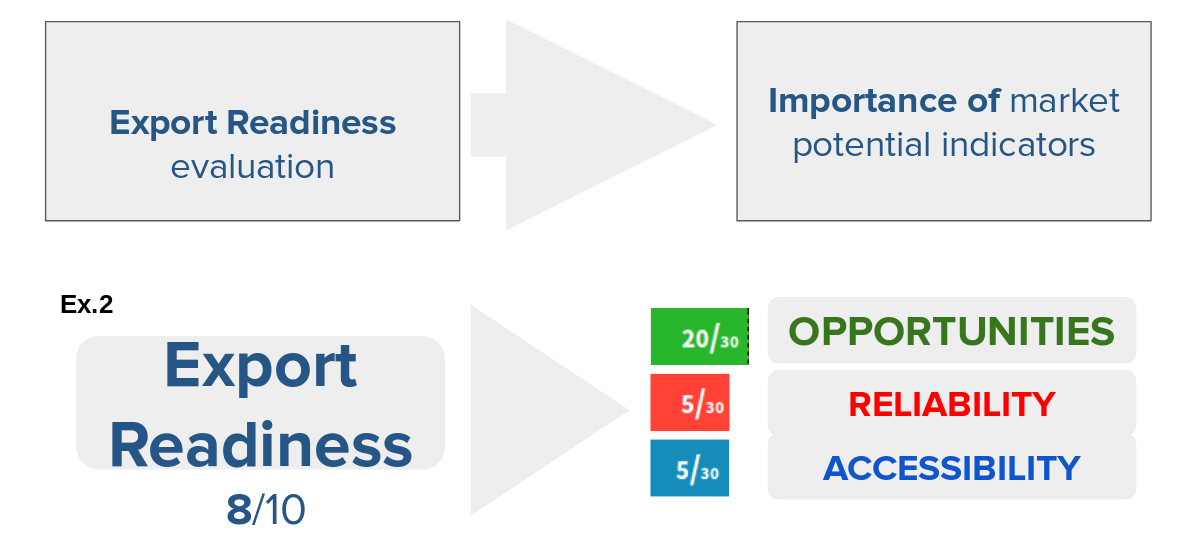 According to what has been highlighted, a correct evaluation of the export readiness of an SME seems fundamental for the following thematic areas:
domestic market positioning;
product/service potential;
corporate strategy;
innovation processes;
professional skills;
knowledge of foreign markets;
commitment.
The evaluation of each area allows an in-depth analysis of the company's strengths and weaknesses. However, the implementation of an Export Readiness questionnaire often has to face a dichotomy: if, on the one hand, synthetic questionnaires are preferred by respondents but not very effective, on the other hand a detailed formulation often requires a high degree of trust or detail that the respondent cannot always give.
In order to combine the efficiency of the compilation, safeguarding the quality of the questionnaire administered, the ExportPlanning tool ERA provides the possibility of filling it in in two phases:
Preliminary assessment: provides an approximate evaluation, but one that allows you to appreciate the topics covered, the way they have been developed and the quality of the output;
In-depth assessment: improves the quality of the evaluation, by deepening the information already acquired.